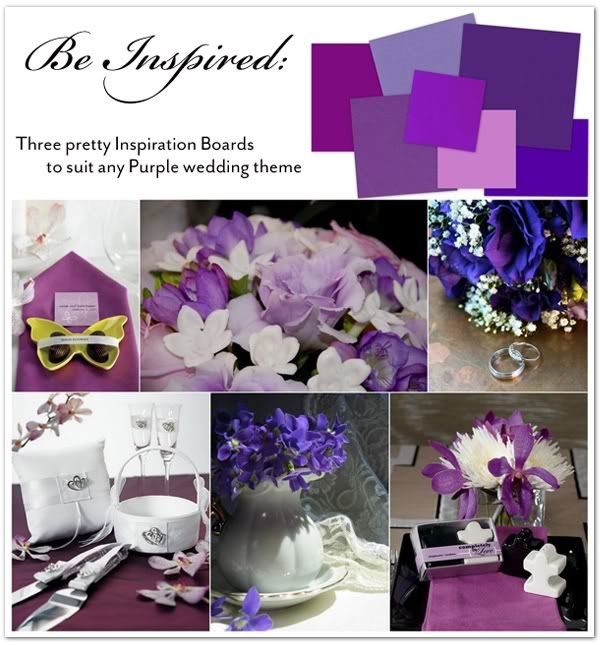 Requests for inspiration boards have been pouring in over the last few months, and I've noticed one really popular, reoccurring color scheme: purple! Deep purple, plum purple, lilac…purple with black, purple with silver, purple with lime green…
So, I just couldn't resist doing a blog post all about purple! Here are three inspiration boards packed full of décor ideas, color combinations, accessories and florals I hope will help inspire your perfect purple wedding theme.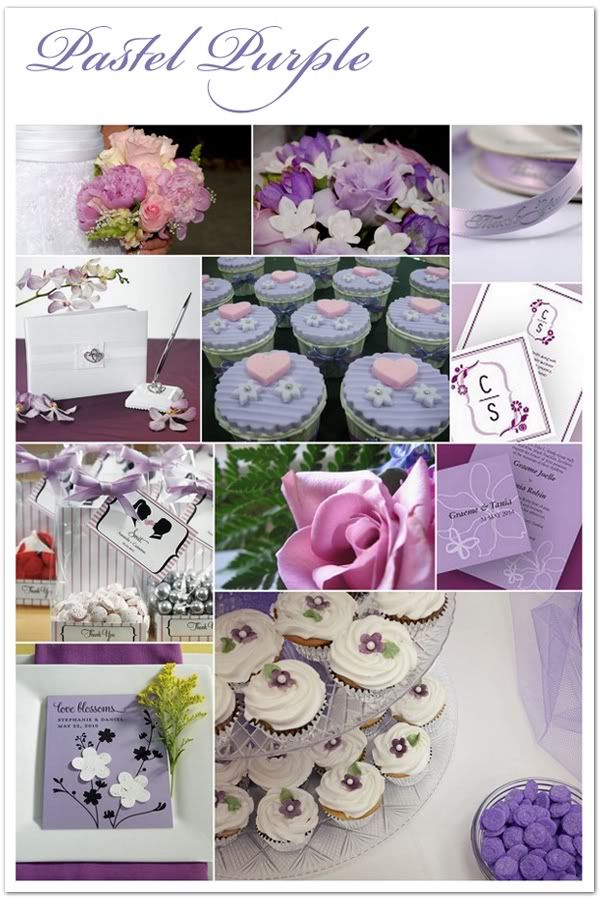 Pastel purple is such a great wedding color, particularly for summer.
I suggest pairing your mauves and lavenders with white for a fresh color scheme that's chic, fun and pretty, without being too, overwhelmingly girlie.
The Pastel Purple look:
"Thank You" Printed Ribbon (in Lavender) 228, Classic Double Heart Collection – Guest Book 7198 & Pen Set 7200, Modern Floral Monogram Stationery Collection (in Purple) 1002, Cellophane Goodie Bags 9081, Sweet Silhouettes Cellophane Bag Inserts (in Lavender) 1054-25, Butterfly Dreams Stationery Collection (in Lavender) 1041, and Seed Paper "Love Blossoms" Personalized Favor Card (in Lavender) 8776.
This one's a popular one! It's romantic, it's classy and it's unbelievably versatile! Is there anything deep purple doesn't look fabulous with?
The Deep Purple look:
True Romance Cake Topper 9013, Platinum by Design Collection 7139, Diamond Shaped Tealight Holders 8440, Tube Stem with Crystal Stones Flutes 8433, Water Activated Diamond Lights 6003, Romantic Elegance Stationery Collection – Small Cling (in Plum) 1046-17, Crystal Tealight Holders 8716, "Table Glam" Crystals 8715, Love Letter Ceremony Box Set 9073, and Floating Candles 4020.
Have fun with it! There are a ton of variations out there so be creative and pair your purple of choice with any other color — or colors — you please!
The Playful Purple look:
Ceramic Butterfly Dishes 8541, Salt & Pepper Puzzle Pieces 9102, Mini Garden Shovel 9063, Mini Blown Glass Heart Vase 8961, Cube Favor Boxes 9100, Monogram Baroque Box Wraps 3022-993, and Foil Wrapped Mint Swirl Candies 2111.
If you would like to request your own Inspiration Board, just let me know. Feel free to leave me a comment below or write me a note on our Facebook fan page HERE.
But first, check out our Inspiration Boards photo album! You never know, your color scheme — or something similar — may already be there waiting for you.
Happy purple weddings!

Photos included in this post courtesy of: Beate W, Tracy Toh, Karen Barefoot, Michelle L., Roger Kirby, Dani Simmonds, David Hepworth, misscreativecakes, Salicia, Gordon Tarpley, Carolina Chiao, Jonathan Day and Sarah_Ackerman.