This is for the couple who is laid back, loves having fun and doesn't want a 100% formal wedding.
I've chosen the heart as the unifying theme for the main inspiration board, a way to tie all the different ideas together. The products are more playful than the somewhat traditional variety.
You've got my heart on a string.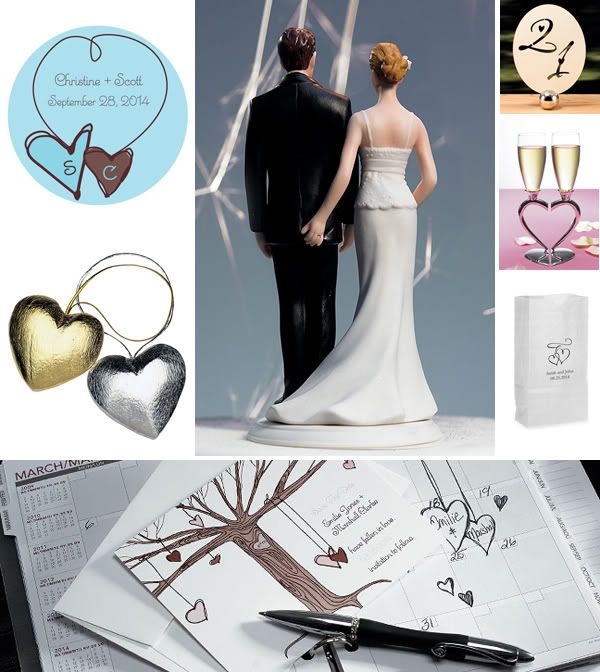 An extremely easy way to add a little fun to your wedding is to incorporate a funny phrase or cute saying.
If your wedding happens to feature the color green, why not add ribbons and favors that incorporate the theme;
Two peas in a pod.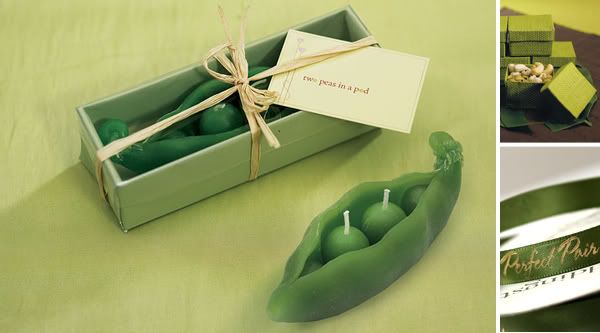 Oh sure, some of the phrases are… a little cheesy, but in my opinion, a little bit of cheese never hurt anyone! It would be even better if you could find a saying or idea that has special meaning to you as a couple.
For example, (though if this has happened to any of you I'll eat my hat), if you met while taking a tour of a honey farm, and you just happened to be the one who calmed your groom-to-be down when he realized just how many bees were around – then perhaps your slogan should be;
Meant to bee.
See what I'm getting at here?
You can have so much fun with words, and if you choose to include something fun, it will be a detail that you will look back on fondly. And perhaps with a groan or two.
Would you dare to use a play on words in your wedding?
You've got my heart on a string – Weddingstar Products: Heart Strings Stationery Collection, Love Pinch Cake Topper, Heart Ornaments, Interlocking Heart Toasting Flutes, Double Hearts Goodie Bag.

Two peas in a pod – Weddingstar Products: Two Peas in a Pod Candle, Organic Woven Favor Boxes, Perfect Pair Ribbon.

Meant to bee – Weddingstar Products: Meant to Bee Card, Thanks for Beeing Here Stickers, Sunflower Bouquet, Decorative Tin Flowers.