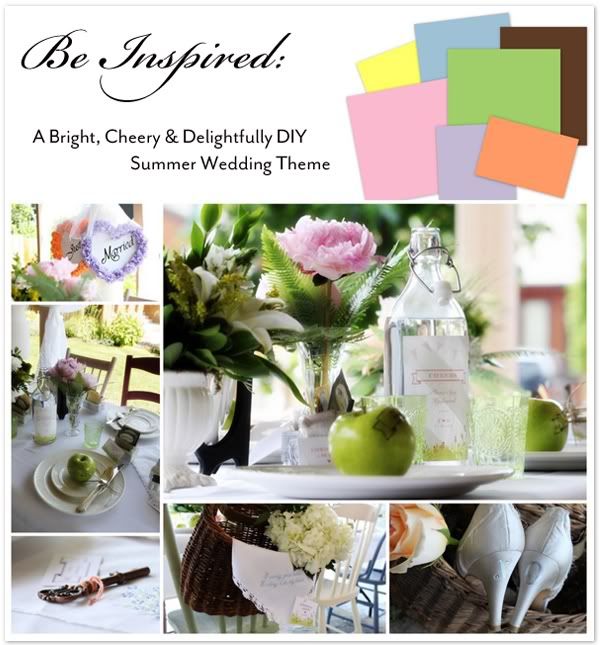 It's outdoorsy, it's fun…it's rustic chic! This easy-to-master wedding theme is great for outdoor summer events and really allows you to get creative with the venue décor, favors, stationery and other accessories to make it all your own.
These fabulous Rustic Chic inspired wedding photos feature our adorably festive Homespun Charm Stationery Collection. So check it out, and maybe, just maybe, it'll help inspire your very own outdoor, summer fairytale.
Here is everything you'll need to create this look…
Pretty Table Décor
How great is this bright and playful table number? Just stick a Homespun Charm Table Number Clear Cling on a vintage-style plate, and voila!
Then place it on a Stems of Lavender Handkerchief for that extra oomph of sophistication.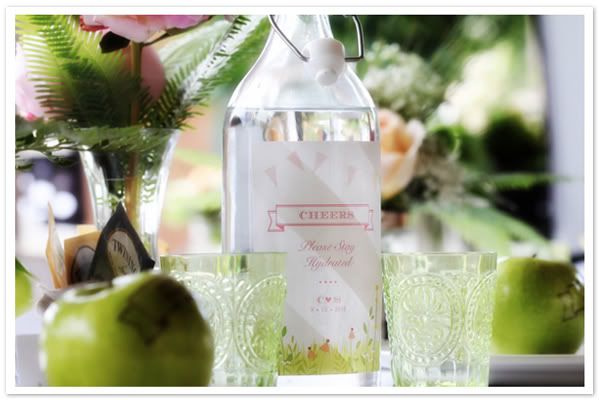 Check out this fun and creative use for a Homespun Charm Wine Label! Keep your guests hydrated with personalized jugs of water on each table — a great afternoon wedding alternative to bottles of wine.
Yummy Place Cards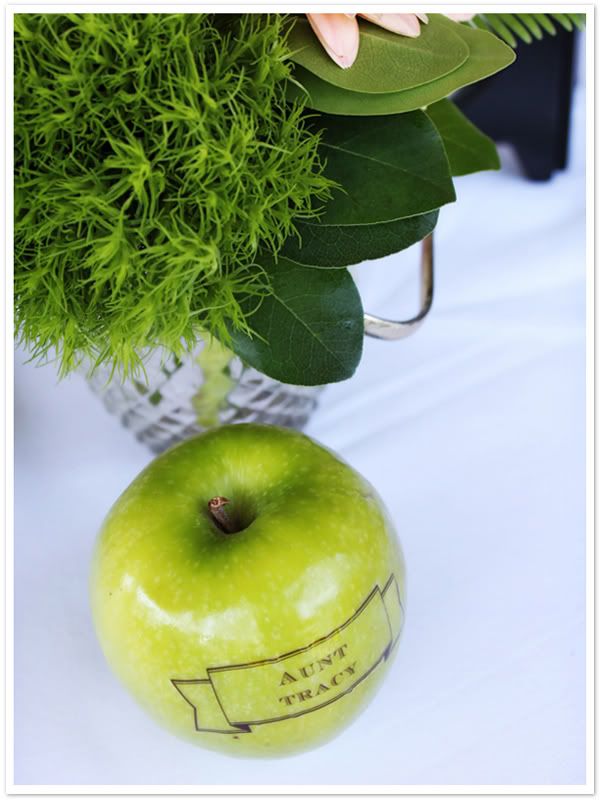 Skip the standard paper place cards and opt for apples instead! The color fits in perfectly with the theme and they really add a touch of country class to the tables. Personalize them with an easy-to-peel-off  Homespun Charm Clear Sticker.
New Spin on the Classics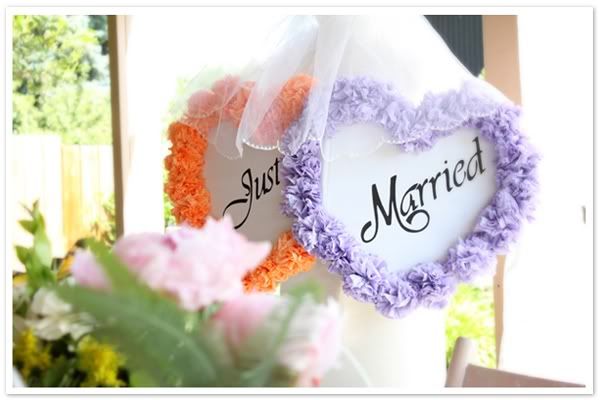 OK we've all seen them before…cheesy pom-pom wedding signs indicative of the equally cheesy style of the 1980s. But with the right colors and a touch of delicate tulle, they can be incredibly romantic and even elegant.
We used our Double Heart Decorative Form with Just Fluff Plastic Poms in Peach and Lavender to create this look.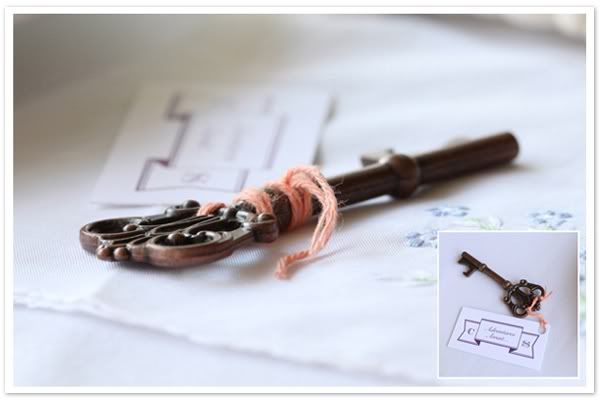 I just love this Antique Style Key Bottle Opener favor! It is so unique, chic and absolutely versatile. Personalize it with a Homespun Charm Small Ticket and a piece of ribbon or twine to match your theme and your guests won't think twice about leaving this little gem behind.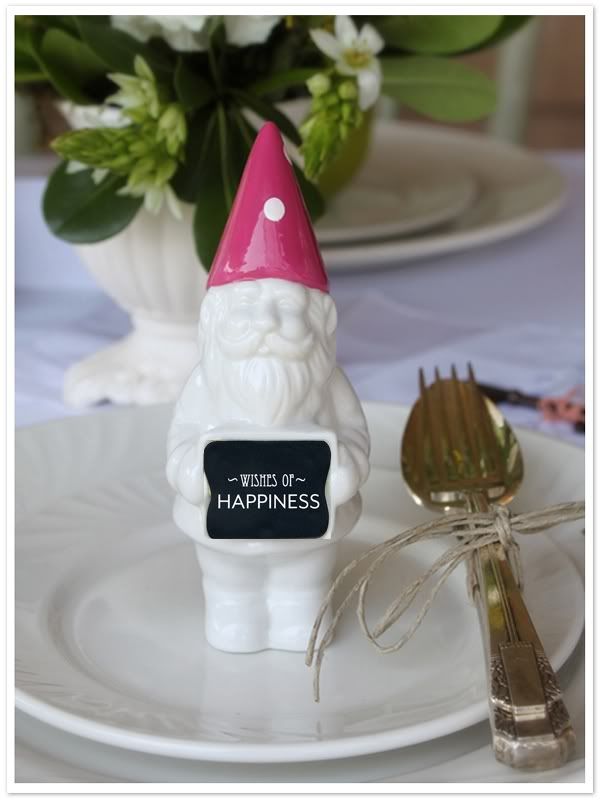 OK seriously, what garden party is complete without a gnome? This adorable little Gnome favor is one of our new 2012 products just released yesterday, and boy are we excited about it!

I think it will give your guests a good chuckle and, well let's face it, it's fabulous!
Lovely Little Details
Consider a woven basket as your bouquet holder, and make it all your own with a customized Handkerchief and Homespun Charm Rectangular Tag. So pretty!
We're all well aware that our wedding shoes are one of our fav accessories, so why not jazz 'em up a bit with our "Shoe Talk" Stick-on Decals? There are eight great messages to choose from, including the "X" and "O" with pretty crystal details pictured above.
Chic Creativity
Get creative with your escort cards and hang our Homespun Charm Note Cards from pieces of string using mini wooden clips to emulate the adorable banners on the stationery!
This idea would also work as a unique guest book or wishing well alternative. Just ask your guests to write their well wishes on the note cards and hang them on the line — simple, sweet and unforgettable!
Also, consider leaving your guests a note on a chalkboard using our Liquid Chalk Marker. It's such a nice, personal touch!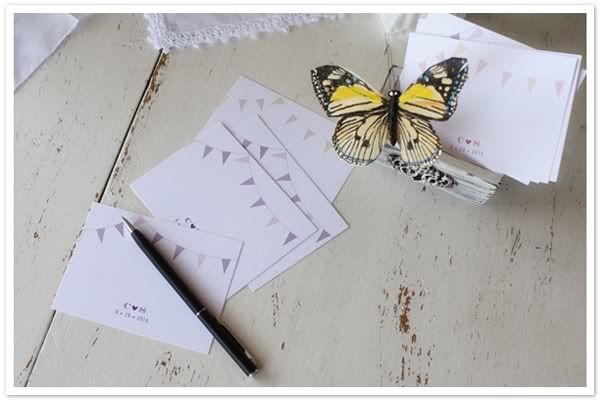 This pretty little butterfly accessory is from our Beautiful Butterfly Decorative Set. A set includes 25 butterflies of various styles and tones to achieve a natural look.
Use them to decorate tables or incorporate them into your centerpieces, cupcakes, place cards, bouquets or anywhere else a butterfly would flutter.
This Jewel Footed Wooden Box has a realistic aged finish and is a great little container to hold just about anything. Make it your guest favor or use it to hold packets of sugar or tea. Then finish it off with a Homespun Charm Rectangular Tag.
Happy weddings!