Hello Wedding enthusiasts, my name is Rita. I'm one of two new additions to Weddingstar's creative department. My role here is in Graphic Design and Product Development, and I'm very excited to be a part of the Weddingstar Blog.
Being immersed daily in Wedding culture I am lucky enough to have the scoop on current trends in the world of wedding receptions. Currently I'm noticing a gravitation towards weddings with distinctive themes, and I can see why.  A wedding is an event to be reminisced for years to come, a rare chance for families and extended families to celebrate all together. Themes can really amplify everyone's enjoyment of events by adding a touch of whimsy and promoting a more memorable atmosphere. That being said I am going to use this opportunity to share with you some insider tricks to creating a theme.
Themes can seem overwhelming as many people think of themes as outlandish and complicated. I'm here assure you that is not true, favorable results and torturous effort are mutually exclusive. You don't need to go overboard, in fact, simple is often better.  A theme is really just a reoccurring subject, and that subject doesn't have to be Mardi Gras, unless that's what you want! The point is a theme can be based, even loosely, on whatever you choose. Love country fairs?
To make your theme extra special and unique to you as couple you can draw a subject from a cherished memory or passion you share  and revolve you decor and color scheme around that element. We received a submission from a couple who incorporated their love of cereal and shoes into their decorations. It was such a unique and fun theme that we didn't think twice about featuring it.
Creating a theme can be as simple as picking a color and choosing like colored decorations. Various shades of one color paired with a neutral like white, back, or gray, always looks stunning.  To choose a color to suit you, first consider what type of atmosphere you aim to convey. Do you want high energy festivities or a more elegant affair? Colors have symbolism and evoke mood, here is the break down for some popular colors.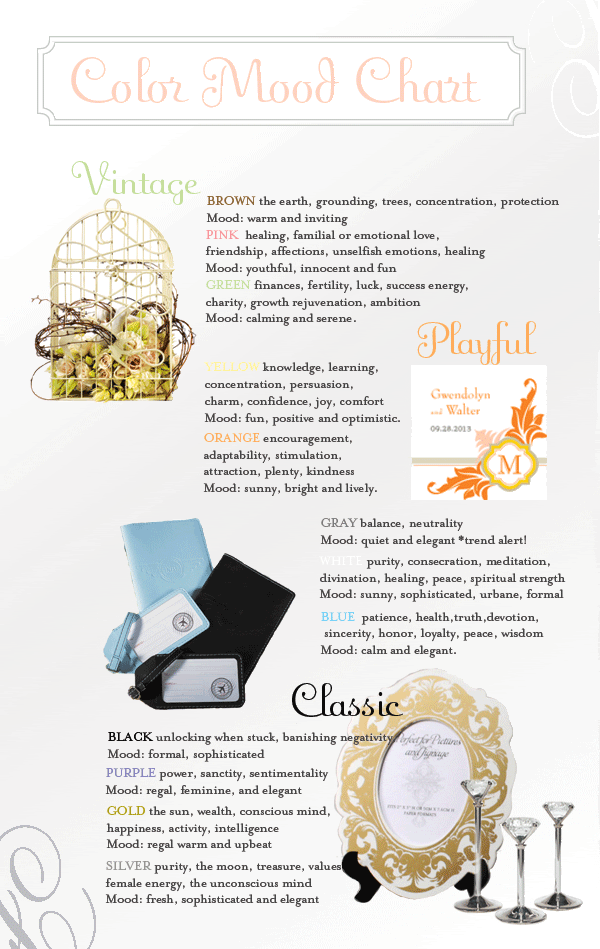 Depending on the shade though, even one color can evoke different moods. The rule of thumb is pale tones are tranquil, dark tones are elegant, and bright tones are festive.
P.S My jet-set colleagues, recently returned from an industry event in New York city, gleaned that gray is the in vogue neutral this year. Try paring it with pink for a romantic and elegant look.
If you have already chosen a location this can be extremely useful to inspire a theme. Looking into the history of your location can bring forth some interesting ideas. On the other hand if you have yet to decide on a location you can choose one based on the energy you wish to evoke. Here are some fun ideas for themes in different locations:
1. A lake shore can morph into a vintage inspired woodlands, consider products like these.
2. Public gardens can burst with exotic orchids, consider products like these.
3. A backyard can become a playful county fair, consider products like these.
4. Halls can be transformed into classic, regal ball rooms, consider products like these.
There are so many products on the market shopping can be overwhelming but determining a mood does simplify. You'll know what to look for and can pick accessories based on their color and style that matches your mood. Done thoughtfully mixing and matching can produce very unique and elegant combination. Alternatively, if you prefer it all laid out for you, simply shop by theme .
Regardless if your shindig is big or small, god is in the details. No matter your budget, if you take a bit of time to look after the smaller features with the same focus as you do the larger, you will ensure that your event has a lovely and cohesive theme.
Hopefully these suggestions will inspire you in the processes of shaping your own special day. It's key to remember that although catering to your guests is important and there can be pressure to impress, at the end of day it is you, the couple, that should be the most satisfied.  And if for what ever reason you feel conflicted about what type of celebration to have you can always have a more traditional ceremony and change locations and style for the reception, allowing for a fun variation in atmospheres.
Have fun creating!

P.S All the products featured in the color mood chart are all available online.
Modern Decorative Birdcage #9117, Contemporary Love Birds Cake Topper #8458, Lavish Monogram Stationary Collection #1016, Mr. & Mrs. Passport Covers Gift Set #9160,
Mr. & Mrs. Luggage Tags #9157, Baroque Paper Frames with Table Easels #9141, Diamond Shaped Tealight Holders #8840