(Photo courtesy of Laineys Repertoire)
Tying a ribbon isn't quite as simple as tying your shoe. Sure, you could do it the exact same way, but if you do the end result isn't going to be the one that you are hoping for.
Wedding ribbons can look smart and classy just as long as you take a little extra time to tie them. Unfortunately every ribbon type requires a slightly different method to achieve that polished look, and of course it depends what you are tying the ribbon to!
For this post we are going to focus on favor ribbons, but keep in mind that the basics behind them can be applied to many other ribbon types.

We have a series of videos that demonstrate how to tie various types of ribbon. There are no step by step instructions – we tie the ribbons for you right in the video. It is a short clip so you can watch it as many times as you need to if you want to replicate the end result.
Like with anything, practice makes perfect, so don't be too disappointed if your first tying attempt is not quite as pretty as you hoped!
Double Ribbon with Bow
The double ribbon style is the classic way to tie a ribbon around a present. It is the simplest way to indicate that an item is meant to be a gift and at the same time dress it up! It works with both personalized and plain ribbon, whichever you prefer.

(Photo courtesy of _Fidelio_)
Typically this type of ribbon will be tied around a favor box or around an item that is very simple in shape. It works great for basic cubes and rectangles, however it could look messy on a complicated shape or unsymmetrical object.
Other than its appearance, the main benefit to tying bows in the double ribbon style is that they are very secure. Moving the item around isn't going to dislodge or move the ribbon in any way.
Single Ribbon with Bow
More versatile than the double wrapping method, the single ribbon is simply wrapped around an object and then tied into a bow. This method works regardless of the size or shape of an object. Though you should still use your judgement to determine whether or not it would suit the item.

Depending what you are tying it to, there is a chance that this style of ribbon could slip off – you will want to make sure that this won't happen, especially in transportation. This style is particularly beneficial if you don't want to obscure one side of the gift with ribbon.
Traditional Bow
If you don't want to tie your ribbon around something, then the simple traditional bow is ideal. The bow, once complete, can be secured to the item any way that you choose.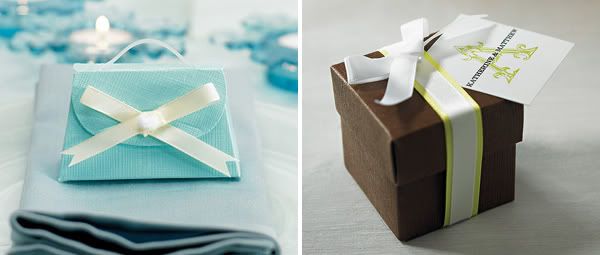 In the video we use our very popular personalized ribbon for bows as the example. This ribbon is designed specifically so that both ends of the ribbon will feature an easily readable personalization.
(The non ribbon Weddingstar products included in this post are the: Sweet Bird House Favor Box, Miniature Woven Picnic Basket, Mini Classic Pink Gumball Machine and various Wedding Favor Boxes.)

If there are any additional How To videos that you would like to see us create in the future, please do not hesitate to let us know!