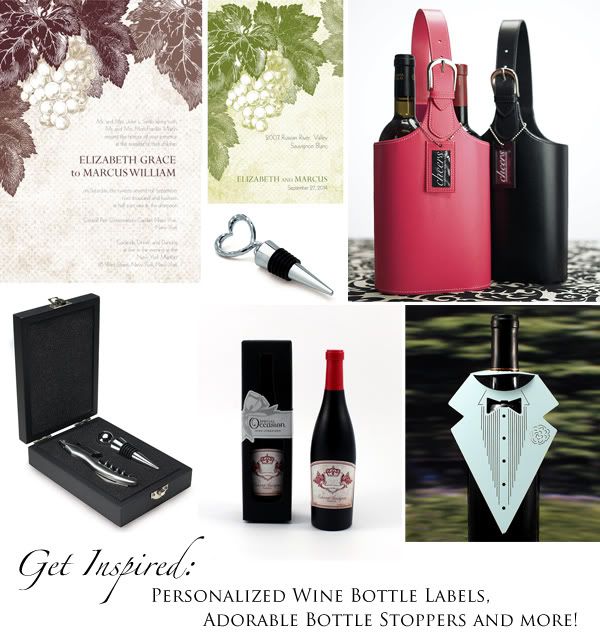 I've heard through the grapevine that themed weddings will be making a huge comeback in 2012! So, I thought we'd chat about one of my favorite wedding themes: wine!
From wine inspired stationery to place cards adorned to wine glasses, we've got what you need to create a wine wedding masterpiece!
Choose Personalized Labels to Suit Your Style…
Whether you choose to have your wine themed wedding at a winery or vineyard or not, you can still master the theme by scattering various wine related accessories throughout it.
Arguably one of the simplest ways is to do that is to personalize the wine bottles placed on each table with custom labels that reflect your personalities, style or underlying vibe of your wedding.
So, find your style below and check out some labels I think might work well for you. And keep in mind, all of our labels are part of a stationery collection so they all have coordinating invitations, table numbers, place cards, stickers, tags, etc. to complete the look.
Vintage Chic
Love Bird #1032-14 | French Whimsy #1047-14 | Heart Strings #1064-14 | Hearts #1018-14
Rustic Country
Homespun Charm #1156-14 | Rose #1158-14 | Autumn Leaf #1001-14 | Rustic Country  #1151-14
Classic Elegance
Cherry Blossom #1024-14 | Floral Orchestra #1052-14 | Classic Orchid #1152-14 | Lavish Monogram #1016-14
Modern Romance
Zinnia Bloom #1157-14 | Romantic Elegance #1046-14 | Love Bird Damask #1044-14 | Perfect Peacock #1049-14
…or Dress 'em Up
Make your wine bottles a central focus on the wedding reception tables by giving them a little extra oomph of eye-catching pizazz.
As Table Numbers
Let your wine bottles play double duty and use them as the table numbers. Whether you choose a standard bottle label or go a little fancier with a Laser Expressions bottle wrap, your bottles will no doubt be an absolute hit.

Black Pinstripe #1155 | Classic #1154-31 | Butterfly #3027-991
As Place Cards
Just like the bottles, your wine glasses can play a double role as well. Dress them up with our Laser Expressions Die Cut cards and they'll serve as über chic place cards.

Butterfly #3004-999 | Fanciful Bird #3026-999 | Rose #3013-999 | Seahorse #3007-999
Add a Little Pizazz
These Laser Expressions novelty tags and wraps are undeniably sophisticated and fun. These would be especially fantastic if you plan a wine tasting at your reception. Each bottle can have its own little personality!
For tips on how to incorporate these Bottle Tags into your wedding, check out this blog post: Our New Bottle Tags: How to Incorporate them into your Dream Day.
Choose Bottle Stoppers
Bottle stoppers are a great, inexpensive way to add a bit of drama to your wine bottles without going too over the top.
Also, all of our bottle stoppers come in charming gift packaging which make them a fun and functional favor idea your guests are sure to enjoy!

Seahorse #9133 | Love Bird #9134 | Coral #9138
Snowflake #6069 | Starfish #8402 | Queen Crown #8866 | King Crown #8865
Butterfly #8870 | "Fused in Love" #8869 | Martini #8867 | Leaf #8868
Browse our array of wine inspired wedding accessories on our website or refine your search by theme and click HERE or on Wine Wedding Favors in the drop-down menu.
Check out all of our wine bottle labels HERE as well as our Wine Romance Stationery Collection #1086 to complete the look of your theme.
For more information on our wine accessories, check out this blog post: Wine Wedding Accessories. It includes a helpful video on how to use our popular Wine Bottle Shaped Opener #9145.
Happy weddings!

Weddingstar products included in photo 1 are (clockwise from left to right): Wine Romance Invitation #1086-19 and Wine Label #1086-14, Heart Shaped Bottle Stopper #6095, Two Section Wine Carry Bag #8469, Laser Expressions Novelty Tuxedo Bottle Tag #3030-989, Wine Bottle Shaped Opener #9145, and Wine Gift Set #7060.