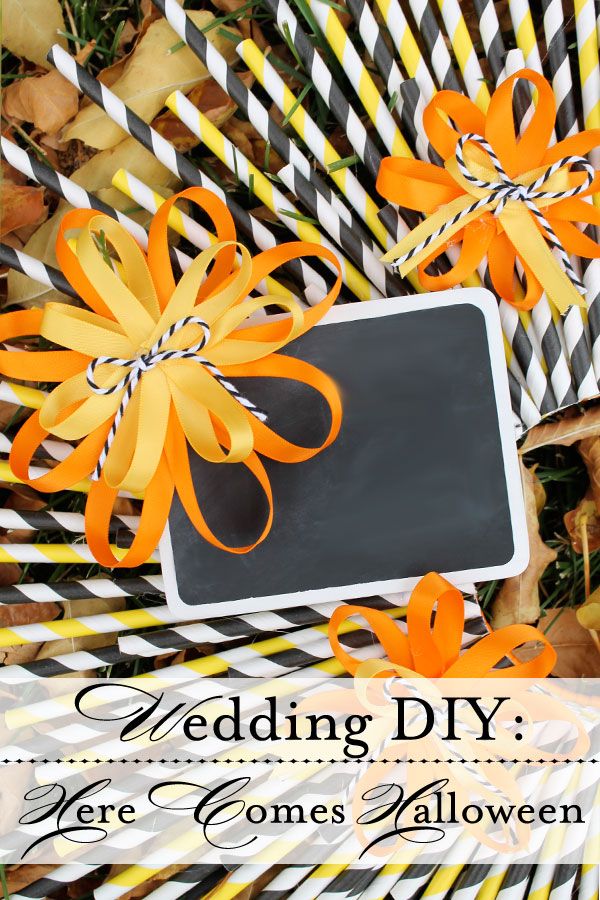 I don't know about you guys, but Halloween is one of my all time favorite holidays! I look forward to it all year and am pretty much positive that when my big day comes, it's going to be on October 31st! It's an amazing and memorable day to say the least and I am loving all the inspiration I am seeing lately! However, I thought that there was room for a little more. So, today I'm going to show you guys how to make this adorable paper straw wreath in classic Halloween colors. What I love best about this design is that it's classy yet still in touch with the holiday – which is perfect for any bride. For a more spooky look, simply add different decorations to the foundation wreath or to change the look entirely, use different colored straws! We have a ton of amazing colors to choose from so I promise you'll be able to find some to fit your wedding! Even better, this project is super simple, cheap and I think the final product is pretty darn cool (plus it's BIG – my finished size was about 16″ in diameter!). Oh and did I mention that this is my first time ever creating a paper straw wreath? So get those scissors and straws out guys, it's time to craft and get ready for your big day and Halloween!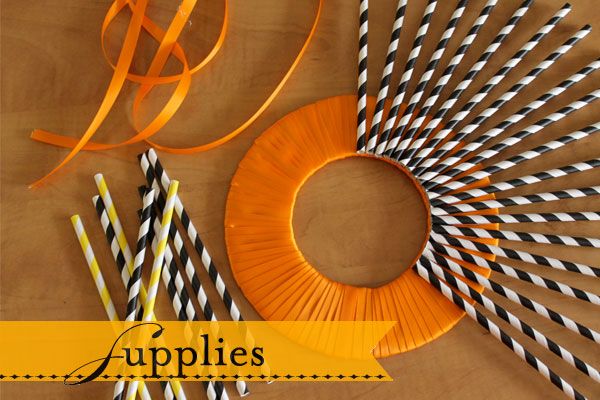 The first thing you guys will need is all your supplies! What I used was:
1.   A pre-made wreath base OR cardboard to cut your own out of. I opted for the later and simply cut out a base of 7 1/2 inches in diameter. I then eyeballed the inner ring to leave about 2 1/2 inches of cardboard to attach my straws.
2.   Then you'll need ribbon to wrap your wreath form with! I used our Large Plain Ribbon in Tangerine! I also used our Saffron Yellow in my design to make the flowers and Black to make the hanger!
3.   Along with some ribbon to compliment your color scheme you'll also want Striped Cotton Baker's Twine!
4.   Paper Straws are also necessary of course! For a two tone wreath that's 3 layers tall, you need 2 boxes of your repeated color and only 1 box of the accent color. For mine, I used about 1 1/4 boxes of the black and 3/4 of a box of yellow. If you're doing a 3 tone wreath, I'd say 1 box of each color is wonderful!
5.   You'll also want some extras to finish off the look! Your ribbon can make bows and all sorts of wonderful accents, as can your twine! I also added a cute chalkboard to my wreath for extra whimsy!
6.   Scissors are a must, as is a ruler!
7.   To put it all together, you'll want your hot glue gun and glue sticks!
Now it's time to start!
1.   Begin by wrapping your wreath base. I found cutting off a length was the simplest way to start. I glued the end to the back of my wreath form and began to wind it around! Make sure you're gluing at regular intervals to keep your wraps in place! This is the most tedious part of the wreath, but should only take about 10 minutes, depending of course on the size of your wreath form.
2.   Then it's time to place your straws! I started with my straws at full size so there's no need to cut them at all! Simply put the glue on the back of the straw and glue to the form! Continue all the way around until your form is completely covered, trying to line the ends up with the inside of the wreath form. For placement, simply try and visualize the minute hands of a clock, this is how the ends of your straws should be laying, more or less! I found simply starting was the easiest way – I promise you'll catch on fast how to lay your straws! Also, at the very end, don't panic if you have to try and squeeze an extra straw in to finish the circle, because this foundation round will be covered with other straws anyway!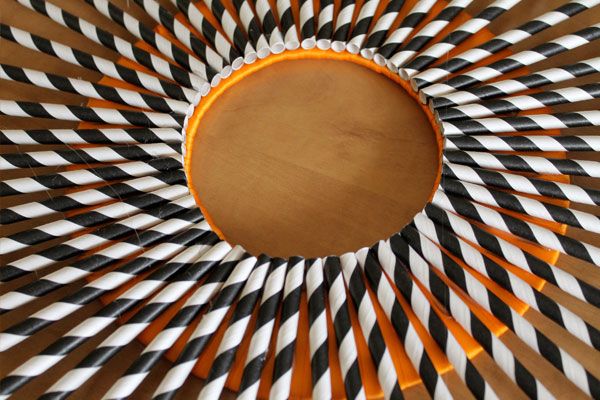 3.   Now comes the second layer! I cut the tips off my yellow straws so they were 6″ tall. I simply measured the first straw on my ruler and used that as my guide to cut each new straw, lining up the uncut ends. For the nicest look, I found it was important to place the cut ends to the inside of my wreath so the nice round ends were facing outwards. You simply follow the exact same steps, this time placing the yellow straws in a pattern so as to fill in the "gaps" created in the foundation layer!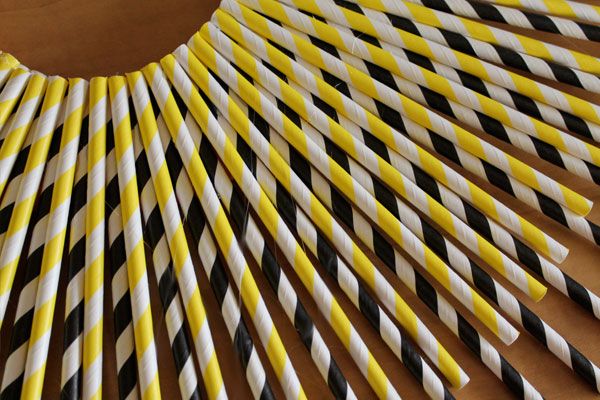 4.   You're almost there – just one more layer to go! And, for this one, your going to cut your straws off at the 4 1/2 inch mark! But, don't loose those little pieces because this layer is a staggered layer. I alternated between the "long" pieces and the "short" pieces here to give my wreath that extra pop that really makes the design wow!
5.   And now all you have to do is add the hanger to the back and attach your extras! For mine, I wanted a Halloween look that was still pretty fancy so I opted for ribbon and twine flowers (made by gluing single loops of ribbon together and adding a twine bow to the center!) and a cute little chalkboard to add the ability to customize my wreath with any message I wanted! From initials to a welcome banner to a Halloween catch phrase, I really love the versatility of a chalkboard on this wreath! Then my hanger was simply a length of black ribbon attached to the black with hot glue so I can tie my wreath anywhere!
And, don't forget we have lots more colors of straws so you can find the perfect fit for your wedding design!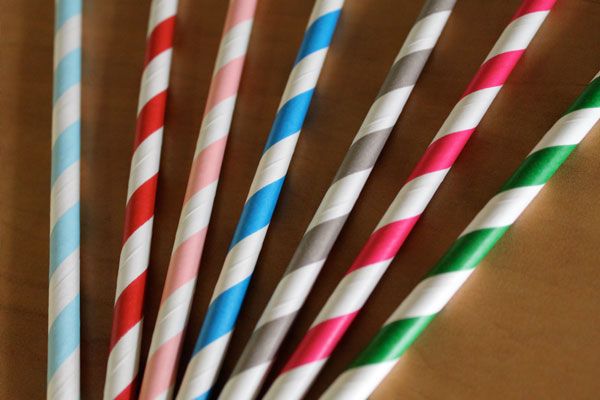 I hope you guys have all enjoyed this tutorial – Happy Crafting and Happy Weddings!!!