Happy Halloween!
There are always weddings that center around the holidays and Halloween is no exception. There will be weddings with pumpkins and zombies, skeletons and vampires — but what if you want a slightly more subtle tribute to the day?
All you really have to do is take it one step beyond vintage and venture into the 'neglected' era.
Set the stage for something spooky, and let your guests' imaginations do the rest.
Dried flowers, as opposed to fresh, are a perfect first step. For an added effect you could dry the flowers so that they droop in their vases rather than standing tall, and of course there is also the option to bedeck them with a hint of spiderwebs!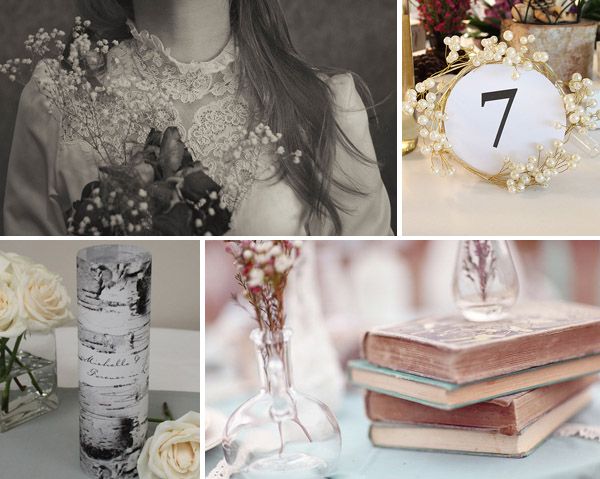 Lace is a staple of many vintage weddings; beautiful pristine lace might be perfect any other time of year, but for a Halloween Wedding, why not find lace that is a bit more on the threadbare side?
Fall details, such as the birch bark luminary shown above, could also be included. Autumn and Halloween mesh together beautifully, fallen leaves, the exodus of summer; it can easily be portrayed in a sad or maudlin sense — it doesn't have to be bright and colorful!
Also shown above is a wedding number that has been wreathed in a pearl and vintage gold wire ring.
Shown above: Vintage Rose Wedding Collection (which features a guest book, cake serving set, toasting flutes and pen) and a vintage style favour wrapping kit. (For a more halloween-y effect try distressing the components to give them a more aged appearance!)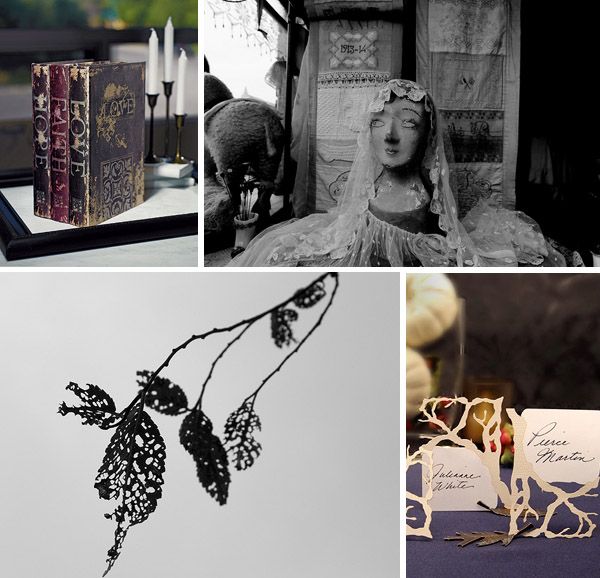 I love the look of leaf skeletons, they're an incredible example of the more dreary side of fall, while still being beautiful. They're delicate and ethereal — perfect for an elegant Halloween.
The stack of vintage books shown above are actually a box that was designed to be used as a wishing well! Of course the leaf place card holders and die-cut branch cards are also a few products that we offer.
I'm pretty confidant in saying that a Halloween wedding doesn't need zombies and vampires in order to capitalize on the holiday!
So tell me; would you ever have a Halloween wedding? And if you would; what would your theme be like?
Photo credit goes to Weddingstar, camerakarrie, wolfsavard, porschelinn, jerine, Creole Sha, Ella Patenall, Barnabus, michaeljesusday and Bird Eye
If you would like to see your wedding photos featured on our blog, feel free to email them to onasweetnote@weddingstar.com or submit them through your Two Bright Lights account.
Please include the name of the happy couple, wedding date and location, vendors, and any other information you'd like to include about the venue, decor and overall theme or inspiration of the wedding.
If you are not the photographer then you must get permission to use their photos before you submit them, and please include their name and website for photo credit purposes. Photos will be featured as space permits.
Of course, we would love to see our own stuff in action! If you have photos featuring any of our Weddingstar products, please submit them.
Like us on Facebook
Follow us on Twitter
See our pins on Pinterest