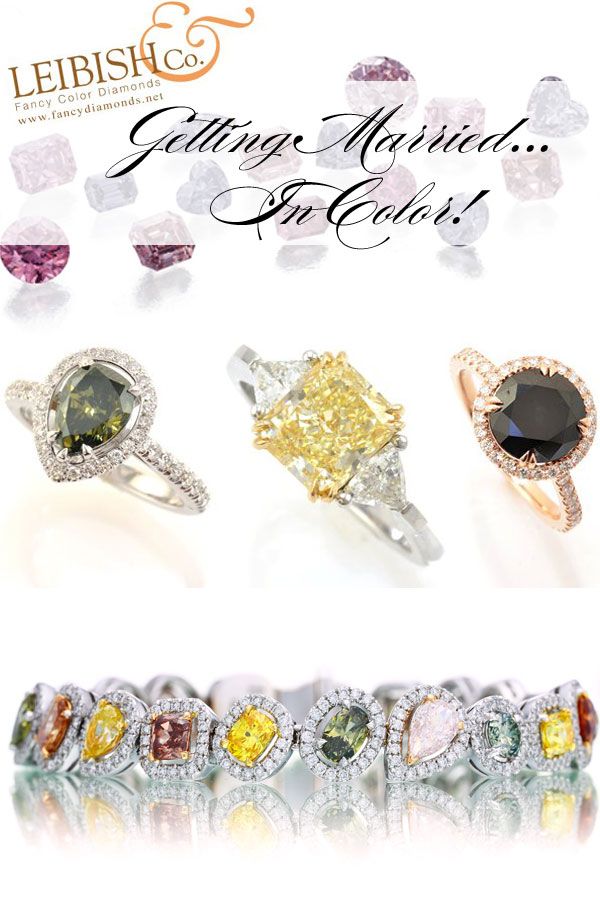 Change is usually an evolutionary rather than a revolutionary process. This is especially so when it comes to getting married. After all, when the traditional way of doing things has satisfied so many couples for so long, why change it? As the old saying goes, "If it ain't broke, don't fix it." However, times change, trends change, the options available change, and so do people.
Whereas the traditional white wedding dress is still a staple on the way down the wedding aisle, the color of the diamond on the bride's finger is frequently not colorless.
Natural fancy color diamonds have become the "must have" stone in the engagement ring of the modern bride. Coveted by royalty, the very wealthy, noblemen, and those "in the know" for centuries, these incredibly rare wonders of nature have come to public prominence in recent years due to their adoption by the new royalty – celebrities.
A-list celebs and trendsetters such as Beyonce, J-Lo, Kate Hudson, and Heidi Klum, to name but a few, have been the recipients of colored diamond engagement rings of varying colors. The trickle-down effect to the public at large has put fancy color diamonds at center stage as a unique way of distinguishing yourself as a bride in tune with the times who knows all about the better things in life.
Following is a list of the colors of diamonds available and a brief tidbit about each color: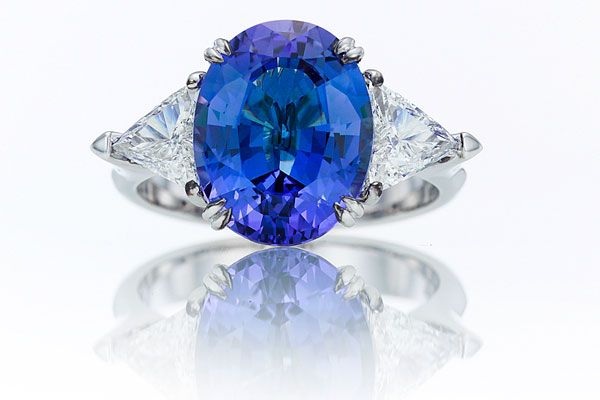 Blue
Highly coveted, very rare, and very expensive, blue diamonds are always in great demand. For women with cool skin tones, blue diamonds look outstanding. Due to its rarity, these stones are rarely found. One of the most recent natural blue diamonds to come to auction, a 7.59 carat Fancy Vivid Blue, received a bid of $2.1 million per carat. That price is higher than any other price per carat ever paid at auction other than the Vivid Orange which just sold for a record braking 2.4 million per carat. Still, the bid was denied because the owner saw greater potential in the stone. Some of the most famous blue diamonds are the Wittelsbach-Graff (31.06-carat which sold for $24.3m), and the Flawless Blue (7.03-carat which sold for $9m). The Hope diamond, which is 45.52-carats, sits in the Smithsonian museum. Can you imagine the price something of that caliber would bring today?
Pink
Pink diamonds are revered throughout the world as the most luxurious diamonds available. The color clearly displays femininity, love, and passion. Not only is the cause of the color still scientifically unknown, these stones are among the rarest fancy color diamonds available. Hence, it is no surprise pink diamond engagement rings are in such high demand. Natural pink diamonds currently hold the record for the three most expensive diamonds ever sold at auction. The Princie Diamond, a 34.65-carat pink sold for $39.3 million, the Graff Pink, a 23.88-carat pink diamond sold for $46 million, and most recently the Pink Star, a 59.60-carat pink diamond sold for $83 million dollars!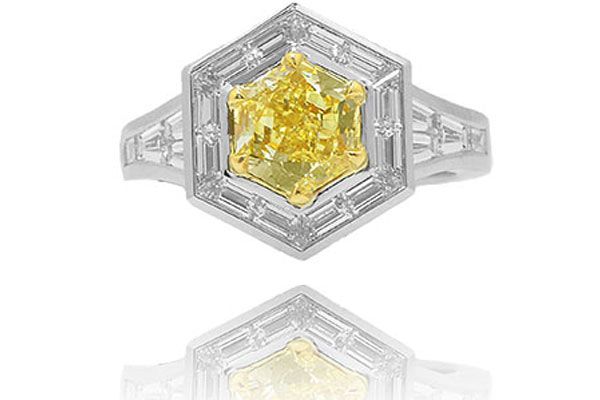 Yellow
Yellow diamonds, also known as canaries, are the most popular of the world of colors. Yellow diamond engagement rings, yellow diamond studs, and yellow diamond pendants are among the highest sold items of any natural color diamond dealer. Just ask Kelly Clarkson, Carrie Underwood, Heidi Klum, Jennifer Lopez, Rebecca Romijn, Marilyn Monroe, and more celebs that have been adorning their yellow diamond jewelry in public. Less rare than pink diamonds, they are no less beautiful.
Orange
Recently responsible for setting a new per carat auction price record of USD2.4 million per carat, these earth tone stones are also available in a price range to suit most people's budgets. They are most often found with secondary colors, while the pure orange diamonds are extremely rare. They are sought after by collectors since the color is considered so incredibly unique.
Green
Another oh so cool color that is much desired, green diamonds will not be outshone. As a standalone color or when paired with yellow, gray, or pink; green diamonds are not something you see on every finger. Different from other natural fancy color diamonds, it isn't only the compound elements that provide these stones with its unique coloring. In fact, the conditions that must exist in order for a green diamond to be formed naturally is almost statistically impossible. It is, interestingly enough, a prolonged exposure to a specific type of radioactive source that gives these diamonds their appearance. And in case you were wondering, there is no need to worry ladies. There is no danger in wearing these on your body.
Champagne
One of the few colors that is still similarly priced to colorless diamonds. Also known as cognac or chocolate diamonds, they are great on the eye, easy on the waist, and look amazing when paired with white diamond set in a yellow gold ring. Of all natural fancy color diamonds, brown stones are currently priced the lowest because they are so common. However, that won't be for too much longer, as supply is not increasing. The Argyle diamond mine in Australia, which is most famous for their production of the famous pink diamonds, is also one of the largest producers of Champagne diamonds. This mine has an estimated life expectancy of only a few more years until 2020 when they officially close down.
Gray
Who said that gray is depressing? For ladies not afraid to show their dominant side, it doesn't get much cooler than a gray diamond. With common secondary colors such as violet, violetish, blue, bluish, green, greenish, greenish yellowish, and yellowish green, these stones can have an amazing appearance. Gray diamonds are perfect for the non-traditional types of brides-to-be.
Black
The recent star of many red carpet events, black diamonds are the perfect contrast for almost every other color of diamond and also make a real statement just by themselves. This miraculous stone is found in only one single color intensity and cannot be compared to anything else. The dark, mysterious, luxurious look has taken to some of the hottest celebs and pairs together with colorless diamonds very well when set.

Red
A barely cooked steak may be rare but not as rare as a red diamond. Rarer than a hen's tooth and a lot more expensive, some diamond merchants have never even seen a red diamond in the flesh. The most recent famous red diamond sold by the Argyle mine was only 1.56 carats, but sold for over $2 million during the Argyle Pink Diamond Tender 2013. The biggest red diamond ever recorded was only a mere 5.11 carats, and sold for an estimated $8 million back in 2001. Today, that stone would easily sell for over $20 million and then some!
Purple
Pure diamonds are also very rare. Another of the cool skin tone colors that works well by adding contrast to gray diamonds or complementing pink or yellow stones. In the family of pink and red, the cause of this fantastic color is still considered a mystery. Research points to what is known as plastic deformation of the crystal structure through extremely high pressure when moving towards reachable depths of the earth during the volcanic eruptions over the past millions of years. But still, this theory cannot be confirmed. What is known is that the color is both rare and magnificent.
Chameleon
Although everyone has heard of and likely used the De Beers marketing slogan, "Diamonds are Forever," the only diamond that is known to temporarily change its color is a Chameleon. Not that they won't last forever, but the term was adopted because a diamonds color does not change. However, these stones are essentially just another green or yellow stone, only with the additional color changing capabilities. It is something that is not understood by even the most knowledgeable diamondtaires. When heated or left in the dark for a few hours, the color will temporarily change from either green towards the yellowish scale or vice-versa. They range in color from gray/yellow, to brown/green, to green/yellow.
Violet
Although red diamonds are recognized as the rarest of the family, you might sooner see one of those than a pure violet. These stones are very rare and very beautiful. Although they can sometimes look strikingly similar to purple diamonds, they are closer to the blue colors. The violet color comes from the compound elements found within the chemical structure of the diamond as opposed purple diamonds which are assumed to get their color from plastic deformation.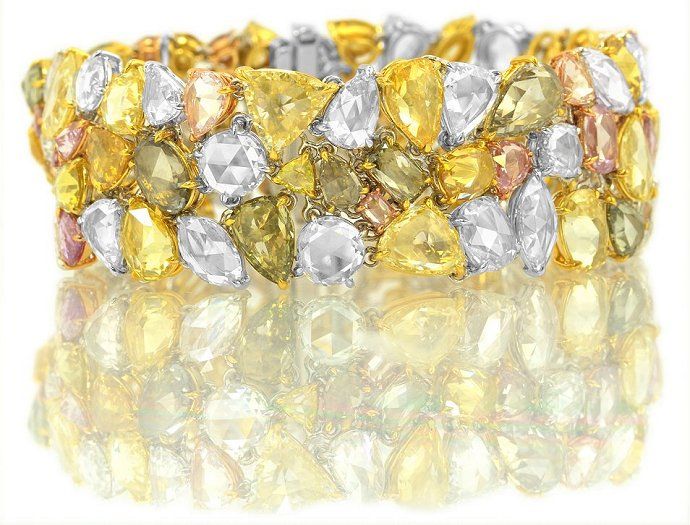 White
No, not colorless – white. Yes, white diamonds; they are unique, reasonably priced and provide great contrast for black diamonds. Sometimes in life things really are black and white. With a totally opaque and milky appearance, similar to black diamond's, these stones can be found in only one single color intensity.
Fancy color diamonds come in nine intensity levels and over ninety secondary hues, so no two colored diamonds are ever the same. The range of colors available is almost beyond comprehension; however with the use of the World of Colors tool you can begin to imagine how truly wonderful getting married in color could be.
The story of Leibish & Co. started in 1979, when Leibish Polnauer took a leap of faith and went after an advertisement in the paper. A phone call, a meeting and plane rides later, Leibish returned with a stock of pear shaped diamonds. The Crown Jeweler bought all of them, and Leibishes love of colored and fancy shaped diamonds began (and continues today!). With their expert workmanship, unparallelled quality and unique vision, Lesibish and Co. has become the go-to for fancy diamonds! Learn more by visiting www.leibish.com.
All Photos Courtesy of Leibish & Co.