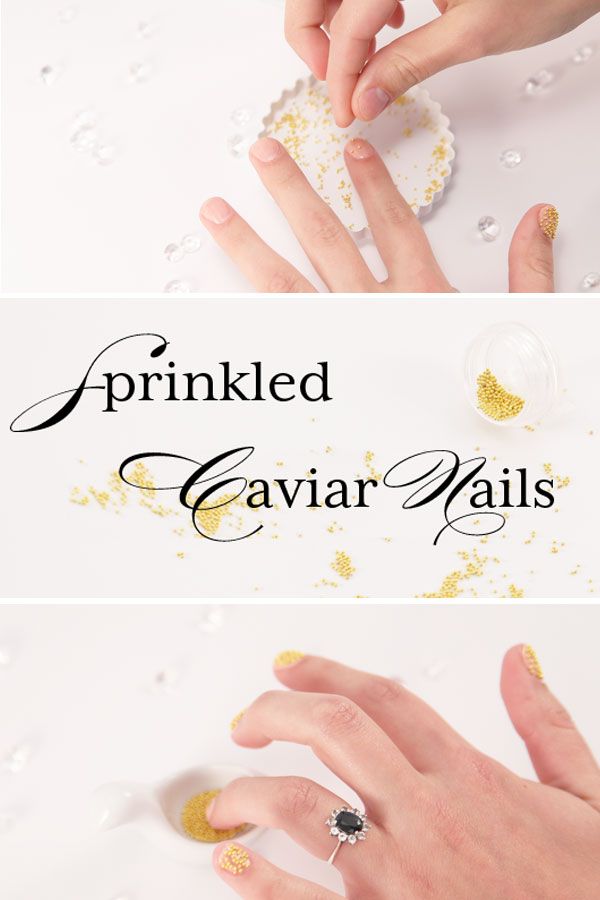 Woohoo, TGIF! And, I want to help you get the weekend started off right with today's brand new DIY tutorial – Sprinkled Caviar Nails. Putting a new spin on the uber-trendy caviar nail, I'm showing you how to create a one of a kind look that's perfect for your wedding day, bachelorette party or even just to get all your 'maids introduced to each other in the ultimate girls night. Best of all, I created the look for next to nothing so all you budget bridey's can rejoice and get glam with your gals. So, without further ado, let's get the caviar nail party started!
So cute right?? I especially love how this look is the perfect mix of glam with simplicity. To grab this look for yourself (and your best ladies!) all you need is:
1.   Nail polish in your favorite shades or wedding colors.
2.   Caviar beads – We got ours on Ebay for 99 cents and they did all 3 of our hands and we still had lots left over.
3.   Top Coat to seal in the end.
4.   A little plate to sprinkle the beads over top of.
5.   Small jar or tub to hold the beads for your accent nail dip!
And now you just follow the instructions above! Simply paint your nails (we did two thin coats), letting them dry thoroughly between each go. Once dry, go nail by nail, swiping another thin coat over top. Let that coat sit for about 10 seconds and then sprinkle the caviar beads over top. Once you're satisfied with the coverage, press down firmly with a clean and dry finger pad. Let them sit and dry for about 1/2 hour and add a quick swipe of clear coat to seal! If you want an accent nail (like we did), simply leave out the finger you want to accent from the sprinkles and instead, add the final coat as if you were doing a french manicure. Let it sit for 10 seconds and dip your fingernail into the caviar beads. Remove, press and finish with top coat. And that's all there is to it!
In total, the most time is definitely spent waiting for your polish to dry. But, with a fantastic flick on starring a shirtless Channing Tatum or Ryan Reyonds, I'm sure you and your girls will find some way to pass the time! I hope this tutorial has helped inspire you for your wedding day beauty routine (or given you an amazing idea for your bachelorette party!). Have a wonderful weekend everyone, see you all Monday!