Today is another glorious Fashion Friday – and this week's is ready to get you glammed up for the weekend (and for your wedding of course!). It's my pleasure today to be able to share amazing tips for the most gorgeous eyes you've ever had from International Makeup Artist, Lucy B. That's right, the renowned founder of Lucy B.'s Apothecary is here today sharing her best tips and tricks to have amazing eyes at your wedding and beyond. Get ready to learn all the tricks of the trade that are sure to make you look and feel beautiful! Enjoy!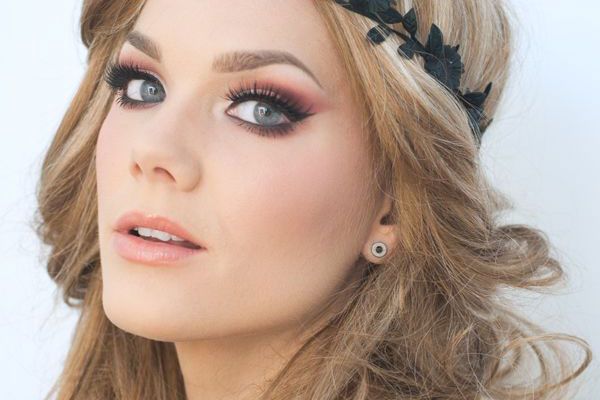 Hey ladies, Lucy B here – and I'm ready (not to mention excited!) to share some of my best wedding makeup tips with all of you! From talking with many brides over the years, I know one of the main concerns most brides have is figuring out a way to make their wedding makeup outlast all the happy festivities so they look stunning in each and every photo. It seems like a daunting task, but I promise there are some great tips and products to help you create a look that lasts! So to get you started, here are some great basic makeup tips for your wedding day:
Waterproof Mascara is a Must
For your wedding you need to be picture perfect all day long! This means you won't want mascara all over your face if you get a little emotional at your ceremony or during the speeches. Heck, even if your not really an emotional kind of gal, busting your sweet moves on the dance floor can make you sweat – which can cause regular mascara to run. We've all seen it, and we all know it's not a good look! So make sure you're packing your favorite waterproof mascara for your wedding day because it'll stay in place and last all day so you'll look like the goddess you really are!
Budge Proof Eye Liner
If you're going to have a lined eye as part of your wedding look then I recommend using a gel liner. I personally love the one's from Bobbi Brown in brown or black but the call is totally your own! Just make sure you read the label and confirm it's a gel, otherwise your liner might not be as long lasting as it could be!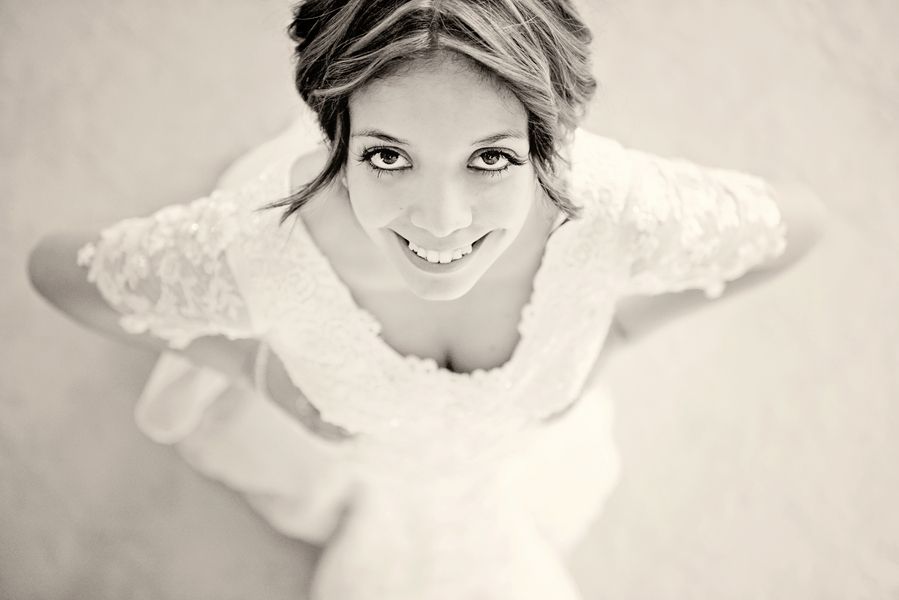 Carol + Josh / AllieChelle Photography

A Youthful Glow
I especially love this tip for beach weddings or outdoor soirees! For these brides I always apply a light shimmer delicately on the apples of the cheeks, on the inner corner of eyes and across the bone of the nose. With a fantastic highlighter in these 3 key spots you'll look youthful, radiant and totally gorgeous (which is a great combination, right?!?).

Beat the Exhaustion and Look Amazing
It's one of our greatest fears, right ladies? You wake up on your wedding day after tossing and turning all night with last minute jitters and excitement. You look in the mirror and all you can see are the circles, the bags, the puffiness! It's not a great look for you, especially on your wedding day. But, luckily you've got all the products you need to look sexy and awake. Here's how:
First things first – break out the…. CUCUMBER! Or the tea bags – whichever you have on hand is perfect. These are the greatest lifesavers for reducing puffiness & they make you feel very pampered when you have them on! Just have your morning coffee while the tea bags (or cucumber if it's not already in the fridge!) sit and chill in the refrigerator for about 1/2 hour. Then plop them on your eyes while you chat happily with your bridesmaids and leave them sit till you feel refreshed and look amazing (about 15-30 minutes).
Now you can combat everything else with your amazing arsenal of makeup! Start off by doing your foundation or BB cream/ tinted moisturizer and then applying a highlighter pen (I love YSL Toucheclat) right around the nose area where redness and discoloration often occurs. Then take the same highlighter pen and apply it under your eyes to help camouflage those dark spots!
If you still look a little sleepy, make your eyes look more awake with a little sweep of shimmer. I always do this for a great eye look, and start by sweeping the lower parts of eyes in the inner corners with a sheer shimmer or lighter color. My favorite product to use is my own Lucy B's "Sea Shell," a pinky pearl mineral shimmer that is amazingly pretty and opens anyone's eyes to create a more awake look. Now simply apply the rest of your makeup and get ready to say "I Do!" with a look that's fresh and awake!
Sex Appeal with a Cat Eye
The cat eye – a classic bombshell look that many brides wear at their wedding day. It has that right hint of sexiness and femininity and it's one of my favorite looks. But, just how do you create one? While I would suggest practicing before the big day, a great tip is using your eyebrow pencil to make an outline of how long a cat eye you want before filling it with your gel liner. This way you can experiment with lengths,  colors and more to find the look that's perfect for you! It's even great to use a lighter color for a daytime engagement (like an afternoon bridal shower) and break out the black liner for that extra va-va-voom at night (like for your bachelorette party).
I hope you have all enjoyed these tips! Have a wonderful wedding, feel beautiful and have fun creating your look with your favorite makeup!
ALL ABOUT LUCY B: The Founder of Lucy B. Cosmetics & Fragrances, Lucy Baldock-Sacchi originally hails from London, UK. With a passion for beauty, Lucy was inspired by the amazing natural resources that swirled around her in her years in Australia, and she wanted to share the beauty of nature worldwide! And that's how Lucy B. Cosmetics & Fragrances got started.
Along with running a more than successful empire, Lucy of course has been working as a celebrity & beauty make-up artist for over fifteen years! In that time she's worked extensively with many celebrities including: Claudia Shiffer, Johnny Depp, Elle McPherson, Gwyneth Paltrow, Kylie Minogue in Europe, USA and Australia; and for prestigious magazines such as Vogue, Harpers Bazaar, Elle, In style, Marie Claire and Vanity Fair. If that wasn't enough, Lucy teamed with top advertising Photographer (and husband!) Marco Sacchi, and together hey created the image and soul of Lucy B. as seen today!