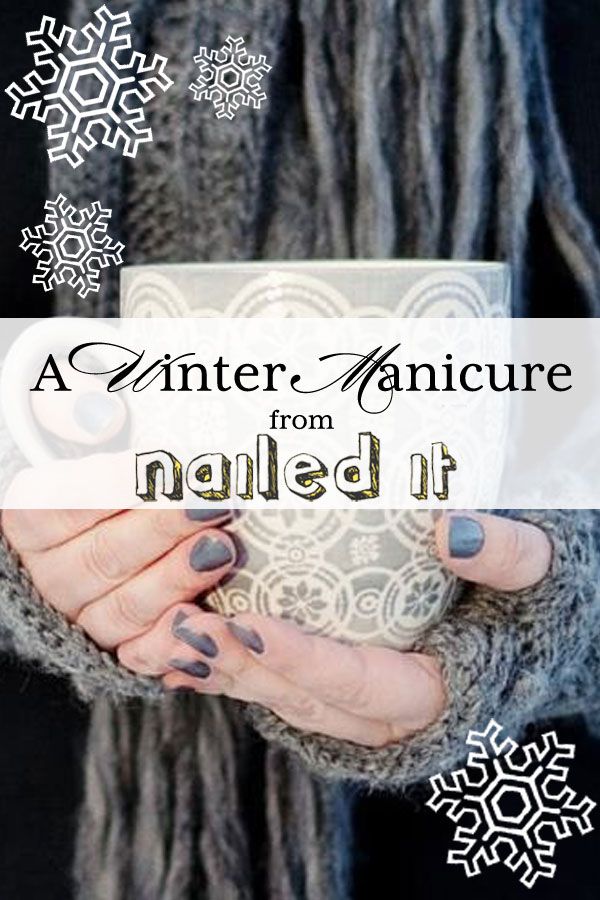 Happy Friday everyone! Today we've got another wonderful guest blog from nail genius Katy (Nailed It) that's all about keeping your hands in tip-top shape for winter! From the best practices to keep your hands smooth and looking great to a 30 minute winter manicure, Katy promises you'll have the best lookin' hands in the land! So get ready to moisturize and buff your way into beauty, enjoy!!!
Hey guys, Katy here! So you've chosen a winter wedding – congratulations! It's a beautiful time of year, but it comes with it's own beauty concerns, one of which is how to care for your fragile hands in the unrelenting cruelty of winter weather! For me, in Colorado, the winter season comes complete with snow and wind, which deliver a quick and brutal beating to my hands. But, I've got just the ticket to help make sure yours stay in top photographic shape!
In the months and weeks before your wedding (or engagement photos if that's your winter option!), start this simple TLC treatment and you'll see great results!
Pampered Housework: Unfortunately, just because you're engaged doesn't mean the chores stop. But as you soak in dirty dish water suds and mop up around the house, your hands will thank you if you throw on a pair of rubber gloves first. Hang a pair in your bathroom, and stick one near the sink, wherever just make sure they're always in reach because repeated over exposure to water (especially chemical laden water) will rob your fingers of moisture. You can certainly reinvigorate them with a shot of lotion, but preventing that in the first place offers miraculous results so your skin is moisturized, your nails aren't brittle, and the overall health of your hands is much higher!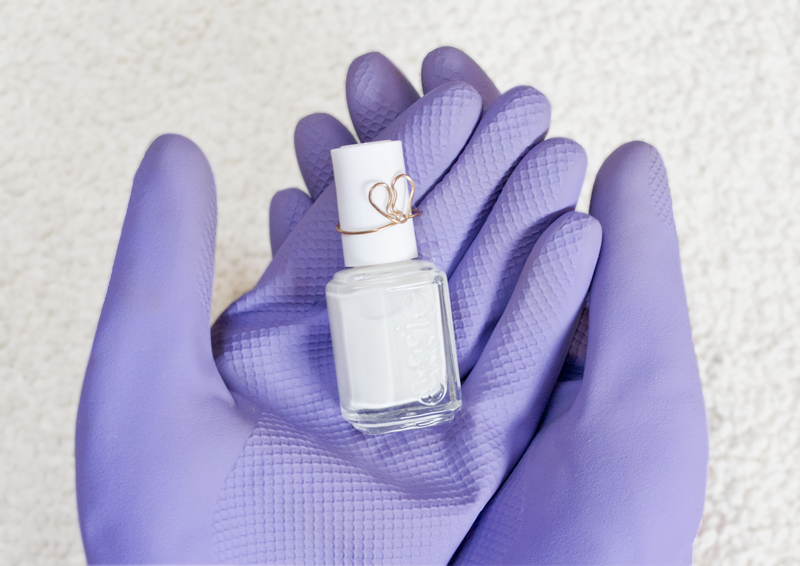 Luxurious Cuticles: For me, the first sign of winter weather shows up not on the car window, but on my cuticles! They begin to dry up, turning a shade or two lighter than my natural skin color. Pieces begin to pull away from my skin around the nail, and ultimately I wind up with hang nails (yuck), which are so tempting to rip away! So, if you get a hangnail, for the love of your nails, don't pull it out! You'll expose your nails to infection. Simply snip the dead piece away, as close as you can to your living skin without cutting it.
To avoid this problem all together, keep your cuticles happy and hydrated. The best way to do that is with moisturizer, and particularly, cuticle oil. These luxurious treatments provide moisture, and a scent-sensation you'll love! My favorites are CND's Solar Oil, which is an almond scented (delicious!), and Tammy Taylor's peach cuticle oil, which will revitalize you with a fresh burst of peach. After applying a little to each nail, spend about 10 seconds per digit rubbing it in thoroughly with light pressure and circular motions on your whole nail. Then, follow up with a pump of your favorite lotion so your entire hand can drink in some moisture!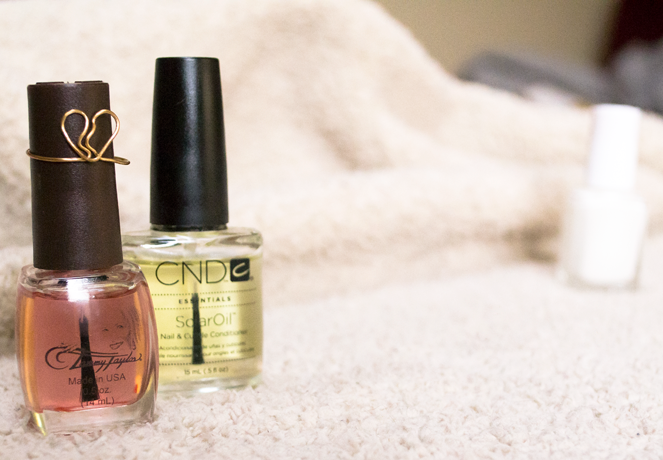 Need some extra moisture? When you've applied everything, put on a pair of soft, cotton gloves to sleep with. While your fiance might think you're a little nutty for suddenly trying the magician/conductor look, they'll love you in the morning when you wake up with silky smooth hands. To start off you might want to check out Londontown's ultra-sensational hand treatment kit that'll save even the most ravaged winter hands!
If you prep your hands with those two easy changes, you'll make your life (and your nail tech's) so much easier on the big day.
But what if you can't afford the time or money to make it out to a spa on wedding day? You'll still want the best looking hands you can get, so here is my speedy, 30-minute mani regimen for the DIY bride.
1.Get off all the old polish or basecoat with 100% acetone (which removes old polish much quicker than non-acetone remover). Assuming you just had regular polish on your natural nails, this should go quickly. If you had gel, shellac, or any artificial nails, you'll need extra work. Consult with your nail tech to get them removed properly!
2.File your nails to an even length on both hands, even if that means going shorter than you'd like. File them with a soft file (I prefer 180-220 grit files) moving from the corner to the center of each nail. If you want your nails to be square, you can file in one direction all the way across the nail, just don't saw back and forth. You're getting married, not leveling a forest here.
3.Squeeze a dot of cuticle remover (Google it) on the nails of one hand. Rub it around a little so it covers all the skin directly around your nail.
4.Grab a bowl, and pump in some soap and warm water.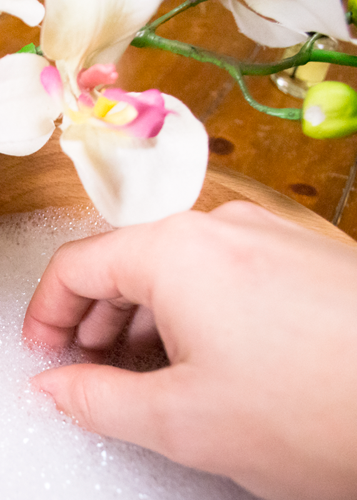 5.Now let that same hand sit in the water for 5 minutes. Just sit there. Turn on the TV or brush your teeth with your other hand, but just sit there. This will soften up your skin and cuticles and make these next steps snappy. Throw in a few marbles to play with while you soak if that'll help the time pass more quickly.
6.Remove and dry your hand with a clean, dry, and warm towel. (Warm towels just feel better, let's be honest.) As your drying, use the towel to lightly push your cuticles back.
7.With an orangewood stick wrapped in cotton or a cuticle pusher, gently push your cuticles back. Don't shove them or scoop at them, just push them away. The cuticle remover will have worked its magic in the water, and should help peel away most of the cuticle that's clinging to your nail plate.
8.Any cuticle that remains can either be removed with cuticle nippers or buffed away with a buffer. You probably have one of those 3, 5 or 7-sided buffers lying around somewhere. Dig it out and use it here. If you're not sure how to clip cuticles, don't do it. You might end up clipping live skin, which will cause bleeding and scabs and all sorts of trouble. You're better just buffing it away or softening it to death! Only nip at dead skin, never live skin.
9.Now repeat steps 3-8 on your other hand.
10.Put lotion and cuticle oil on both of your hands now, and rub it all in.
11.With an alcohol-soaked cotton ball, rub all of your nails. This acts as a dehydrator (or pH balancer) and will pull all the oil and moisture you just put on your nails off. Though this seems counterintuitive, the best canvas for a lasting polish job is dry, clean nails. Even though your nails may look dry, the internal moisture from the oil and water will have an effect eventually, so just take this step to make sure there's no chipping later.
12.Apply a base coat to all of your nails.
13.Apply your polish to all of your nails. Do two coats of color for a professional finish (more will result in chipping, less will look patchy). When you're applying the polish, leave a tiny margin near the skin surrounding your nail. This will make it look cleaner, and help the manicure last longer. You'll also want to run the edge of the brush along the tip of the nail (the free edge). This caps the nail polish for a very clean finish.
14.Use a slanted paint brush to clean everything up. Just dip it in a little bit of acetone and trace the areas of skin that may have gotten polish on them. Don't use too much acetone, as that will result in a pool of it accumulating in your nail folds and messing up all your hard work!
15.Apply a quick dry topcoat, or use drying drops or spray on top of a top coat to get yourself on your way.
16.To help maintain the look, avoid using your hands as tools from this point on. Use your keys to open soda, and type lightly! Also be sure to wash your hands regularly, applying lotion after each wash.
With this advice, long-winded as it may be, you should be able to get a professional look to your hands in about 30 minutes. Take your time though, and budget for an hour to be sure. And as always, call on your lady friends to help you out if you need it!
A winter wedding is a gorgeous event, and your hard planning will ensure it turns out as such. A little extra planning for healthy and soft hands will add a little extra sparkle, and looking back on your wedding day pictures, you'll be glad you took the time to do it.
If you have any questions or would like to contact me for wedding needs, feel free to reach out to me at blognailedit@gmail.com!

Katy is a nail-tech-to-be and nail art blogger for Nailed It. She's currently enrolled in a program to be a licensed nail technician, but has been involved in nails since 2011, honing her skills as a nail artist and professional manicurist. She has written for Weddingstar before, offering up this easy and flattering French manicure twist.