Fall is just about upon us once again! And, while that means our sweaters are creeping back into our everyday wardrobe, and you might be rocking a jacket to your wedding planning meetings, it also means that a wide array of delicious fall treats are also coming back en vogue! And, while some of the classics are always in style, I've got a fantastic range of new and scrumptious fall treats for you serve at your wedding, your shower or even at your own holiday party! Get ready to bake, make and feel inspired (and just a bit hungry!). Enjoy.

Wow your guests with delicious favors they won't be able to resist with these simple ideas (and recipies!). Best of all, they're budget friendly so you won't have to break the bank to afford them! Pretty awesome huh?!?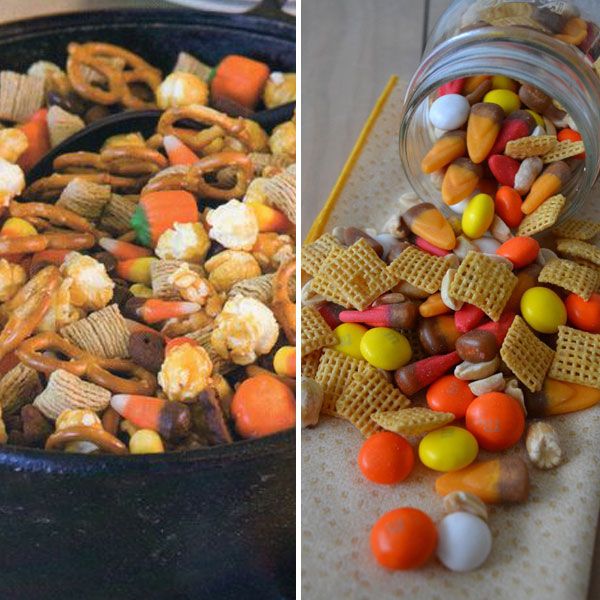 Yes, I Want Cake's Fun Fall Trail Mix // Simply Southern Baking's Fall Trail Mix
For the kids at your big day (or if you're a kid at heart) the first trail mix here has a fun mix of colors for a fall/Halloween theme that's sure to please. While the recipe featured on the right is a little more grown-up and without the Halloween notions! And, if you're not sold that these favors will look amazing, how about dressing them up with these: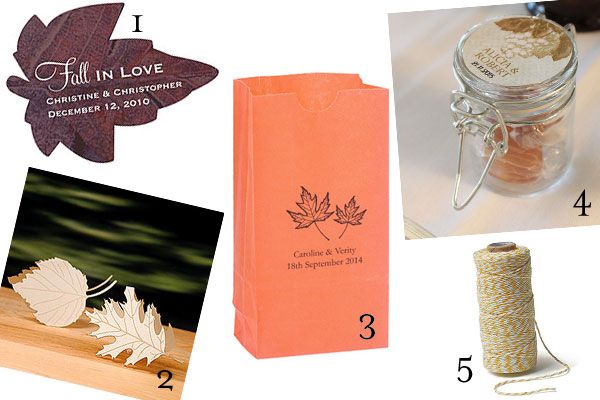 1. Fall Leaf Sticker // 2. Laser Expressions Leaf Folded Place Cards // 3. Fall Leaf Self Standing Goodie Bag // 4. Mini Glass Bottles with Wire Snap // 5. Striped Cotton Baker's Twine in Saffron
Skinny Pumpkin Cream Cheese Bread by The Recipe Critic via Pincookie
If you're feeling a little more adventurous, why not serve up slices of this delectable Skinny Pumpkin Cream Cheese Bread! A healthy alternative to other baked favors, simply bake, cut, wrap and place in cute little containers like our Miniature Picnic Baskets or our Transparent Acetate Favor Boxes.
A final fall favor idea – why not put a little spin on a classic and serve up pumpkin pie, in miniature form! With our "Sweetie Pies" Miniature Pie Packaging Kits, homemade (or store bought!) food favors have been easier or cuter! See all about baking mini pie's and how adorable these packages are with an entire blog post about them here.

Apple Bites via Eat/Pray/Wear/Love
All you need for these delicious fall snacks is a melon baller, apples, caramel and some toothpicks! Easy and so delicious – these would make a perfect midnight snack or fall snack bar item! You can even pretty these guys up for your wedding with some fancy food picks like our Doves or Bride and Groom ones!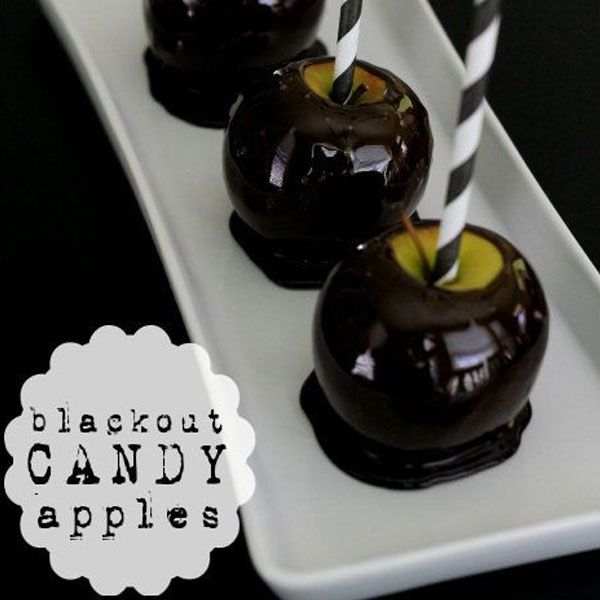 Blackout Candy Apples by Lilluna
Simple to make and amazing to behold, these candy apples are a guaranteed crowd pleaser! Plus, with Lilluna's recipe, you can make these confections in any color you like – be it black, yellow, orange or even classic red! And, you can finish off your culinary creations with these:
1. Autumn Leaf Square Tag // 2. Striped Cotton Baker's Twine // 3. "Sippers" Candy Striped Paper Straws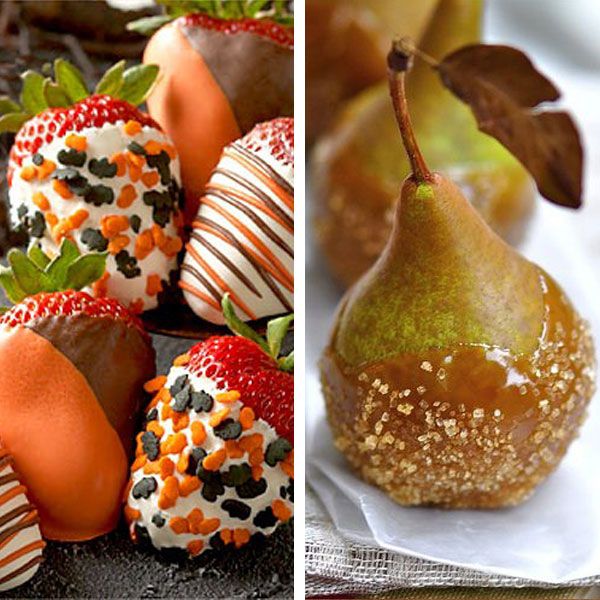 Strawberries via Pinterest // Fresh New England's Caramel Pears
Finally, impress your guests with a different kind of dessert with these spins on the candy or caramel apple! How about decorating strawberries with fall/Halloween notions to fit your wedding? Dipped in caramel or chocolate, these are sure to disappear! And, something I would have never thought of – a caramel pear! If that doesn't say yummy, I don't know what does!
Buzzfeed's Caramel Apple Jello Shots //Sloshed!'s Blood Orange Margarita
Almost no party can get started without a little cheer – spread some of your own with these fall themed cocktails! Don't drink?? Then make these virgin mocktails with a swap of ingredients! Either way, they're sure to be delicious!
I don't know about you guys, but I think I'm going to have to make some of these delicious treats this weekend! Perfect for parties and weddings alike, I hope you've been inspired by these great fall recipes! And my apologies for the cravings – I'm off to the break room myself for some vending machine caramels! See you Friday – until then, Happy Weddings (and baking!).