Not only is today Friday which I think is reason enough to celebrate, but I am super excited to announce that this Friday is also the start of Fashion Friday's here at On A Sweet Note! Every second Friday, we're going to be showcasing bridal beauty tips, styling ideas and all around fashion fun! And we're kicking things off with a bang with this fabulous nail tutorial from the amazing talent that is Katy from Nailed It! Katy's designed a special tutorial for all of us here – The Faded French! Simple to apply and simply divine to behold, you'll want to try this awesome tutorial this weekend (I know that's what I am going to do!). So get those nail polishes out and get ready to beautify!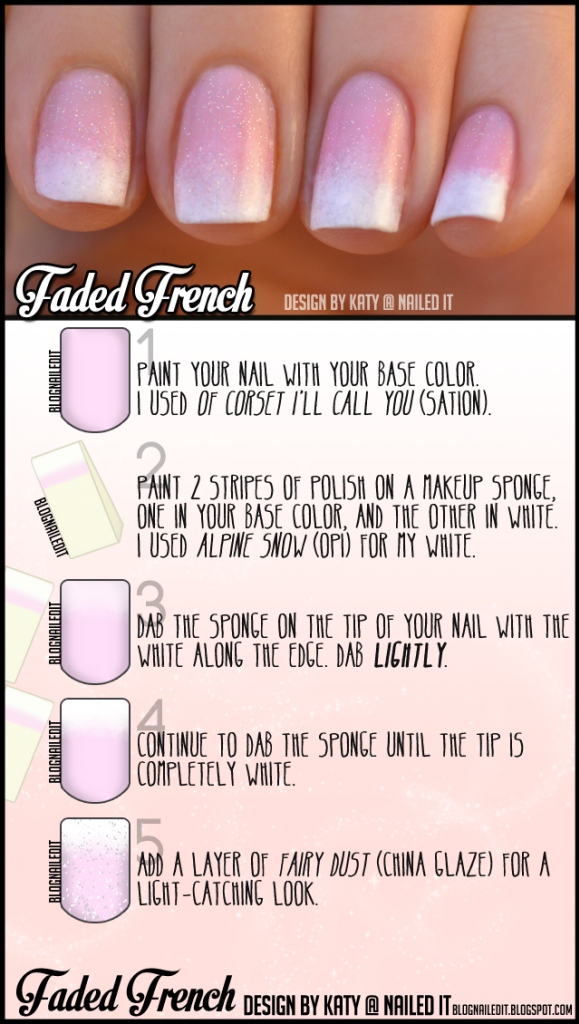 Hey guys, Katy here! I created this tutorial just for you because I know a lot of us  have a hard time getting the right look when we try a French manicure at home! Actually, saying that achieving the straight lines for a self-made French manicure is difficult is the understatement of the century! But, you can bypass the fatal flaw of a shaky (or worse yet chunky!) line that the classic French manicure demands and instead fake the French and get the ultra-fem look by using this easy sponging technique! The soft pink shade and the faded white gradient imitates the classic French in the perfect way, and the sparkle will make your nails look captivating on your big day! And don't be worried about any over-sponging that gets on your skin, just wipe it up with a nail polish remover soaked Q-Tip or small paintbrush! When your done, this look is fun yet chic enough to rock any day of the week, and it's a great tutorial to try out with your 'maids a few times before your walk down the aisle! Just remember to always have fun with it and don't forget to check out the rest of my tutorial's over at Nailed It  + find me at these other great places!
A huge thanks to Katy for letting us share this tutorial – I already have my sponges and nail polish waiting for me when I get home today! It's a great look and you can always mix it up for your wedding by using different colors to match your theme or even your gown! Have fun trying this tutorial this weekend, see you all Monday with another beautiful real wedding!!! Until then, Happy Weddings!

Like Us On Facebook
Follow Us On Twitter
See Our Pins on Pinterest
Get a Sneak Peek into Weddingstar on Instagram
Get Inspired with us on Tumblr