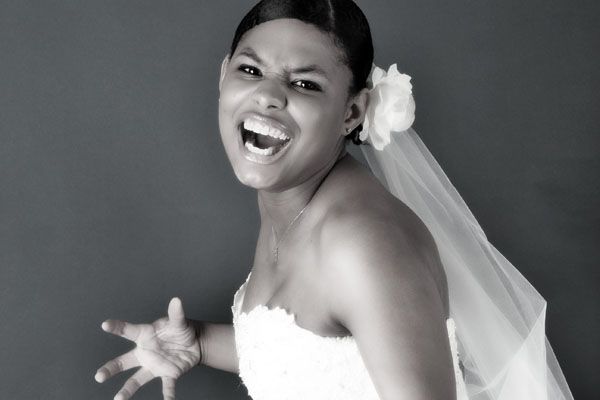 It's been, wow, nearly 4 months since my last Bridezilla entry (when I ranted about one of my bridesmaids deciding she no longer wanted to be in my wedding). Yes, far too long and I can't believe it's been that long, but I have to admit a lot has happened to my wedding plans during that time.
And over these last few months I've learned probably the single most valuable lesson when planning a wedding that I'd like to now pass along to all of you: expect the unexpected.
So, to all my fellow Brides out there, here is my rather rocky wedding planning story. Hopefully it will help inspire you to look at the bigger picture too, because a wedding, no matter how fabulous it may be, doesn't mean a happy marriage.
As many of you have previously read, I have been planning my destination wedding set to take place in Mexico this fall.
And like many of you, I've had people telling me to stop worrying (and dare I say, obsessing?) about the little things and trying to make my big day perfect, because let's face it, a perfect wedding that goes off without even the slightest hitch only exists in fairy tales.
They were right. My hitch was actually pretty major, and one that no amount of planning and preparation could have ever prepared me for…
Two weeks after we booked our flights, the resort and put down the deposits, and just four days after I ordered my wedding dress, I found out I was pregnant.
Yes, a moment of anxiety definitely came over me as I stared down at the two little pink lines on the pregnancy test (and the three other tests strewn all over the counter), and I remember the first panic-stricken words out of my mouth immediately after I broke the news to my fiancé: "What are we going to do?"
Knowing that a baby due in October and a destination wedding planned for November just wasn't going to happen, and also knowing that we wanted to be married before having children, we did the next best thing…
We decided to elope to Vegas!
Yep, we canceled our dream Mexican wedding, and I'm not going to lie that was really, really hard, and without telling anyone, booked out flights to exciting Las Vegas. We were married on May 9th at A Las Vegas Wedding Chapel (and yes, that's the actual name. Pretty creative, eh?).
Here are a few photos from my semi-impromptu Vegas wedding. Sure, it may not be much but it was our wedding day, and it was the best day of my life.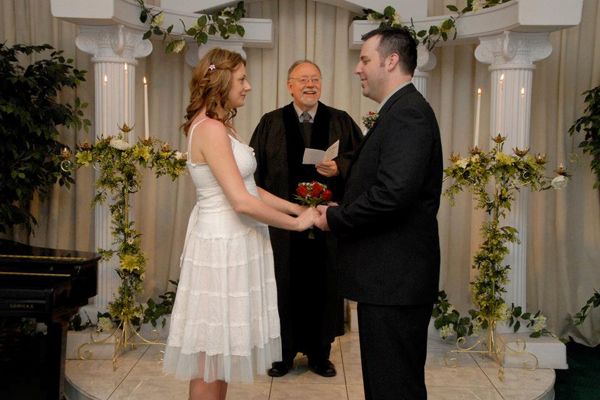 The ceremony was actually very nice and it was really romantic having just the two of us there.
We do still plan to have the dream wedding that both of us have always wanted and share our marriage with our family and friends. Besides, my ridiculously beautiful wedding dress is just hanging in the closet and you better believe I'm going to wear it eventually.
So I guess the moral of my story is things happen, and it's how you remain positive and work through them that really matters.
We can't dwell on our canceled plans and all of the lost deposits because we get to look forward to the birth of our beautiful little baby and sharing our dream wedding with him or her sometime next year. And that's not too shabby at all!
But don't worry, Brides, your wedding day hiccups will probably be more along the lines of a late limo driver, forgotten bobby pins or momentarily misplaced seat covers. The point is, these things happen and it's OK. Your wedding will be beautiful no matter what and at the end of the day, you'll still be married to that gorgeous man of yours.
Do you have a similar story? I'd love to hear it, so just leave me a comment below!
Happy weddings (and remember, always expect the unexpected)!

Bridezilla photo courtesy of cheriejoyful.
Like us on Facebook
Follow us on Twitter
Join us on Pinterest