The following is a guest blog post by Ilaria Lanzoni, Director of Design at Hearts on Fire Jewelry. Enjoy!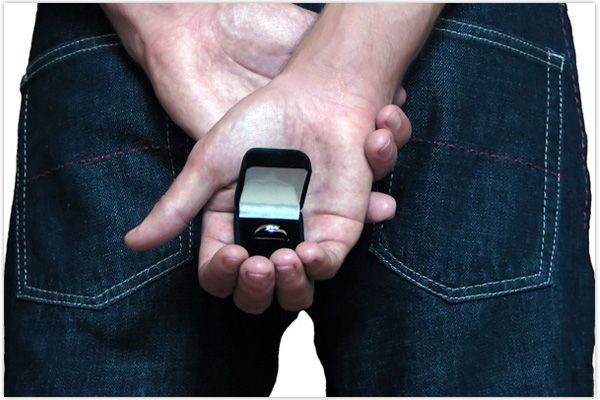 A groom's very first introduction to diamond jewelry may begin with a purchase of an engagement ring. If you've never given a diamond to a significant other, you may not have even the slightest clue about how to tell a $1,000 diamond engagement ring from a $10,000 ring. Acquiring some basic knowledge on diamonds can ease your apprehension about this major purchase.
Go on a Recon Mission
Before you begin to even look at rings, you need to do your research. Discreetly examining the jewelry your girlfriend wears will help you decide on the style of ring you should purchase. Is she more of a diamond solitaire kind of girl? Or would she appreciate an art nouveau style ring that reflects her unique personality?
If you've already talked about buying a ring, she may have mentioned the type of ring she prefers. While you're finding out as much as you can about her style preference, try to make a note about her ring size if possible.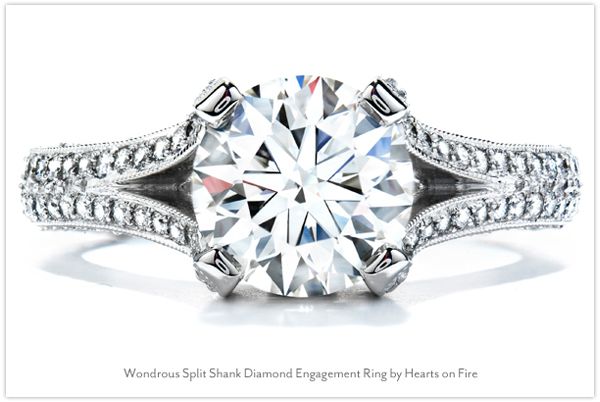 The Four Cs
Most jewelers will educate you about the four Cs before buying an engagement ring. The four Cs stand for cut, clarity, color and carat.
The cut refers not only to shape of the diamond, but also to the precision behind the cut. The more precise the cut, the higher the value of the diamond engagement ring.
Color actually refers to the lack of color in a diamond. The less color that is visible, the higher the value. The exceptions, which are considered fancy or rare diamonds, are those that are blue, red, pink, yellow, etc.
The diamond's clarity is rated based on how many imperfections can be seen under a microscope.
The carat simply refers to the weight of the diamond.
Diamond Engagement Ring Certification
Along with an appraisal of the ring's value, you must receive a diamond certificate with your purchase of the jewelry. A certificate proves that the ring has the characteristics advertised by the jeweler. The certificate should be issued by a recognized governing body such as the GIA, EGL or the AGS. Keep the appraisal and certificate together in a safe place for easy access in case the need arises.
Settings
Before your diamond engagement ring shopping is completed, you'll need to pick the setting for the ring. You'll start with the precious metal you prefer for the ring. Popular choices include yellow gold, white gold and platinum.
There are many options for settings and you can really let her personality show through the options you chose. Many men propose with a diamond solitaire and let their girl choose the setting of her dreams once she's said yes.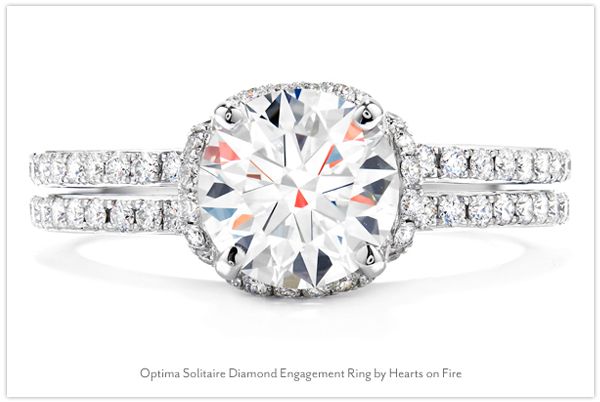 Shopping for Wedding Bands
Your shopping doesn't end once you purchase an engagement ring. You also need to choose wedding bands for both of you. Couples usually go to the jeweler together several months before their event to decide on their bands.
Women typically choose their own band and look for something to complement their engagement ring. Men can choose a band manufactured from a precious metal, which may or may not contain diamonds or other gem stones. The man's wedding band is generally much simpler than the woman's wedding set.
Don't be afraid to take your time when choosing a ring for your girlfriend. It's good to visit more than one jeweler in order to see what type of styles they offer and also to compare prices. Once you choose the perfect engagement ring, you'll give her a wonderful gift to cherish for the rest of your lives together.
Author Bio: Ilaria Lanzoni joined Hearts On Fire in early 2012. Lanzoni, a native of Italy, brings 17 years of design expertise to her new role.
Before joining the Hearts On Fire team, Lanzoni was the Senior Designer for Garrads Fine Jewelry in London, England where she worked closely with Stephen Webster on a wide variety of design projects. 
Lanzoni has already established two hit collections – Copley and Illa – both of which have distinctive inspiration. Copley was created from Ilaria's experiences during first weeks as a new Boston resident, where she was enthralled by the city's unique architecture and ironwork. The Illa Collection, named after Ilaria herself, was inspired from her love of the nighttime sky in Italy as a young child, and features beautiful constellation and star themed designs.
Founded in 1996, the Hearts On Fire Company (HOF) has established a new industry standard for diamond cutting perfection, enabling the Company to become the world's fastest growing diamond brand.
The Company continues to redefine the industry through its extraordinary diamonds, sophisticated marketing and training programs and unique retail relationships. Hearts On Fire, The World's Most Perfectly Cut Diamond®, is sold in 650 retailers spanning 34 countries, 14 HOF stores globally, heartsonfire.com and authorized HOF retailer websites.
Top photo courtesy of Piotr Bizior. All ring photos courtesy of Hearts on Fire.
Like us on Facebook
Follow us on Twitter
See our pins on Pinterest