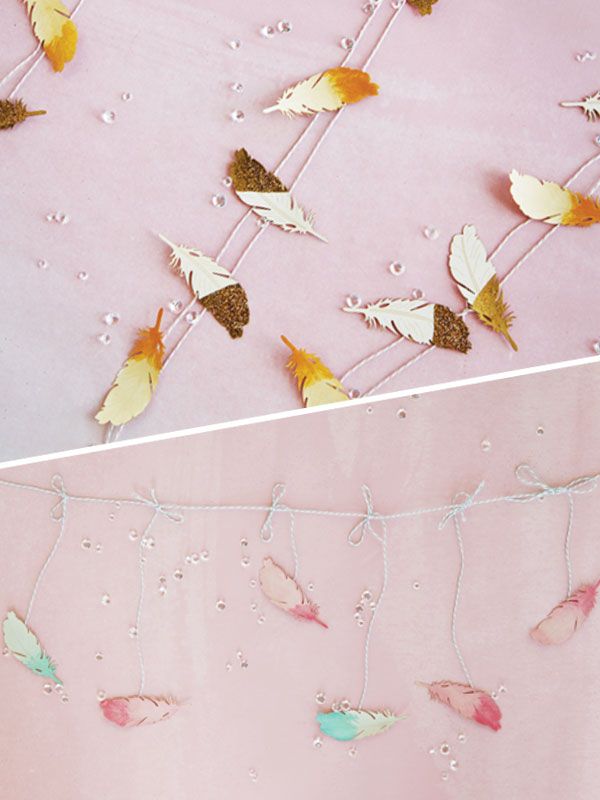 Today I am so excited to share an amazing DIY tutorial with you guys that centers around our perfectly cut Laser Expressions Feather Tags. I had the pleasure of creating two different looks to share with you all and I even threw in some extra inspiration for how to use our feathers in other areas of your decor as well! Best of all, I promise that each project is simple enough for even the busiest of brides! In fact, the photos you see throughout this entire post are my first attempts at each garland (not to mention watercolor painting!). So get ready to be inspired and wow your wedding guests with these fanciful feather garlands!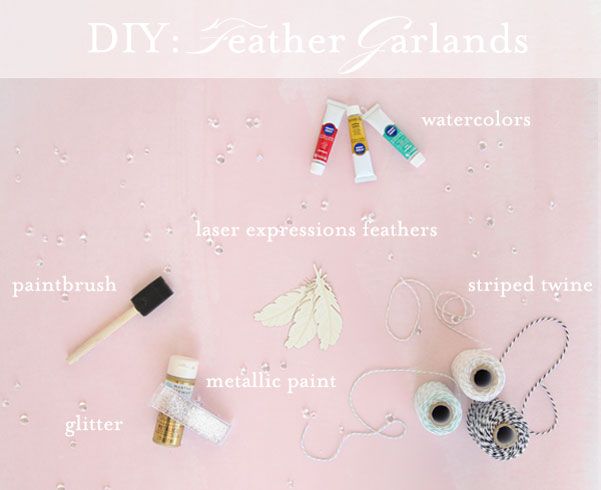 First thing you'll need is all your supplies! If you want to create either garland you will need the following:
1.   Our Laser Expressions Feather Tags – I used Ivory but you can choose from our selection of 6 paper colors for your favorite hue
2.   Striped Cotton Baker's Twine – I used "Mocha Mousse" for the gold garland and "Daiquiri Green" for the pink + mint one
3.   A paintbrush
4.   Watercolor Paints – I used an ochre shade for the feathers in the gold garland that are not metallic and used a pink + a mint in the multicolored garland
5.   A mixing tray/cup – not shown but any old mug or paint tray will do
6.   You will also need to decide how to affix the feathers to the garland. I would suggest doing this at your venue as these strands get tangled easily unless you wind them around a piece of cardboard to keep them inline. You can punch holes through the feathers, affix them with glue dots or use clear or masking tape – the choice is yours!
Gold Garland Only:
1.   Metallic Paint in Gold
2.   Gold Glitter in a grain of your choice – I used fine grade glitter
1.   To make the gold garland start by dividing your feathers into groups – the ones you want to make glitter and the ones to watercolor. I divided mine so I would have more glitter feathers but you might want equal amounts so they can alternate. You can also split them further into feathers to have their tops painted and those to have their tails painted!
2.   Once your feathers are divided how you want you're ready to paint! All I did with the gold paint was load up my brush, do a single swipe across and let it dry for a few seconds (about 10) before tapping on some glitter! This way the paint acts as a glue and you can get your glitter feathers done in no time! If you're not sure about doing a straight line, lay a ruler across your feather and hold it firmly while you swipe for a perfect line!
3.   Remember in your wait time to add the glitter that you can keep painting. I did my feathers in batches of 3's – swiped the paint on each in turn and then went back to the first to add the glitter. You can even divide the tasks if your bridesmaids are helping by pairing a painter and a glitter duster together to breeze through all your feathers in no time!
4.   After you've made your gold feathers and they're sitting aside to dry, you're ready to do your watercolor feathers. Start by getting your paint ready. For mine, I added a little squeeze of paint to a few tablespoons of water and mixed it up. Then I wet my little foam brush and painted the whole feather for just a hint of color. After I did each feather with the light watercolor mix, I added another larger dollop of pigment and used this to swipe the top or bottom of my watercolor feathers. You don't need a ruler or a steady hand for this part as the color looks amazing when it meets in a natural way – I even zig-zagged my brush as I went!
5.   Once your watercolor feathers are dry they might be a little curled so set them under a stack of heavy books to unfold overnight it you want them perfectly flat or leave them slightly turned for a great natural look (like I did!).
6.   Now you're ready to hang them! If you're assembling the garland at home, just remember to have something to wind the garland around, like a shoebox or large cardboard piece. This way, your string won't get tangled and you'll save yourself a lot of hassle! All I did with mine was lay the feathers face down on my desk in a pattern I liked, then I cut a piece of twine about 2 metres long and laid it tightly across my feather design. I cut little strips of masking tape and taped each feather in place. Then I repeated this step with another stand to give the feathers more stability so they didn't flip around once they were strung. If you want to save time, I would suggest hole punching the feathers and stringing on a single strand as even if they flip around, they're still a beautiful shape and the double strand was more time consuming (but looks fantastic!).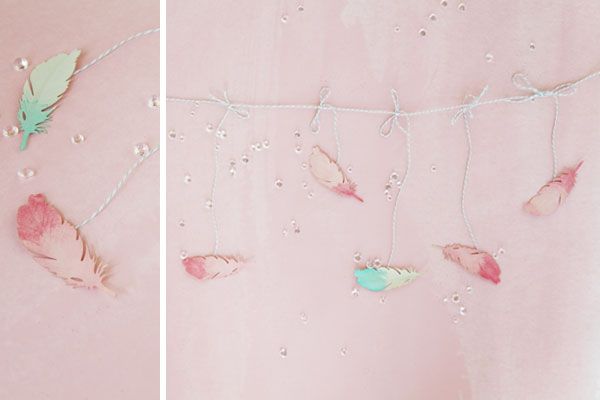 This is a little simpler than the gold garland and I have to say I love the effect of this one just as much!
1.   To start out once again you'll want to sort your feathers out depending on your preference of pattern and color. I made more pink than mint feather and separated them into piles to tail painted and tip painted as well. But once again, the call is completely your own!
2.   Then I followed the same steps for watercoloring them – weak mixture first, then the more pigemented.
3.   Let them dry and then flatten them under a book overnight if you desire. Once again I left mine just as they turned out for a natural look.
4.   Now it's time to string them! Once again, I might suggest letting your bridesmaids or groomsmen do this at your venue on the day of as the strings can get tangled unless you wind the finished garland around a large piece of cardboard! To make the garland, simply cut a piece of twine as long as you like (I did mine about 2 meters again) and cut other randomly sized pieces to tie on. Then get to tying! I roughly marked out how far apart each feather would be by hanging 3 pieces of string at different lengths, all about 3-4 inches apart. I liked how that looked and then counted around how many more pieces of string I would need to complete the garland. I cut that many, plus 3 more (just in case!) and tied them all on. Then I affixed my feathers with little bits of masking tape again! I then cut off the remainder of the twine if I had cut a piece too long and voila – a fabulous watercolor garland!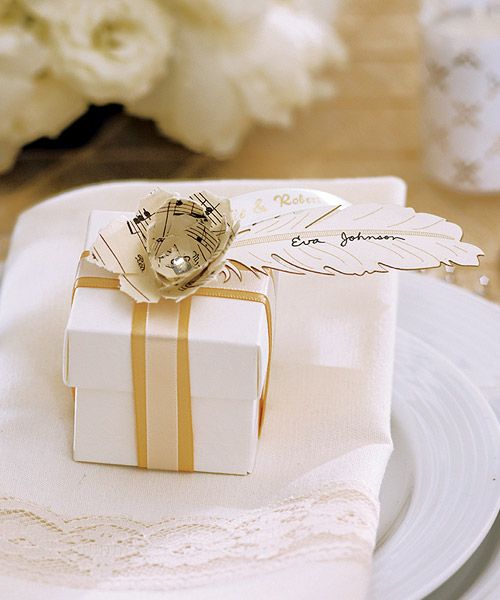 If the feather garlands seem a little too time consuming or like too much work, our feather tags add that extra handmade charm to any number of your wedding decorations. Try bedecking guest favors with them or use them as a way to make a stunning placecard. In the first photo our feathers make a fabulous gift tag on favor boxes! Or, in the picture above I used our Blown Glass Globes full of Acrylic Diamond Shaped Confetti with the golden feathers for an ultra glam look. Then I also made a more homespun design with one of our Miniature Round Birdcages that was spray painted white with some of the Acrylic Diamond Shaped Confetti nestled in the bottom again. Even if you don't have time to paint any of the feathers, they come with an amazing design already that makes them perfect to decorate with as soon as you get them, just like this: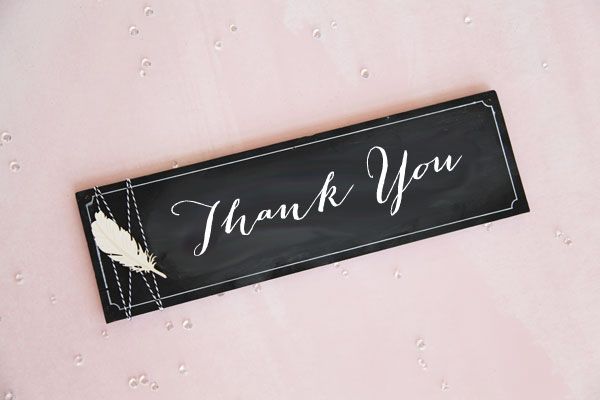 Featuring: 1 Laser Expressions Feather Tag, 1 Multipurpose Vintage Inspired Chalkboard Sign & 1 length of Striped Cotton Baker's Twine in Black! Time to make: Less than a minute!
I hope all these design ideas have inspired you to create some of your own! They were all very simple and I know you guys can come up with even more amazing designs that use these great feathers! Happy crafting, see you all Friday with a new Fashion Friday all about keeping your eye makeup fresh and sexy on your wedding day! Until then, happy weddings!