Today I have a wonderful DIY blog post to share with all of you while the days are still sunny and hot, and the butterflies are still resting in the garden. And, that's what today's projects are all about – butterflies! From sitting serenely on amazing paper lanterns, to enchanting your guests on their favors, butterflies are a great way to theme your wedding! And, with our array of hues to choose from, each one of these 3 simple projects can easily be adapted to your own wedding colors. Not to mention that I've made sure that each of these projects are not only simple but quick – you can make all 3 easily in one night! So grab your scissors and plug in your hot glue gun, it's time to channel your inner crafting maven! Enjoy!
Featuring Our: Round Paper Lantern // Ombre Round Paper Lantern // Striped Cotton Baker's Twine // Laser Expressions Folded Butterfly Place Cards // Parisian Love Letter Paper Blooms // Celebration Tissue Paper Peonies // Classic Round Birdcage // Small and Large Wire Crown Embellishments // Ornamental Wire Stationery Holder – Tall // Parisian Love Letter Table Number // Beautiful Butterfly Decorating Set // Homespun Charm Personalized Cover + Notepad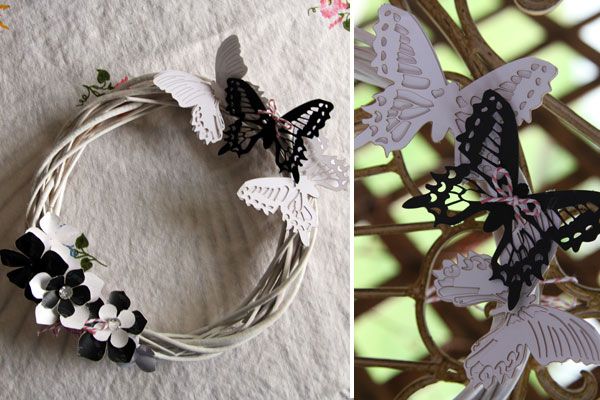 The first project I want to share is a simple one – but it looks so cute! Great for the backs of chairs at your reception, as an aisle decoration or even used as part of a centerpiece, this versatile DIY is the perfect fit for just about any decorating need. Best of all, it looks so good that none of your guests will know how fast you put it together! And, even if butterflies aren't your thing, this project idea can be used with any of our wonderful paper cuts!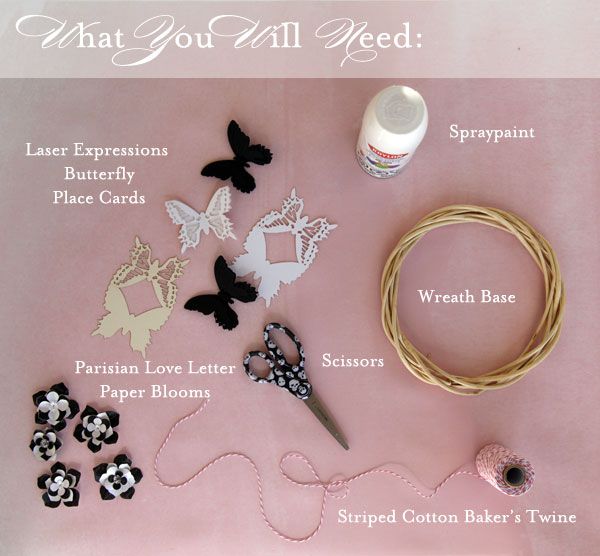 Now that you're ready to get started, you will need:
1.   A wreath base – I bought these ones at a local dollar store!
2.   Laser Expressions Folded Butterfly Place Cards OR Laser Cuts of Your Choice!
3.   Parisian Love Letter Paper Blooms with optional Diamond Pins
4.   Striped Cotton Baker's Twine
5.   Scissors
6.   Spray paint
7.   Glue Gun and Glue Sticks (not shown!)
Step 1:  These little wreaths are so cute and very simple to make! The most time consuming piece of these great DIY decor staples is waiting for the spray paint to dry – so you'll want to make sure this is the first step. Remember to always spray in a well ventilated area and start each stream off the wreath, spraying towards it. I let my bases dry between coats and did 3 of them to ensure maximum coverage.
Step 2:  After you've let your wreath bases dry, it's time to add the twine! Simply start wrapping the twine around where you want it to cover, leaving a tail about 4-5 inches long so you can tie off the twine at the end. Keep wrapping until the space you want is covered, and then cut it off, leaving a 4-5 inch tail again. Tie the ends together in a bow!
Step 3: Add your Parisian Love Letter Blooms together with your hot glue. Add a Diamond Pin if you wish – these will have to have their needle ends snipped off with wire cutters to ensure safety for all! Attach them to your wreath with hot glue. If you want to arrange them first, use glue dots to place them, and then add your hot glue when you have them where you like!
Step 4: Finally, you're ready to add your butterflies! Start by snipping them apart at the fold so you have two butterflies, round the tips. Turn the wings upwards to give each butterfly a more animated look. And then attach them with hot glue again! If you like, add some bows or other accents with your Baker's Twine!

We're continuing our simple streak with the second project I have for you guys – Butterfly Favors! In fact, these practical favors are so simple, you don't even really need instructions – how great is that?!?
Treat your guests to a delightful, practical and homespun favor with this simple idea! What you will need is:
1.   Notepad Favors with Homespun Charm Personalized Covers
2.   Beautiful Butterfly Decorative Set
3.   Hot Glue and Glue Sticks (not shown!)
Like I said, this project is so easy, it really doesn't even need steps! All you have to do is wrap each notepad with your Personalized Homespun Charm Cover, and glue a butterfly jauntily to whatever ones you wish! So easy and so cute!!!
I have to admit, this final project is definitely my favorite! Inspired by all the lovely photos on Pinterest, I am actually happy to say that these were surprisingly easy to create. Just use your imagination (and a little hot glue!) and before you know it, you'll have amazing custom lanterns to enchant your guests and add that touch of handmade whimsy to your wedding that's sure to inspire!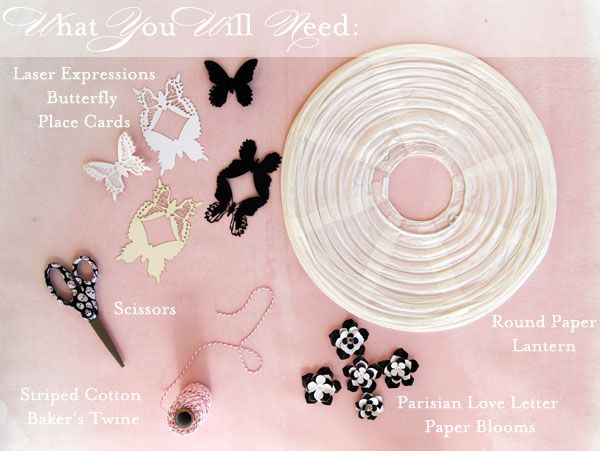 These lanterns are a guaranteed hit! With grace, glamor and that little bit of glitz, they're the perfect adornment for ceremony and reception alike. To make them you will need:
1.   Round Paper Lanterns. I used our plain white, and our ombre lanterns!
2.   Laser Expressions Folded Butterfly Place Cards
3.   Parisian Love Letter Paper Blooms with optional Diamond Pins
4.   Striped Cotton Baker's Twine
5.   Scissors
7.   Glue Gun and Glue Sticks (not shown!).
Step 1: First things first, open your lanterns up and place their metal supports inside so they're plump and ready for adornment!
Step 2: Make your Parisian Love Letter Paper Blooms and cut apart your butterflies. Place them in a trailing pattern on the lanterns however you like! Once again, use your glue dots first if you want to be able to move them around before they're permanent. Then hot glue them down! For the big white lanterns, I did a simple band of Baker's Twine that I hot glued as I laid it on. Then I simply added a few butterflies and a twine flower for a little pizazz without being overwhelming!
Step 3: Finish off your lantern with some extra bows, some more glitz or even a few extra blooms or butterflies! And that's it – you've got gorgeous handmade lanterns to enchant all your guests!
I hope you guys have enjoyed (and been inspired!) by this post! Handmade details don't have to take lots of time or require a lot of skill to complete! So get that glue gun out and call your girls, your handmade wedding will be amazing!