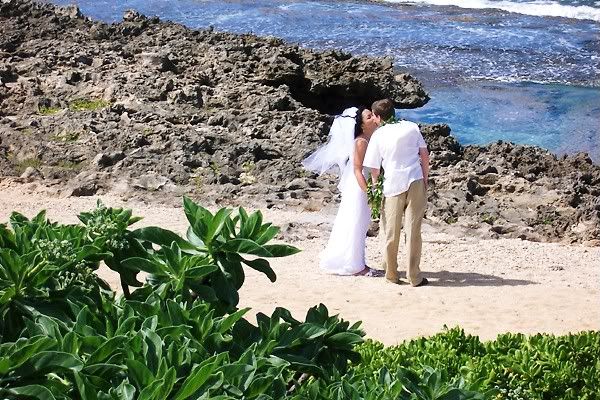 Monday we talked about the disadvantages of a destination wedding. I'm not the kind of person to dwell on the bad for very long, so to turn it all around, let's have a little chat about all the good things today!
The first thing most people think of when discussing destination weddings is sun, sand and palm trees. While that is one popular option, it isn't everything a destination wedding encompasses. A destination wedding is simply a wedding that is held in a place other than where the Bride and Groom reside. It could even be a wedding held in their hometown.
A destination wedding is an opportunity to get away from it all, and to start married life off on a new and exciting adventure. It is a chance to connect closely with family and friends. Since destination weddings are often small, it gives you a better chance to enjoy the company of those who mean the most to you.
If you are a family oriented person, a destination wedding could be exactly the kind of affair that will be the most enjoyable for you.
For a more relaxed couple, a tropical destination wedding can also be a chance to be a little more informal without losing the wedding style. Suit jackets aren't expected if you're in a tropical location, and short wedding dresses and sandals fit perfectly with sun and sand!
Destination weddings can also be an opportunity to celebrate something that means a lot to the couple. For example, if both the Bride and Groom are avid skiers or snowboarders, a winter getaway in the heart of a stunning mountain range might be exactly what they want! If wine is a big part of their relaxation, then perhaps it is a succulent wedding in the heart of Europe's vineyard country that will set their hearts ablaze!
If your budget is an issue, and you are looking to keep costs as low as possible, a destination wedding can combine both the wedding and the honeymoon in one amazing trip.
TIP: When considering destination weddings, don't forget that a cruise is also an option!
Tune in to Friday's blog post for some useful tips to consider if you are planning a destination wedding.
See you soon!

Photos courtesy of Ewen Roberts, Kimtaro and TorreBarolo.