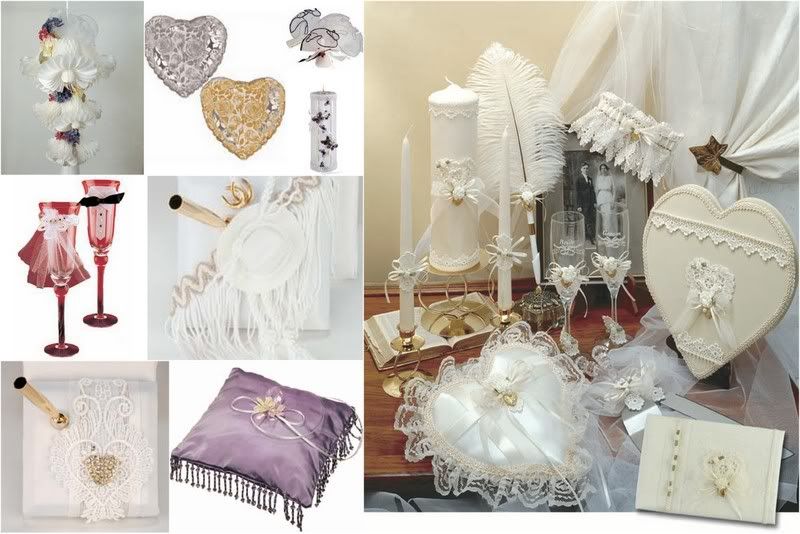 Not so long ago, my husband asked a logical but somewhat unexpected question…especially since we have been happily married for many years…
"In your opinion, what makes a perfect wedding?"
At this point, I should introduce myself in order to explain why this was a logical topic of conversation in our home. My name is Patricia MacArthur and I am the long-serving Executive Creative Director with Weddingstar. Each and every day for more than 20 years, my days here at Weddingstar are spent completely immersed in all things wedding.
As with almost anything, a span of 20 years results in an incredible transformation. At the risk of sounding like your Grandmother, back in the 80s, planning for a wedding was much simpler than it is now.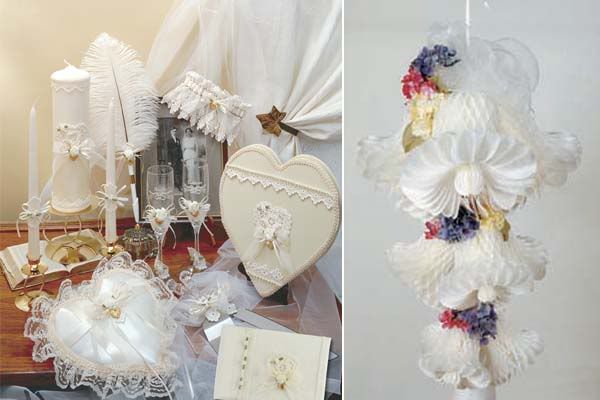 Some of Weddingstar's earlier products, including the ever popular Heirloom Weddings Collection on the left.
As a wedding accessory supplier, our colorful selection of honey comb tissue bells, crepe streamers, plume pens and plastic pom poms were standard fare.

It was the age of fringe, lace and…more fringe.
Very little changed from wedding to wedding with the exception of the color combination and the names of the Bride and Groom spelled out behind the head table. A slight simplification but I am sure you get my point.

Balloons, plastic champagne flutes and tacky guest favors were all the rage back then.

Now fast forward to 2011. With a wealth of wedding content found in Bridal Magazines, Online Blogs, E-magazines and Reality Television, today's Bridal Couples have a world of inspiration at their finger- tips. So much so, that planning a modern wedding can become all-consuming and a mind boggling task, even for the most enthusiastic participants.
Today, most of the rules guiding weddings have gone by the wayside, and couples are creating celebrations that are amazingly personal and unique. From small intimate affairs that take place in a quaint forest meadow to the full blown splashy event that culminates with fireworks, the sky is the limit…literally!

Nowadays, weddings are all about elegance, glitz and glamor.
Platinum by Design Weddings Collection #7139 | Mini Classic Round Birdcage Favors #9119 | Thymeless Weddings Collection #7170 | Silver Plated Tulip Stem Goblets #6018
Here at Weddingstar, designing wedding accessories has drastically changed from those early days as well. In order to meet the demands of this vast array of wedding styles, as Designers we spend countless hours learning about trends and looking for inspiration to ensure our selection of products remains fashionable and innovative.
With that in mind, let me go ahead and share the answer that I gave to my husband's question…What makes a perfect wedding? For me, a perfect wedding is one that has "Heart".
This doesn't mean that it is emblazoned with heart shapes throughout but rather, the content of the wedding clearly represents what is in the hearts of the happy couple. It feels authentic and truly celebrates the two people that have chosen to become life-long partners and all that a marriage represents to them.
A Wedding with Heart
A wedding with Heart can take many different forms. In fact no two will be exactly alike. Here is my list of important things to keep in mind when planning the perfect Wedding with Heart:
From the very beginning, agree with your fiancé about the signature style of the wedding you will choose to have. This may take some research and negotiating but once decided, stay focused as a team.

Snowflake Wine Stopper #6096 | Mini Bird Nest #6078 | Cinderella Slipper Key Ring #8564 | Mini Starfish Candle #8782
Set a realistic budget and stick to it (as difficult as that may be). Have a frank discussion with the other people that may be helping to finance the wedding. Do not spend more than you can afford. Paying for a wedding is not a good reason to begin a marriage with additional debt.
Don't be afraid to ask for help. Although there is always a great deal of satisfaction in knowing you have had a hand in every aspect of your wedding, that does not mean you personally need to tie every bow or arrange every flower.
Whenever possible, consult with those that have experience and knowledge and can help bring your vision to life. These can be professionals in their fields of expertise, or even friends or family members that are simply willing to provide an extra set of hands. For most couples, this is the first wedding you have planned so it is completely natural that you do not have all the answers…or bow tying skills.
Identify those elements of the wedding that really mean something to you. Place those at the top of the priority list. Invest the most amount of time selecting and greatest portion of the budget on those things you have determined are your highest priority. Avoid the temptation to do some things "just because…"
Create a day that is guest-focused. Allow ample time to be a gracious host and to fully absorb all that the day will bring. Set a schedule that will take into consideration travel and accommodation requirements for those that are attending from out of town.
Avoid long gaps during the day's proceedings that leave guests at loose ends with no particular place to be. Make a special effort to speak with each person in attendance and to express your appreciation.
Plan for and accept that in spite of all the "to-do lists" and preparations, on the day, there will be a few small glitches. The reality is that in most instances no one will know other than you so "Stay Calm and Carry On." Make the day about creating wonderfully happy memories.
Manners still matter. Send a written Thank You note for all gifts and contributions that make your day special. In today's fast-paced world of email and online communication, an old fashioned hand-written note stands out and clearly shows you care.

French Whimsy Collection #1047 | Romantic Elegance Collection #1046 | Classic Orchid Collection #1152 | Floral Orchestra Collection #1052
Enjoy the planning and preparations for the wedding celebration but always keep in mind that it is the "Happily Ever After" that should be at the heart of it all.
Happy Weddings,
Patricia