Greetings:
My name is Maxine and I work at Weddingstar in the print department, specifically with wedding stationery. I must say it's a real treat working with a great team of inspired designers as well as having the opportunity to design invitations for weddings all over the world.
I'll start with your most important piece of stationery for your wedding, your invitation. The style and presentation of your invitation will set the tone for your wedding and you want to make sure it correctly represents you as a couple. Resist the temptation to design your own invitation – save yourself some hair pulling. Inevitably it will be more time and budget consuming than you expect. Leave it to a professional.
A few quick tips to consider when requesting your invitation:
Sizing: The most common invitation size is 5 x 7". This size is larger than standard mail and will make sure your invitation is distinguishable from junk mail or bills.
Design: When you're choosing your invitation design, it's good to start with the style of wedding you're planning. If it's a formal affair you may lean towards a classic design that is clean and simple. If your wedding is going to be casual engagement you may opt for a modern bold design with strong colours. If you're still having trouble deciding on a design, a great idea is to take inspiration from the season and location.
When should you mail your invitations? Approximately 3-4 months before the date (allow more time for destination weddings where travel arrangements need to be made). Send invitations too early and your guests will be more likely to forget about sending a timely RSVP.
Do you need to send an RSVP? With the advances of technology and budget constraints a lot of couples are choosing to receive responses via email, websites or (gasp) Facebook! As other traditional etiquette falls to the wayside I like to see the written response remain.
Who is invited? Indicate who you are inviting and politely not inviting by the address on the envelope (ie: John Smith or John Smith & Guest or Mr and Mrs. Smith & family). If the name is not on the envelope they are not invited.
Besides the invitation, stationery is an excellent way to personalize your wedding or event. It can be used for information, instructions and/or decorations. When you're choosing your stationery, don't be afraid to mix things up by using different graphics and colours. As long as you have a consistent element it will still coordinate. Sometimes it's the extra little touches that leave the most memorable impression on your guests. Never underestimate the impact of a nicely designed piece of paper.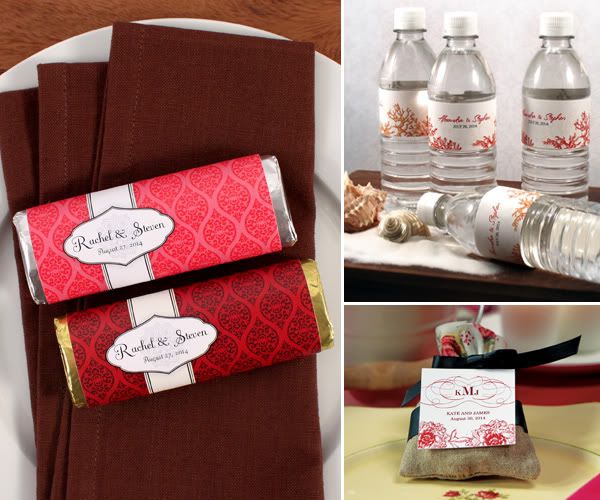 At Weddingstar we offer you a wide range of stationery options – everything from table numbers, to small tags for favours, to personalized labels for water bottles. One of my favourite stationery formats are our chocolate bar wraps. They make an excellent presentation and they are guaranteed to be a hit with your guests.
I'll end with an announcement. We've released two new stationery collections this month, Classic Orchid and A Wine Romance. And coming soon we'll be adding a Thank You card format to a select number of collections. Make sure to check the Weddingstar website often as we're always adding something new to make your wedding amazing.
Since you were kind and took the time to read my first blog entry, I'd like to give you a free downloadable reception game for your guests. Have your guests fill in the blanks for your 'Love Story' and read them out later in the evening. Enjoy!
P.S. I'd love to hear what we're missing in our stationery line – themes or products. Please leave me a comment and your idea could become a new stationery line.