Growing up, I wasn't exactly the girly type. But just because my rugby ball replaced my Barbie doll, that doesn't make me any less of a girl. Needless to say, weddings were an entirely foreign concept and I never really gave them any thought. While my grade school counterparts had everything planned down to the seating arrangement, I had never once thought about my own wedding. And then, some 20 years later, that all changed when I was hired on at Weddingstar.
Am I married? No. Am I engaged? Not yet. But I am going away on vacation with my boyfriend of four years who I have a house and a dog with, and I believe that would be an ideal time and place for that oh-so special moment. Of course, if he fails to do so, there is always Valentine's Day just after we get back, and we just so happen to be going to a hockey game in Calgary that night. Hmm…
As exciting and special as it will be, I figure there is really no rush for him to propose. Little does he know that I will have the entire wedding planned out by then anyway.
For the past few months my future wedding has been a popular daydreaming topic of mine, and I'm slowly filtering through a sea of wedding themes, décor ideas and color palettes in order to find what is right for me. As a crafty person, I love the idea of a vintage DIY wedding, and I'm sure my future fiancé's wallet will love it too. But then there's the clean and simple modern approach which I always swoon over.
At first I was torn equally in both directions, but then I realized that this is my our day — we can do whatever we want! So why not combine everything we like into one unique wedding that's just right for us?
That being said, I would like to have a modern wedding with a few vintage elements mixed in and a neutral color palette with one main accent, and I would like it to be held in September on the campus of the school where I grew up. There. Four decisions down, only how many hundred left to go?
| | |
| --- | --- |
| Now that I have decided on my wedding style, I already have my mind set on a few items that will help bring my wedding to life. First are these Modern Birdcages. I love how versatile they are — you can use them for cards or decoration, and you can fill them with almost anything. I would probably stuff them with flowers and branches just like this, and top off the look by nesting the Contemporary Love Birds right in the middle. | |
To add a bit of vintage flair to my wedding, I would definitely choose the LOVE Cube Favour Boxes to hold some yummy treats for my guests. They are the perfect addition for anyone looking to add a bit of home town charm. And what goes down better with treats then a hot cup o' joe? Personally, I love to finish a good meal with a hot cup of coffee, so I will definitely be having a coffee station at the wedding. You could even bag up some of your favorite brews using Self Standing Paper Goodie Bags, which you can personalize with your own message. Brilliant and delicious!
The last thing I'm set on as of now are gifts for the groomsmen. I suppose this should really be chosen by the groom but I've gone ahead and taken care of that part too. You're welcome, babe.
| | |
| --- | --- |
| | If you're anything like me, you find it difficult to shop for guys. Especially guys that seem to have everything already. And if I'm correct in who my future fiancé will choose as his best man and groomsmen, I know they will love these Hip 2 Own Flasks. This would also make a perfect gift to give to your groom the day of the wedding. Perhaps the one that reads "Liquid Courage" or "Anti-Pain Syrup". |
Anyways ladies and gents, as a newbie in the wonderful world of wedding planning, I still have a long way to go and a lot to learn, but I will share with you what I know so far.
Do your research: Read blogs, browse magazines, watch wedding shows. Immerse yourself in everything wedding. Every time you find yourself getting really excited (as your heart rate rises when you see a beautifully lit reception), make note of that. Those are the feelings you want to have about everything at your wedding. And maybe it's true that not everything can be perfect, but on this one day, yes it can.
And with that I invite you to…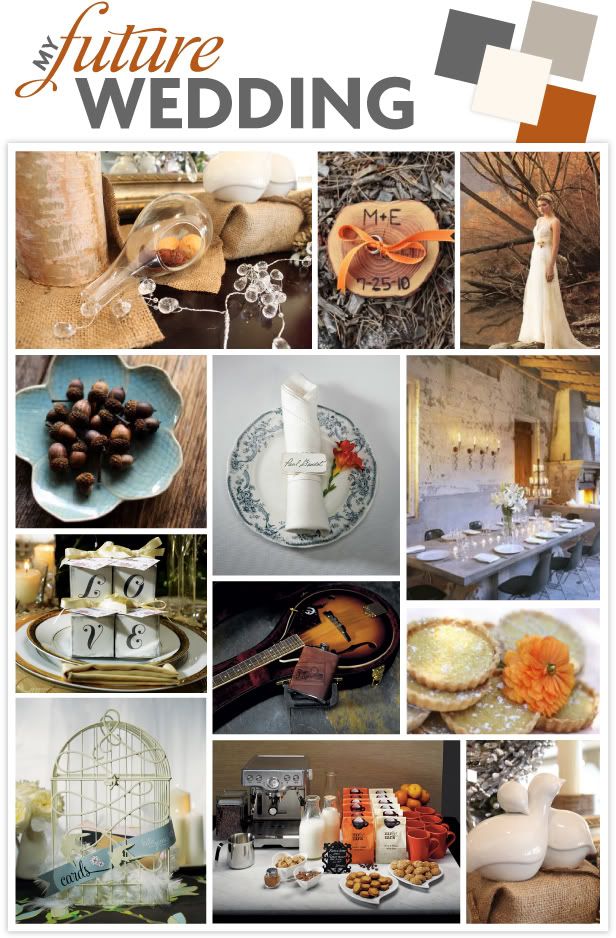 There you have it. If I were to get married tomorrow this would be my wedding. Of course this may change by my next blog post so be sure to keep reading to see what happens!

I would love to hear your thoughts and stories about planning your own wedding. Is it easy? Frustrating? How did you come to the decisions you did?