One year ago I started working for Weddingstar, and before then I had never dreamt about my wedding. But after I was hired on, there were many times when I would come home and bore my boyfriend to death with all of the wedding gossip. Let's put it this way… He doesn't get nearly as excited about stationery and flower bouquets as I do.
But now he has no choice! You wanna know why?? BECAUSE HE POPPED THE QUESTION!
Yup, that's right! On my 30th birthday, when I least expected it to happen (he had previously told me as I was teasing him about proposing, that "he can't do it when I'm expecting it", and that he "has to do it in his own special way".) And he did.
My entire birthday week he had me fooled, whining about his big plans falling through and that he didn't know what to do, and I was thinking that he had failed miserably at planning a birthday surprise. (For the record we're not usually big on birthday celebrations, and more often than not, wind up doing nothing. But this year was my 30th and I wanted to celebrate!)
When my actual birthday came 'round, I found out he wasn't lying. I really, truly thought that he had forgotten. He was picking me up from work that day, so I had been wondering if maybe he would surprise me and do something romantic. Who was I kidding? He pulls up talking on the phone, elbow deep in a bag of ketchup chips with dog hair everywhere. Happy birthday to me.
We started on the four hour drive to Fernie, and just before we got there, he told me we were going to celebrate my birthday the following day, since it was already 9 o'clock. At that point, I was oh-so excited!
We woke up the following morning to go hiking at Island Lake Lodge, and it turns out that he had booked us in for the night to enjoy a 6 course gourmet meal/wine tasting event!
While that was pretty amazing, I kept wondering if he would ask me to marry him at dinner, but I quickly talked myself out of it because I had previously ruled out all events and vacations as potential proposal days.
Not only was I wrong, I was completely and genuinely surprised when it happened. Like REALLY surprised, I had no idea it was about to happen! After almost a 3 hour hike up the mountain as we were taking in the scenery, this is where he popped the question, and it felt so surreal, like I was truly dreaming.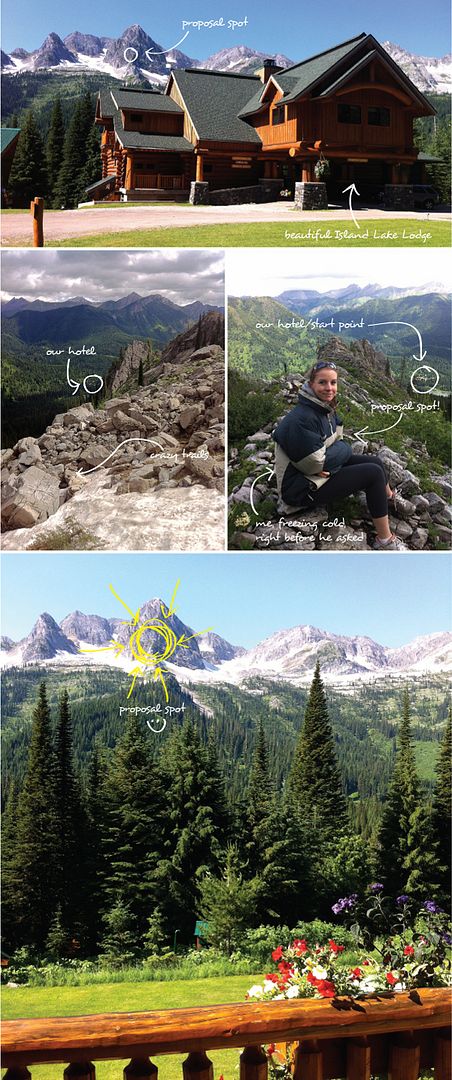 So, ladies and gentleman, I am happy to announce that the wedding planning has officially begun!
A year ago when I wrote about my future wedding, I was having a tough time deciding on which wedding style/theme I wanted. I thought it was going to be the toughest decision, and that for sure I would have to fight for it. But when Mark and I got talking about what we wanted to do, it turned out we were on the exact same page and there were really no decisions to be made!
Here is some of our inspiration so far…
We want an outdoor, really fun August wedding. It will be rustic and DIY, with modern elements incorporated into the stationery design. We have decided to have it here in Alberta, and are scouting locations close to either Waterton National Park or Kananaskis. There will be games, burlap, galvanized tins (for bevvies), hand drawn chalkboard signs, lots of twinkle lights, and one big party!
1/Blown Glass Miniature Tealight Luminaries 2/Brushed Silver Pocket Watch 3/French Provençal Style Enamel Pitche 4/"Sweetie Pies" Mini Pie Packaging Kits 5/Single Use Camera – Solid Color Design 6/Miniature Gnome with Fuchsia Polka Dot Hat
I'd love to hear about how you found your own wedding style, and of course any tips you have about the planning process are most definitely welcome!