Hello. Stephanie here. When I'm not overseeing our talented product design team, I also work as a graphic / product designer developing wedding accessories. I'm excited to be a part of Weddingstar's Wedding Blog.
At Weddingstar our product development team continually reviews and updates our extensive product line. This is how we manage to feature 80% exclusively designed wedding accessories. Over the last few years I have been a part of some outstanding product designs and I think that our blog is the perfect place to reveal some of the stories behind these products.
Today I'm going to lead you through the journey that our custom designed Sand Ceremony Set traveled, before it became a product for you.
Trends. We begin all product development by researching and reviewing trends from all over the world by visiting trade-shows, reading magazines, and discovering various personal sources of inspiration. We tie the needs of today's Brides and Grooms into their desire to have a personalized, unique wedding, in a style that complements their personality.  With the Heart Shaped Sand Ceremony Vase Set we recognized a need for a Sand Ceremony Vase Set that featured a central vase which could be integrated with the decor and also be transported after the wedding.
Development. During the development stage our product development team brainstorms and produces ideas through a series of diagrams or sketches. The diagrams are presented to the team for critiquing and feedback. Once we were aware that Bridal Couples wanted a unique Sand Ceremony Vase Set we were ready to develop our concept. Going through a series of sketches and diagrams we fine-tuned the shape of the vases, the central vase stopper; which allows for transport, and the wire stand. We narrowed down the concept to a heart shape in order to give the set a modern romantic touch.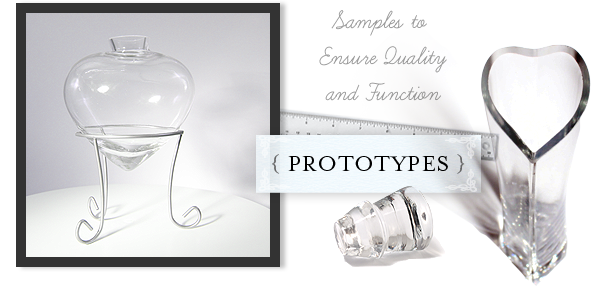 Prototypes. We have developed trusted relationships with the quality manufacturers and suppliers that we work with. Once the team approves the product design diagrams and specifications, we work with them to develop prototypes of our product. We then work on integrating personalization into the product. Prototypes are important for us to analyze any issues, quality concerns or limitations before final production. For the Heart Shaped Sand Ceremony Vase Set we had to make a series of adjustments to our vase sizes and wire stand to ensure that they would be practical to produce. We also standardized the personalization options for the vase set and performed test ceremonies in order to determine precisely how the set could be used.

Packaging. Once the samples and prototypes had been approved we finalized our packaging to ensure our products would be protected in shipping and also include clear and useful instructions. We often integrate photography of the samples onto Weddingstar branded boxes. We engraved and sent away our prototype Heart Shaped Sand Ceremony Vase Set to be photographed for the magazine, packaging, and website.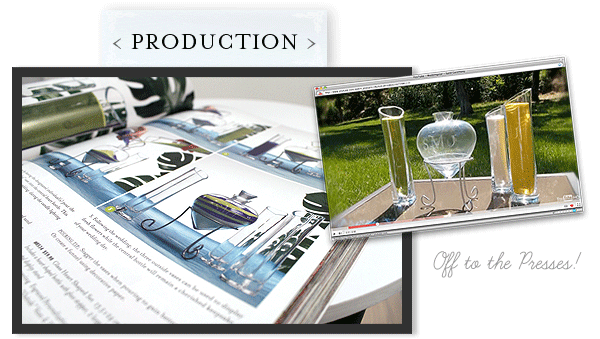 Production. Our products are produced with superior craftsmanship and quality materials. Their availability coincides with the launch of the Weddingstar Magazine, which occurs in December of every year.  Our marketing team works to get the word out and connect with individuals who might enjoy our product. To that aim we have developed a video about the Sand Ceremony to give you ideas for your wedding as well as demonstrate the product in use.

Ordering. We want to make it easy for you to order by maintaining low international shipping fees and providing exceptional customer support. Our products will ship from our central facility right to your doorstep.
There you have it: the story of how the Heart Shaped Sand Ceremony came to be. The journey ends with a memento of your special day and all the happy memories it contains. Thanks for letting Weddingstar be a part of it, start to finish.

*****