Well hello again bloggers, it's Maxine returning to offer some stationery advice for your wedding. This time around I thought I'd focus on the reception. Weddings are the perfect occasion for families and friends to get together, celebrate and kick up the heels.
Here are a few ideas of how to make sure your day ends with great memories and hopefully dancing on the tables!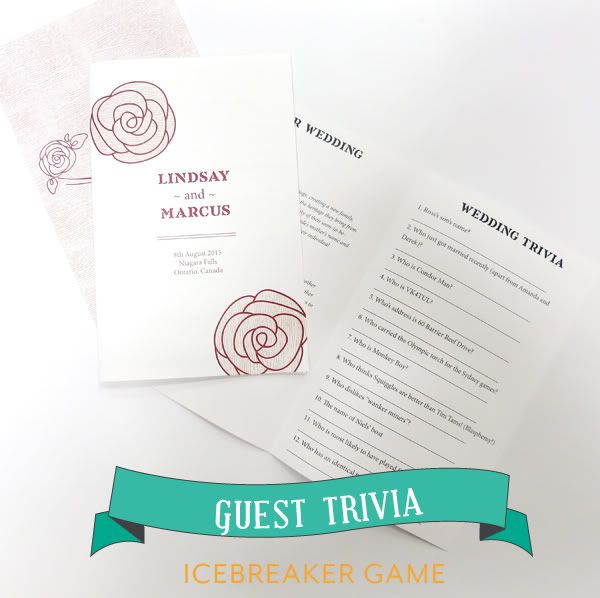 Lets start with our wedding programs. These are a very versatile product as the backside of the sheet is left blank for you to personalize at home as needed. I'd suggest using the programs to make a trivia questionnaire that is made from facts about guests — guests will need to ask each other questions to find out the answers.
It's helpful to have activities organized that encourage interaction and mingling. Games are a good icebreaker since not all your guests know each other and some people may be on the shy side.
Or how about including a picture scavenger hunt inside your program? This game not only gets guests active but it duels as a great way for you to capture the special moments from your wedding. Be sure to include items like garter toss, cake cutting, and craziest dancer!
Once people start mingling and drinking it can be easy to forget to leave your table to sign the guest book or fill out wish cards. If you want people to fill out wish cards, I recommend putting the cards on the tables.
I'm not sure if you're like me but when I'm put on the spot to fill out a special message I draw a blank. I suggest giving guests a sentence or statement to finish. This will give you a variety of messages instead of the old faithful 'congratulations, best wishes for the future'. The stationery I'd recommend to work with this idea is Birdcage Wishing Well Cards.
How about including a games section for the guests that are not inclined to dancing? Some ideas are a Black Jack table or board games like Mad Gab or Taboo. It's best to choose games that can have multiple players or groups. To add a personal touch to this idea you could use drink tickets as tokens; the winner of the most tickets at the end of the night takes home a gift basket filled with local treats.
Since you were kind and took the time to read my blog entry, I'd like to give you a free downloadable reception game for your guests. Have your guests fill in the blanks for your 'Love Story' and read them out later in the evening. Enjoy!
Best of luck planning the wedding that is destined to become legendary!