Hello. My name is Andrea; I am a Graphic Designer and Product Developer for Weddingstar. I am so excited to be a part of Weddingstar's Wedding Blog and hopefully share some thoughts that will help those who are planning for their special day.
Awhile back we featured a few posts revolving around destination weddings; the disadvantages, advantages and some planning tips. Since destination weddings are becoming more popular with couples and recently being a part of my brother's destination wedding, I thought the topic was only fitting for my first blog post. I'll take you through some of the details of the wedding and show some of the different things we did, and maybe those who are planning a destination wedding will find some inspiration.
The wedding was held in Punta Cana in the beautiful Dominican Republic at the Iberostar Bavaro all-inclusive resort. There were a total of 28 of the bride and grooms closest friends and family in attendance. One of the best parts of a destination wedding is that instead of having just one short day with your guests, you are able to have 3-7 days with your closest friends and family, creating memories you will never forget.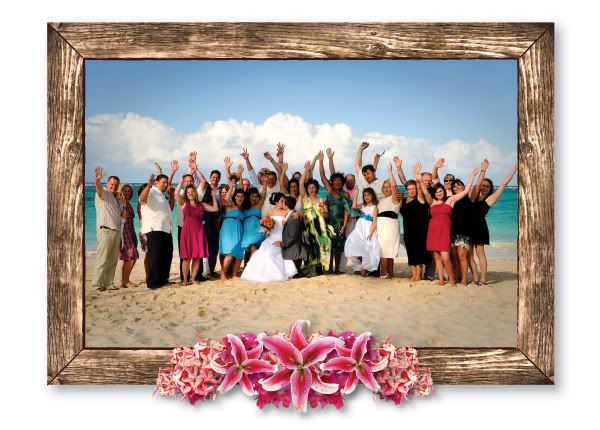 We arrived Thursday night and the wedding was on Monday. Friday, Saturday and Sunday were spent meeting with the wedding coordinator to go over last minute details, making sure everything was in order. Over the course of planning the wedding all the details were handled via email, tons of emails, which for destination weddings is a very common way of communication between you and the wedding coordinator. Having a few days when you arrive before the wedding day is great, especially if there are any details that may need to be changed, details that may have been missed, or if there are any certain aspects you want to add to your wedding day.
We also met with the photographer who photographs most of the weddings that are held at the resort, in order to get a better idea of how he works and to view his portfolio. Hiring a photographer was great – the bride and groom did not have to stress about those special moments not getting captured, and it was not the responsibility of guests to take photographs. But, of course, there will be those few guests that will want to take photographs, and we were so lucky to have some great photographers in our group that caught some amazing moments the photographer did not capture.
There was a little bit of work to be done before the big day, which is expected of any wedding; however, that did not stop us from hitting the beach or pool, relaxing with friends and family, having a great time.
Something the bride and groom did was schedule three group dinners in specialty restaurants at the resort, two before the wedding and one after the wedding as a farewell dinner before the guests left. I would recommend this to other couples planning a destination wedding. All the dinners were optional, the guests were not required to attend. It was just a great way to get everyone together to mingle in a more relaxed setting. Also, staying at such a large resort can be difficult to spend time with everyone, and being the hosts the bride and groom wanted to make sure they had ample time with every guest.
On the first of the three dinners as a gift of appreciation, each guest was given a tote bag with the bride and groom's names and wedding date, with personalized tags for each couple to use on their vacation. Inside the tote bags were travel mugs (also personalized with the bride and groom's names and wedding date), hand sanitizer and a pack of Kleenex, which came in very handy on the day of the wedding. For the groomsmen, as an extra little thank you, they were given Weddingstar's new "Hip to Own" flasks, which were a big hit with the guys. For the bride and groom's guestbook we had also included inside each tote bag a postcard for each guest, for them to write something special for the bride and groom. The postcards were then to be placed inside the guestbook at the reception. If you are planning to do an alternate guestbook similar to this type of idea, it is sometimes good to give your guests time to write something special. The bride and groom will then have a memento from each guest that has special meaning, which when read later on will bring back memories from that special time in their lives.
I have to say the tote bags and travel mugs were a huge success; each guest used them everyday. Even some of the entertainment staff at the resort wanted ones. Having a couple extras on hand, we gave a couple to a few of our friends that worked at the resort as a thank you to them as well, since they did make everyday we were there exciting and full of laughs.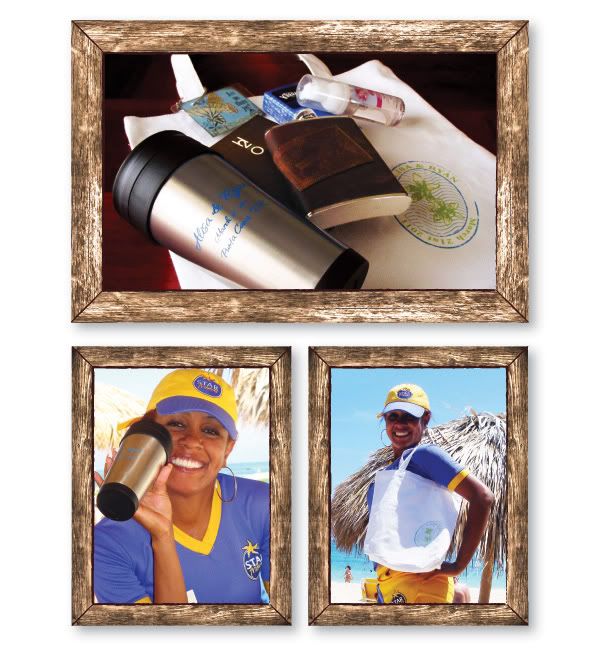 Weddingstar products shown above: "Hip to Own" Stainless Flasks
Products shown above similar to Weddingstar's: Stainless Steel Travel Mugs, Kleenex, Tote Bags
Finally the big day had arrived. For the wedding party the entire day was spent getting ready. The guests were able to spend most of the day at the beach or by the pool which was really great. For the bride and bridesmaids it was the typical day of hair and makeup. We had arranged for the photographer to show up 20 minutes before the wedding to take a couple shots of just the bride around the resort. Since the photographer was taking photographs of the bride, we had asked one of the guests who we knew would be taking a camera to the wedding if they would take some photographs of the groom and the other guests.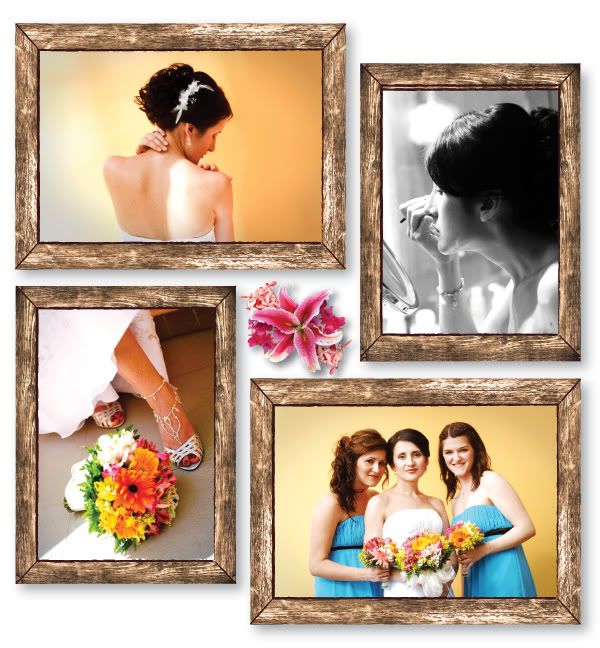 Products shown above similar to Weddingstar's: Bridal Hair Accessories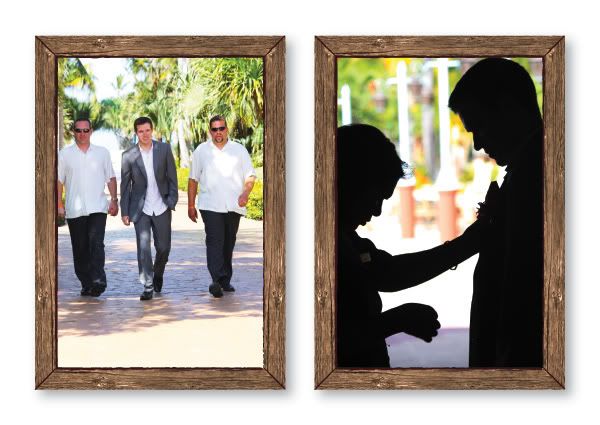 I can honestly say the entire day went as planned without a single hitch. All the staff from the resort worked very hard putting the whole wedding together and not one detail was missed. Everything was absolutely gorgeous. I wouldn't have expected anything to go wrong, especially because with the resort we were staying at; as well as, most resorts on average have one wedding a day. You can rest easy knowing they will be sure to make the day everything you had dreamed it would be.
Being that the wedding was right on the beach and out in the sun, the bride and groom considered there was going to be a very good chance it would be hot that day. Keeping that in mind and that they wanted their guests to be comfortable, when the guests arrived at the beach they were greeted with the wedding program as well as a complimentary hand fan.
Weddingstar products shown above: Seaside Allure Flower Girl Basket, Contemporary Hearts Fans, Miniature Flowers with Crystal Center
Products shown above similar to Weddingstar's: Guestbook Alternative
After the ceremony it was a photo shoot on the beach. We had arranged that before the photographer took photographs of the wedding party, each couple or family had a chance to take a photograph with the bride and groom as well as a group shot. This way, while the bride and groom were having their pictures taken, the guests were able to get out of the sun and head to the bar for a couple of drinks before the reception. The bride and groom after the wedding had the photographer print off the photographs of each couple and family, to include in their thank you cards as an extra little thank you and a reminder of the special day.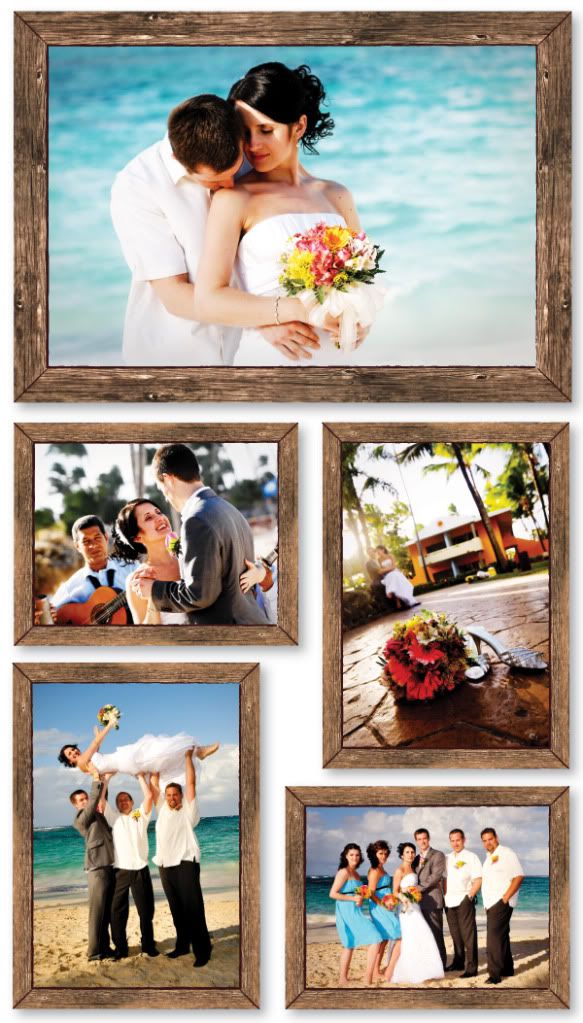 As a special treat for the guests at the reception before dinner, on each individual place setting was a tin which inside had personalized M&M's the bride and groom had ordered, with their names and wedding date. When the night was over there was not a single M&M left, so they were definitely a hit with the guests. After dinner to conclude a wonderful day full of great memories, was wedding cake and dancing the night away.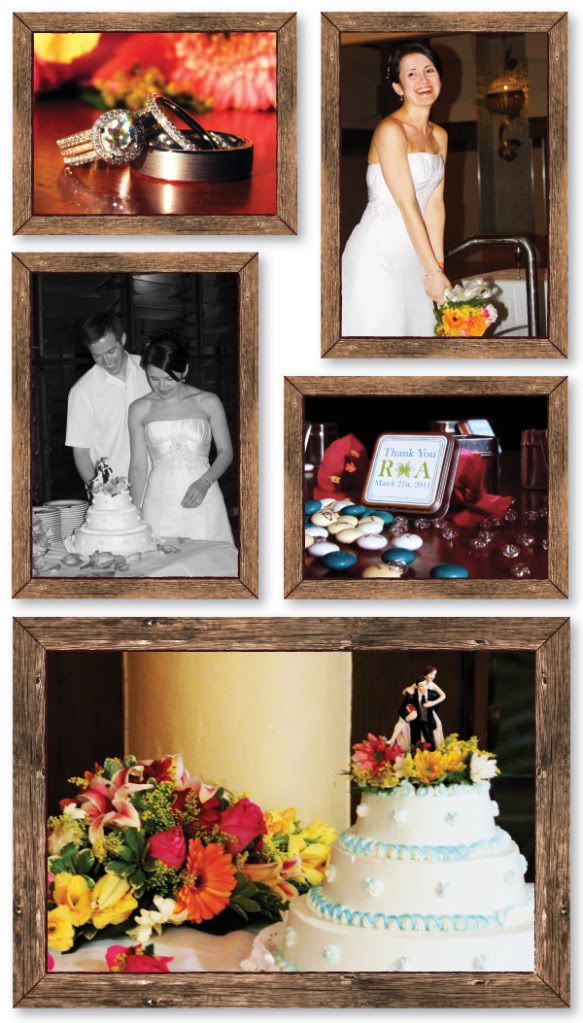 Weddingstar products shown above: 3-D Heart Confetti with Rhinestone, Playful Football Wedding Couple Figurine
Products shown above similar to Weddingstar's: Tin Favor Containers, Personalized Stickers
There are so many more things I could add about what goes into planning a destination wedding, and certain things you could include into your wedding. If you are considering, or currently planning a destination wedding, hopefully I have been able to give a little insight. Best wishes!