Hello readers, my name is Jonathan, one of the newer additions to the creative department here at Weddingstar. My focus is in web and graphic design, and I'm pleased to be July's designer spotlight.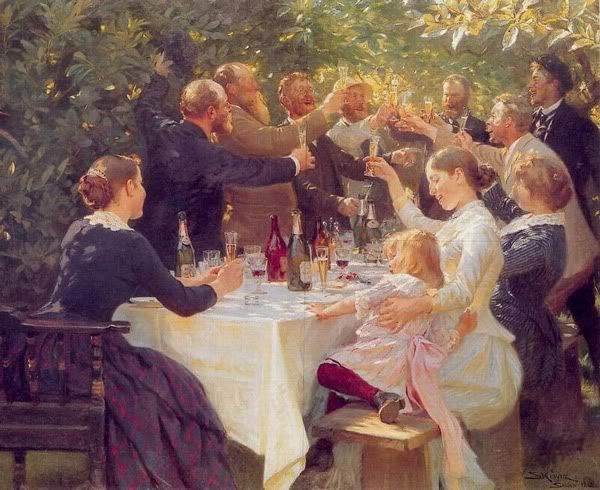 Hip, Hip, Hurrah! by P.S. Krøyer, 1888
Among other things, there are two things I have a soft spot for: puppies and history.
I'm sure most of you reading this can easily identify with having a weakness for puppies, after all, everyone loves puppies, but you're probably thinking "History? Really? Who likes history?". Well, I do. Hold on! Don't leave! Allow me to at least explain. I understand exactly how you feel. History can be bland, boring, and entirely uninteresting to put it mildly. But it doesn't have to be! Honest!
There are some things that are just plain fascinating, some topics that are just dripping with wonderful and interesting tidbits of knowledge, you just have to be reading about the right topic, and weddings are a perfect example.
Everyone knows weddings aren't a new thing, for almost as long as there have been people, there have been weddings and marriages, and over the millennia weddings have accumulated more than their fair share of colorful traditions, stories, and ceremonies.
Every culture does things differently, and it is these differences that can be so interesting: While North Americans might throw rice or confetti as the newly weds leave the church, in Greece they are more likely to throw almonds. If having nuts tossed at you doesn't sound like much fun, the Greeks also have a famous tradition of pinning large amounts of money on to the brides dress during the reception dance, which is certainly something every soon to be wed couple I know would be happy to include as part of their celebration.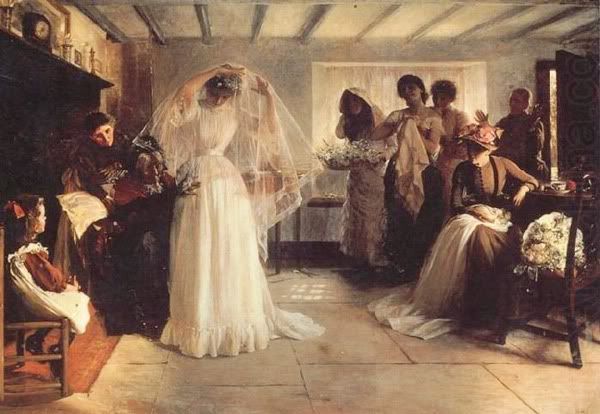 The Wedding Morning by John Henry Frederick Bacon, 1892
I could go on for pages and pages rambling about all the interesting traditions and customs that every culture has when it comes to weddings, but I don't want to sound like a history textbook, and no one should ever be subjected to pages of my ramblings, so for everyone's sake I'll stick to one subject and keep it short, engaging, and helpful. I think wedding toasts are the perfect subject to do this.
No matter whether you say "Salute!", "Tchin Tchin!", or "Cheers!", toasting at celebrations can by found in almost every culture around the world. The custom of sealing an expression of good wishes and a long life with a drink dates so far back its origins are lost to us, and it has been an important part of the wedding for almost as long as the ring has.
"Toasting" is believed to have picked up its name from an old European tradition involving a piece of cooked bread and a communal drinking cup. A piece of spiced toast would be floated in the communal "loving cup" which was passed among the occasion's celebrants, after the cup had made a round of the guests, the toast would be eaten by the host, along with the last few drops of the liquid.
You might be wondering why anyone would want to add a piece of toast to a perfect good drink? Some people suggest that the toast was added as flavoring for the wine, or maybe it was a delicious treat. Personally, I don't think booze soaked soggy toast sounds like much of a treat, but I admit I've never tried it either. Maybe it's an acquired taste?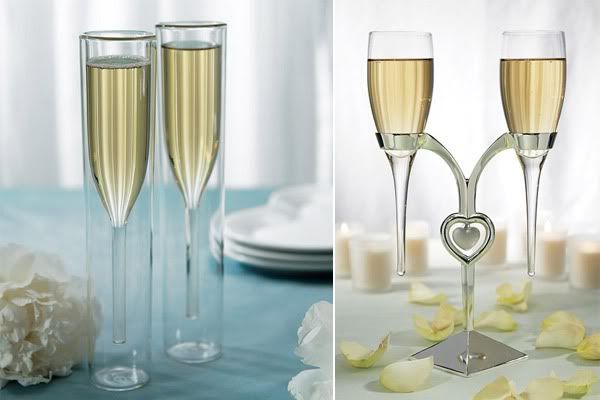 #8643: Contemporary Double-walled Champagne Flutes / #6023 Clear Glass Flutes with Silver Plated Stand
Today, we toast from individual drinking glasses rather than a communal cup, and without any soggy toast floating in our beverages, but the sentiment of the why we toast remains. When we raise our glasses and drink together we are maintaining our sense of unity and expressing our connection to the kind words being spoken. These are the same feelings our ancestors had, and why toasting has become an important part of how we celebrate.
No matter the occasion, when we toast together the heartfelt sense of inclusion and community coming together in its expression of goodwill is a truly special thing, and should be cherished and celebrated.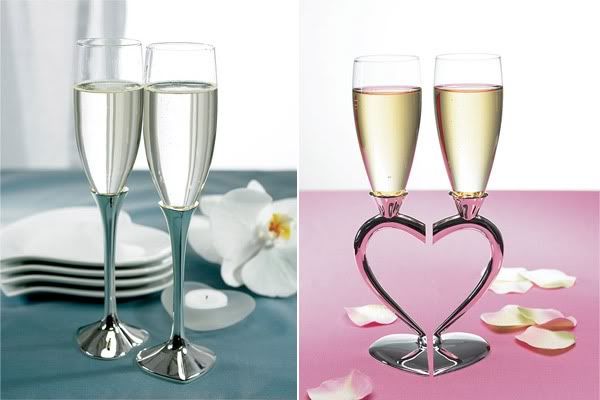 #8483: Silver Plated Heart Stem Glass Flutes / #8441: Silver Plated Interlocking Heart Stems with Glass Flutes
If you're a bride with your special day coming up, and the important wedding toast no doubt already causing your best-man sleepless nights, the question of how to make your toast memorable may have crossed your mind. Although Weddingstar can't help your best-man prepare his speech, we do have everything a bride-to-be needs to toast in style, whatever your taste might be.