Hi there lovely readers — Rita here! So excited for my annual post! I'm now well into my second year designing for Weddingstar, and just to let you know, the excitement doesn't dissipate. It's been thrilling to see products that I've designed used in real life weddings and featured on blogs and in magazines. So keep on sending us images, it always makes our day:)
Last year I gave you my Insider Tips To Creating A Theme. Today I'm going to do it a bit differently, sharing my prowess at a hands on level, so that you too can experience the magic of making. You guessed right, it's a D.I.Y project! I'll be showing how to create gorgeous terrariums (doubly fun if used as echo friendly favors). Oh happy day! PLUS if that's all too much work, I'll show an even easier way to get on your green goddess. Integrating succulents into table décor.
Lovely Terrariums
What you'll need:
-A glass container with a large enough opening for placing plants inside (Globes, Teardrops, or Bell Jars)
–Small stones for drainage (gravel, pebbles, broken pottery, or river rocks work well)
-Crushed charcoal
–Sand (different varieties optional)
-Soil
-Plants
-A funnel and/or chopsticks (helpful tools for incorporating and maneuvering the different elements into containers with small openings)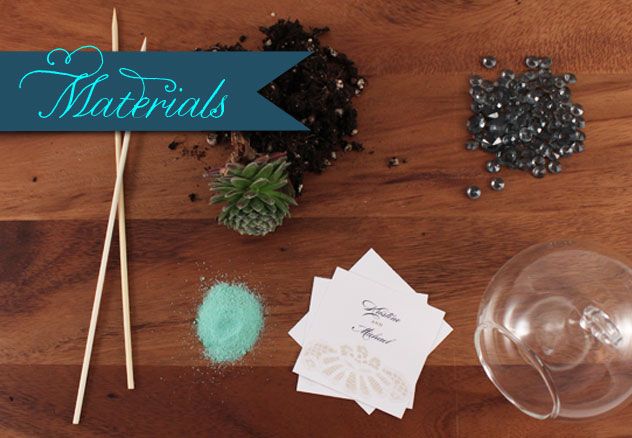 Instructions
-Clean container thoroughly to prevent bacteria from growing.
-Begin by placing drainage (small stones) at the bottom of the container.
-Add a thin layer of crushed charcoal to help keep the soil fresh.
-Incorporate different kinds of sand on top of the charcoal for a layered effect.
-Add soil, making sure to create a hole large enough for the roots of each plant. Remember that creating uneven layers of sand and soil can look great, but pay close attention to the levels around the edges, as this is what you will see from outside the terrarium. Note: Steps 2 thru 4 should equal about one-third the height of your selected container.
-Place plants into the soil, largest to smallest, and lightly pack the soil. Do not overplant. Consider the negative space for other landscaping opportunities such as dried flowers, groundcover, moss, geodes and/or small figurines.
-Landscape! You are the designer.
Hot tip; suspend the teardrop with knot­ted sisal rope.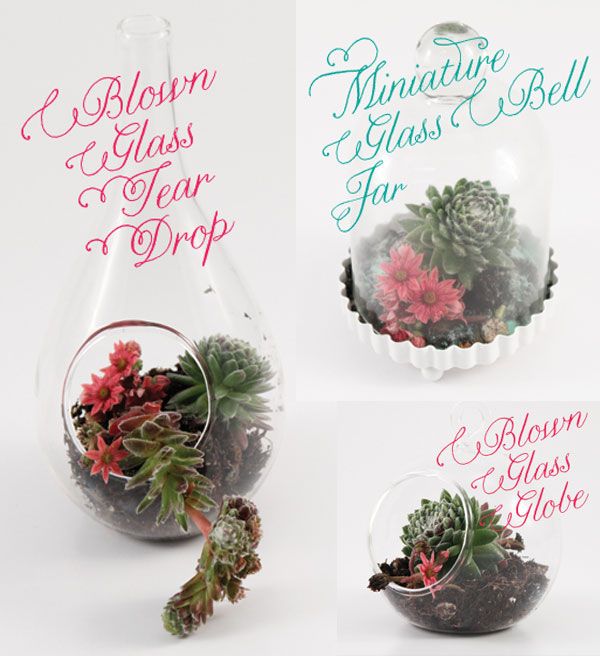 Maintenance
-Water 1-2 times per week, watering only the live plants and avoiding mosses and dried flowers. For an open terrarium, the soil should always remain barely moist, never bone dry.
-Closed terrariums should almost never need watering.
-Prune back dead foliage or overgrown plants as needed to prevent rotting.
-Terrariums thrive in natural, indirect light. Avoid placing in direct sunlight or other hot areas as you can actually cook the plants or burn foliate that is touching the edges of the vessel.
-Mist your terrarium daily to provide ample humidity.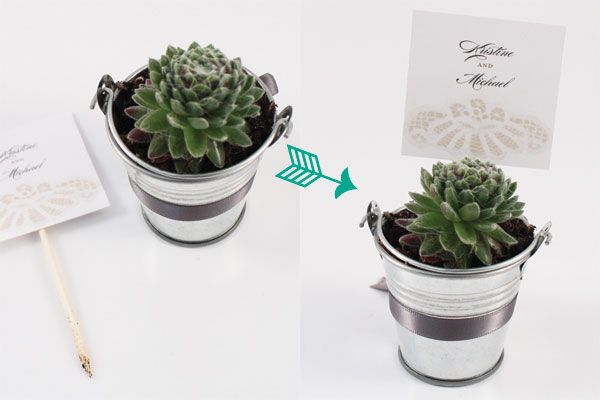 Chic Table Decor Succulents
What you'll need:
-Succulents
-Earth
–Miniature metal pails
–Ribbon (Optional)
What to do:
Very straight forward. Put earth and succulents into pails. Optional move — tie color theme coordinating ribbon around pail and voila. Easy as pie.
Simple Variation; add height and a personal touch by attaching a personalized card to a BBQ skewer.
Thank you to the fabulous mother earth for providing us with the most important ingredients of all!