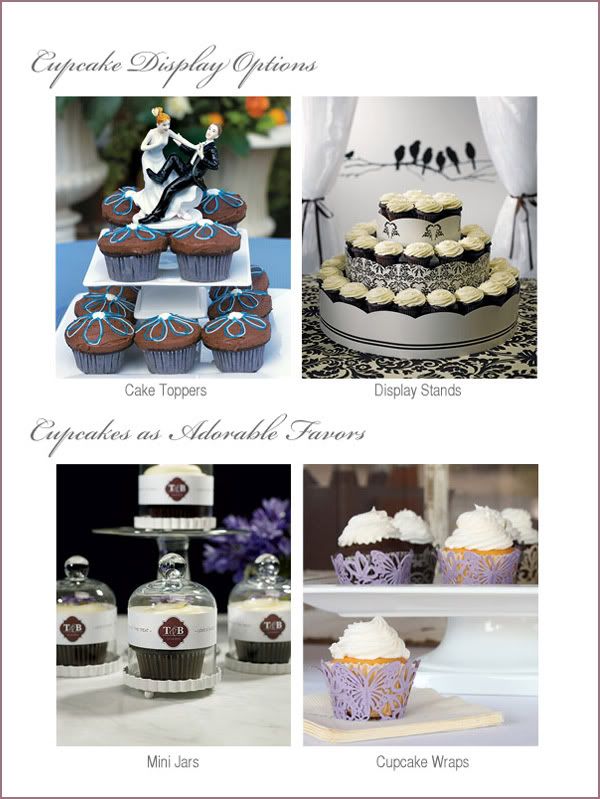 Looking for a unique (and yummy!) wedding cake alternative that won't break the budget? Consider cupcakes, mini cakes or pies — not only are the flavor possibilities essentially endless, but they're the perfect convenient size for your guests to grab themselves.
Cupcakes have really stepped into the spotlight this last year or so, showing brides and grooms that elaborate, expensive wedding cakes are becoming a thing of the past.
Display them on a cupcake tower or dress them up with your favorite cake topper or pretty wrapper. To view all cupcake display options, click HERE.
If you'd like to think even further outside the box, mini cakes, brownies or biscuits are another way to wow your guests' taste buds. Place them in mini crowns as a yummy guest favor or put them on display with our adorable birdie couple or other cake topper.
Just think: homemade apple pie on the 4th of July or pumpkin pie topped with a dollop of fluffy whipped cream on Thanksgiving weekend. Mmmmm!
Pies are delicious and make a great dessert option for casual, summer weddings outside or afternoon events. Package them up with our adorable little pie kits and they become a great midnight snack or take-away guest favor at the end of the night.
Happy weddings!