Black and White – it's a classic color palette but surprisingly diverse. Whether you love the look of black and white for a black tie affair or you want a funky mix of eclectic style that's always in fashion, black and white is going to be your go-to color combination. I especially love these two colors for a wedding because it's a great way to have guests participate in the theme as well – everyone has something spiffy in black or white (or both!) that they can wear and with all your guests dressed in theme, your wedding photos will never look more amazing! Plus, if you want a little more color in the mix, this palette easily adapts to bright pops of just about any color under the rainbow! That's why today I've complied my favorite black and white wedding ideas, accessories and more to inspire you to create the flashy two-tone wedding you've always dreamed of! Enjoy!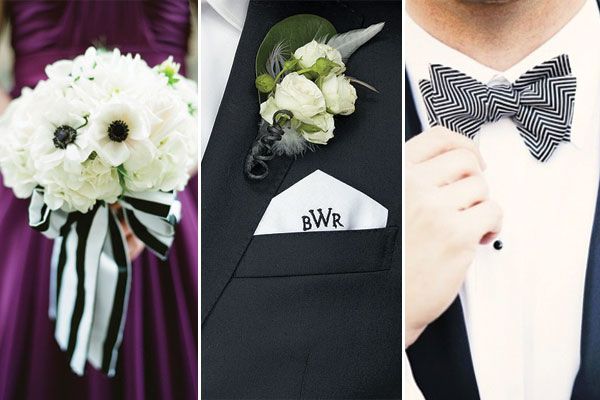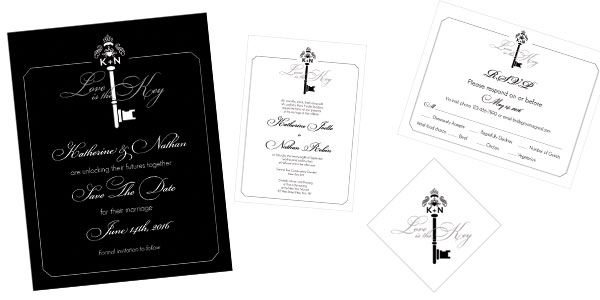 The Key Monogram Stationery Collection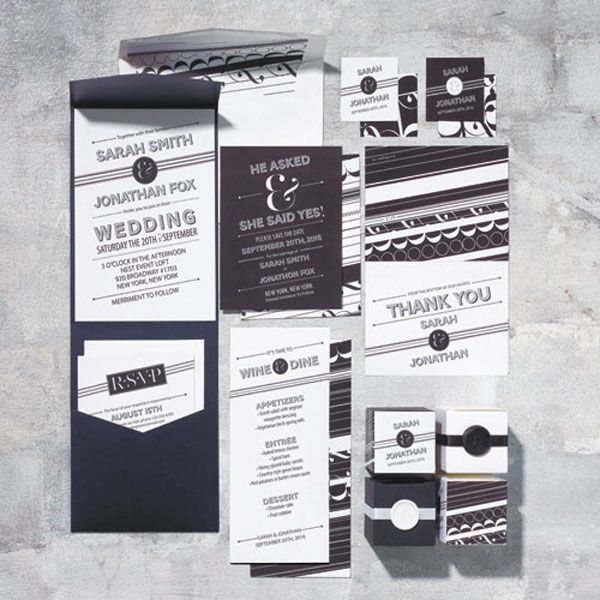 The Black and White Stationery Collection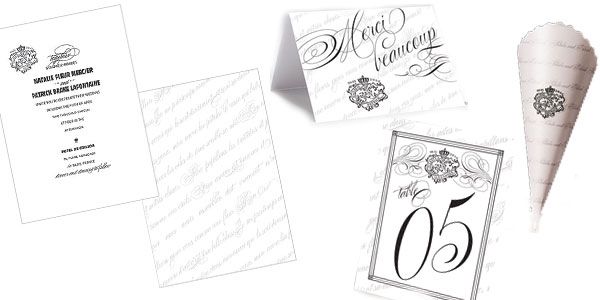 The Parisian Love Letter Stationery Collection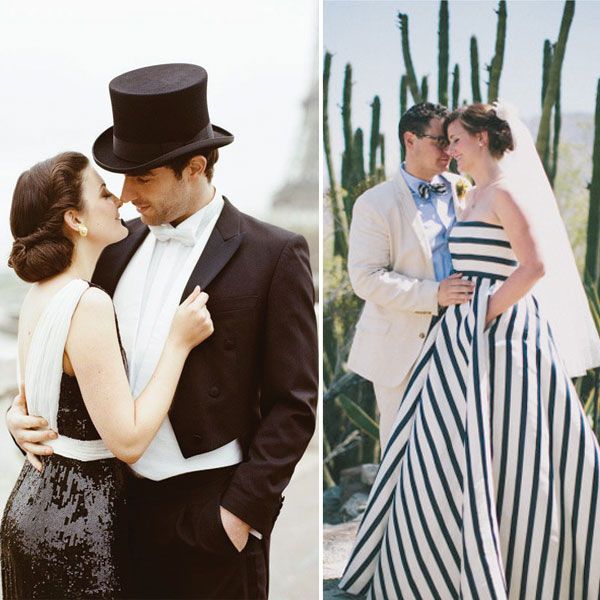 Inspiration for the Bride via Pinterest / Style Me Pretty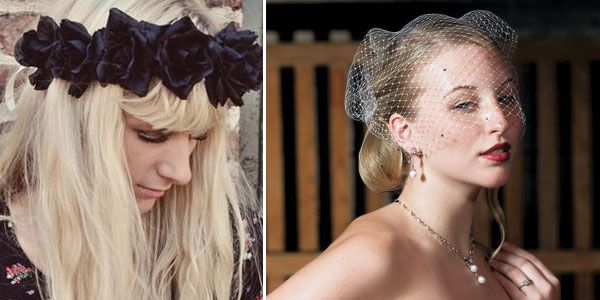 A Black Floral Crown via Pinterest (for the bride or bridesmaids!) / Our Birdcage Veil (add a black or white flower for extra glam!)
Floral Inspiration via Pinterest / Style Me Pretty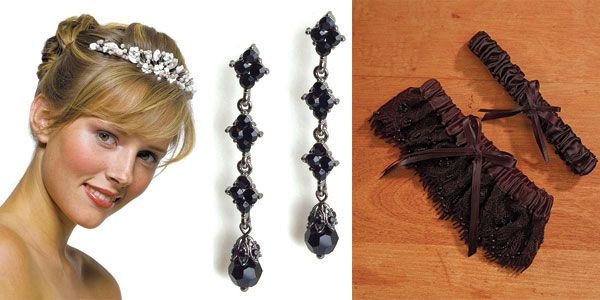 Glam Black and White Accessories: White & Rum Pearl Floral Tiara / Jet Black Earrings / Beverly Clark Gala Collection Garter Set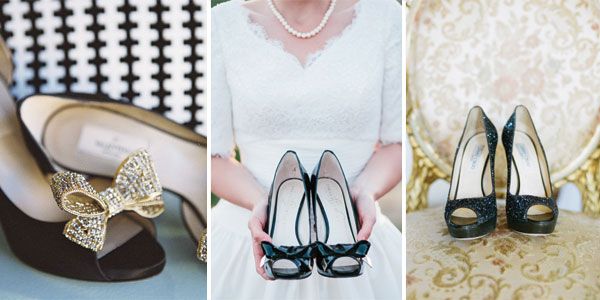 Gorgeous Black Shoes to Inspire via Pinterest / Wedding Chicks / Olivia Griffin Photography

Dapper Groom Attire Inspiration via Bonobo's Clothing / Brogue Shoes via Pinterest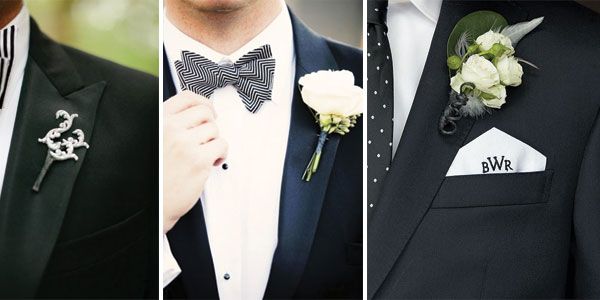 Boutonniere and Bow Tie via Pinterest / Our Gentleman's Plain Handkerchief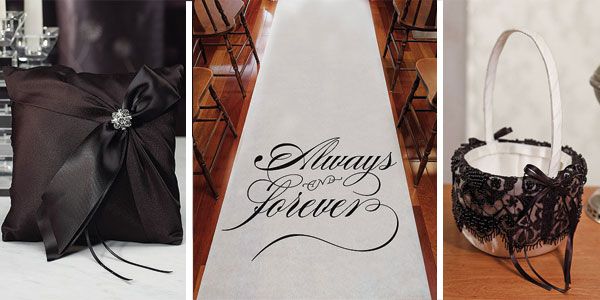 Gorgeous B&W Ceremony Accessories: Beverly Clark Monroe Collection Ring Pillow / Always and Forever Aisle Runner / Beverly Clark Gala Collection Flower Girl Basket
Get your Adorable Puppy in on the Wedding Fun with: Our Pet Tuxedo / Our Best Pet Wedding Bow

Decorate Your Reception Venue with: Hanging Paper Lanterns in Black & White / Black Ribbon Bows (both via Pinterest)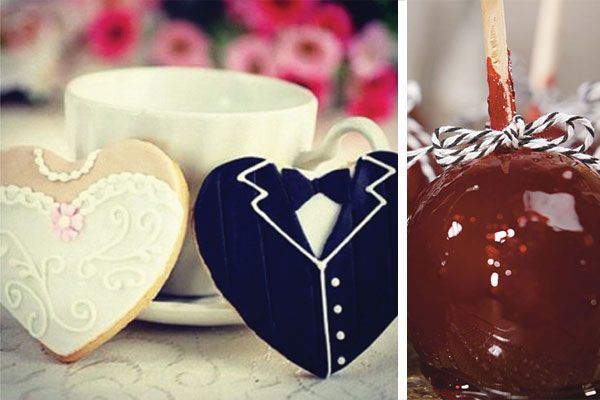 Delicious Favors to Serve: Bride + Groom Cookies via Pinterest / Our Striped Cotton Baker's Twine Wrapped on Candy Apple Sticks (this is one of my favorite products, tie it around anything for an instant dose of whimsy!)
Decorate with: Our "Sipper's" Candy Striped Paper Straws in Black and White / Our Ornamental Wire Centerpiece with Suspended Wire Teardrop (just switch out the yellow flowers for black and white buds!)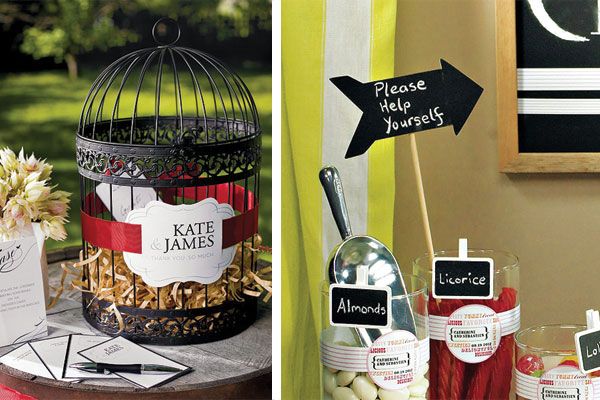 Add Atmosphere with: Our Classic Round Decorative Birdcage / Wooden Blackboard Stick in Directional Arrow Shape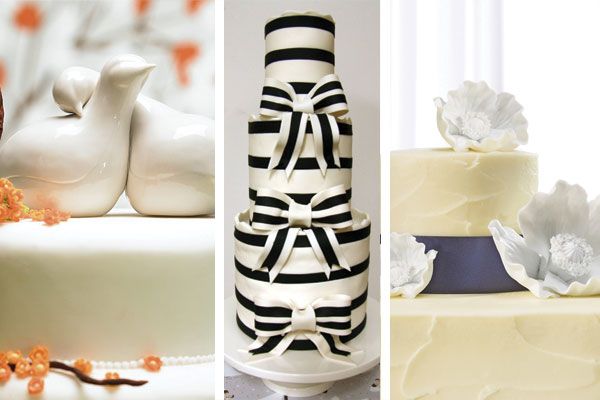 Design a Tasty and Classy Cake with: Our Contemporary Love Birds Cake Topper / Lovely B+W Bow Cake via Pinterest / Our White Porcelain Bisque Poppy Blooms Topper
I hope this has inspired all of you and helped with some of your wedding day design decisions! See you all Friday with another great Fashion Friday post – this one's going to be all about crushing wedding planning stress with some great ideas for a little "you" time! Until then everyone, Happy Weddings!