The inspiration for this post comes from those good old days in our childhood when everything seemed so simple. Back in the day when doodles on a page meant love, and holding hands on the swings was the highlight of your day.
Once you get older and start to face the realities of life it is so easy to lose the contentment that you felt in your youth, an unfortunate fact of life if you ask me!
This theme simplifies it all – it takes away the worries and stress of responsibility and focuses on the simplest kind of love. Celebrate the purest part of your relationship and just forget about everything else!
If you are looking for an artsy DIY theme with a twist, this could be it. Handmade decorations of course – perhaps bouquets made of the paper fortune tellers that kids always make. (Various colors and designs of paper would look fabulous!)
I see invitations designed with carved initials, doodled hearts and lots of whimsy!
How about paper airplanes for favors? If it is a smaller wedding you could even attach a small handwritten note to each of your guests!
In honor of all the time spent playing in the sandbox why not perform a sand ceremony during the wedding? It is not only a wonderful way to symbolize the joining of two lives, but would be a great addition to this theme.
Would you ever consider a theme that's not elegant but rather filled with personality?
If you were to design a wedding based around the idea of childhood sweethearts, what would you include?
How about a seating chart written in colorful chalk on a blackboard with a stunning wooden frame? Or a plethora of candies for your guests to enjoy?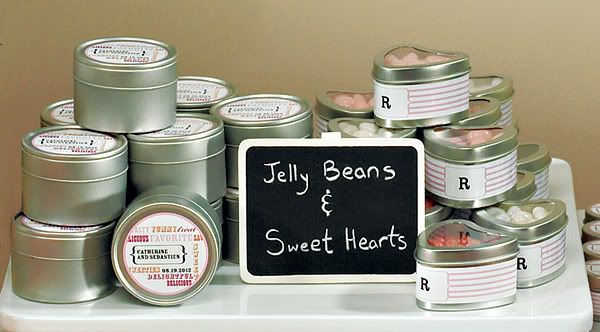 Included in photo: Wedding Favor Tins, Blackboard Sign, Old Time Candy Stationery Collection.
Photos courtesy of PinkStock Photos!