Exciting New Features
We're so excited to introduce our newly redesigned website! A pretty color palette, inspiring images and easier navigation make it far superior to the old site.
So please, have a look around and check out some of the great new features that will help make putting together all of the pieces of your dream wedding quick, simple and stress free!
Shop by Magazine
OK, this may not be an entirely new feature per se but it's definitely gotten a bit of a face lift, making it much easier to find our products on each page. Simply go to our homepage, run your mouse over the Shop All Products tab and click on Shop by Magazine.
As you flip through the pages of the magazine, run your mouse over each page. The products will be highlighted by a pink box and a link to the product will pop up. Click on the link and voila, product details and ordering information right there in front of you!
Personalization Options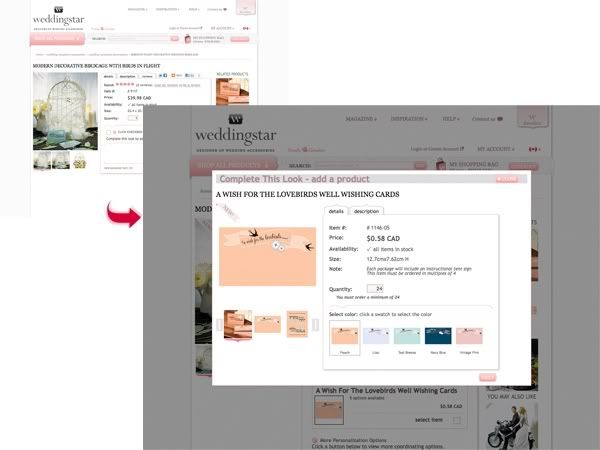 This feature helps you match our products with their corresponding stationery, such as tags for favors or cards for wishing wells.
Once on the product page, simply click the check box and a screen will pop up with the various stationery options available for that product. Click on the check box of the stationery you like and another screen will appear. Choose your color and personalize it with names, wedding date or a special message.
Coordinating Products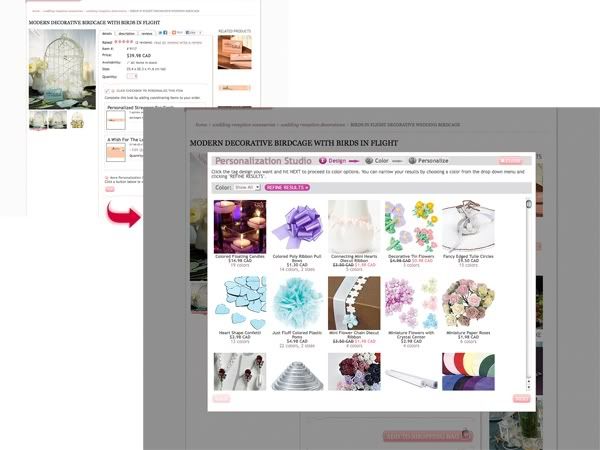 Similar to the stationery personalization options, this feature also makes coordinating our products quick and simple! Just click on the

button and all of the coordinating products will instantly appear. Click on the items you like, choose your color and personalize!
Create your Own Invitation Wording Styles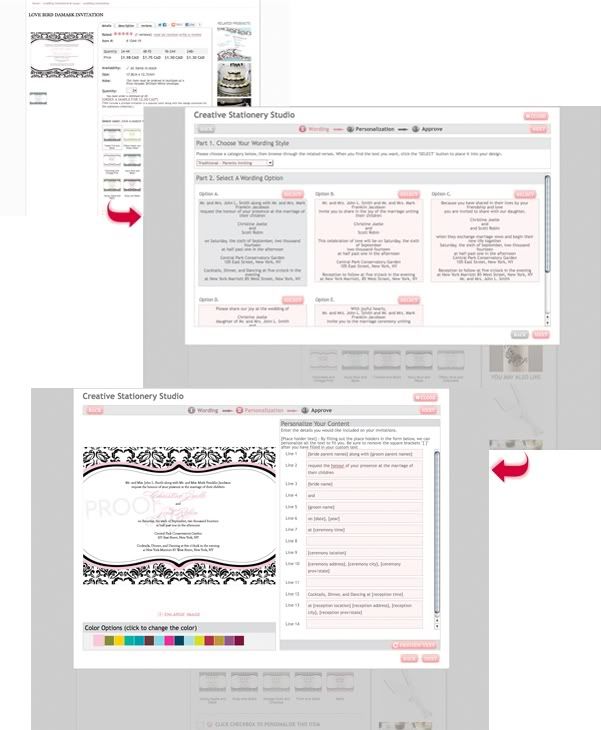 This feature is absolutely our new pride and joy! You now have the ability to create and personalize the wording that will appear on your invitations.
Simply select your invitation color and click on the check box. Another screen will appear inviting you to choose the wording style that suits you best: Traditional – Parents Inviting, Traditional – Bride & Groom Inviting or Contemporary.
Once you have selected your wording style, click
and you will be prompted to fill in your names, date, location, etc. Read it over, preview it, and just like that your invitations are done!
Watch Videos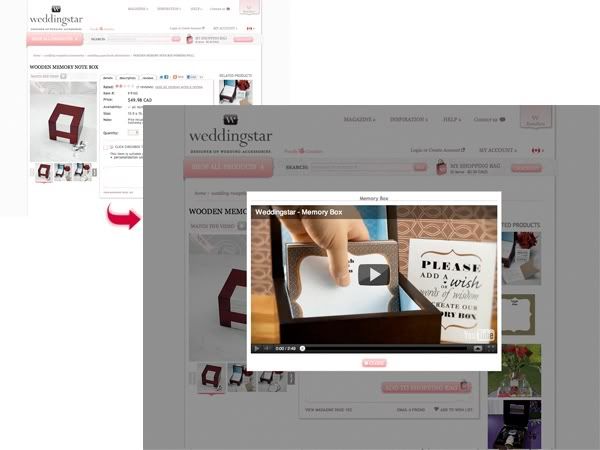 One of the final great new features is the ability to watch videos featuring the products you love! Simply click on the
button and a video screen instantly pops open. Videos are typically introductions to the product, and some are how-to videos that provide just a bit more information on some of our more complex products.
And there you have it! We'd love to hear what you think of our new website, so please leave a comment below or write us a note on Facebook.
Don't forget, all of our new 2012 products will be up on the website December 6!
Happy shopping and, as always, happy weddings!