There isn't a single detail in this wedding that I didn't immediately fall in love with; the palpable romance, stunning venue, amazing photography, the dress – every single bit of it is incredible.
Normally I'm not one to fall for weddings that involve pink, however combined with such a gorgeous location, the succulents and white flowers, it's absolutely lovely.
I'm a huge fan of the Bride's luscious relaxed curls, I find this type of hairstyle not only photographs better than the traditional updo, but it is also soft and romantic. A look that is ideal for this wedding.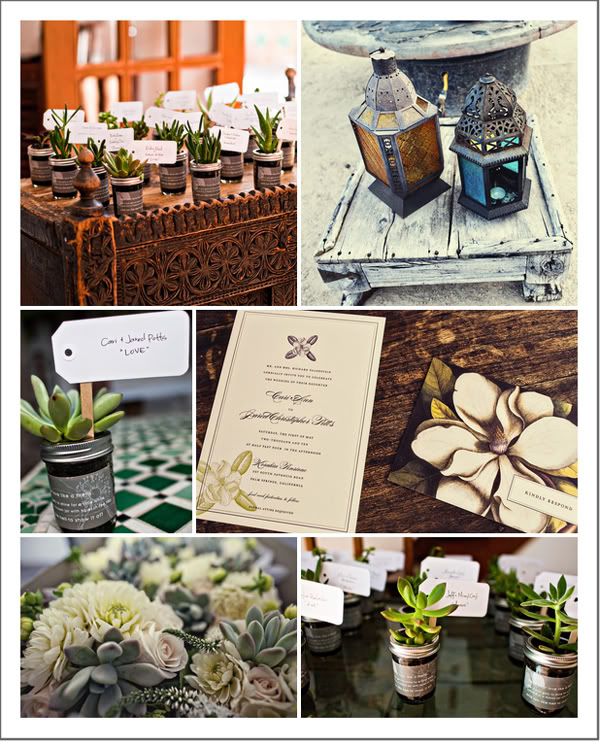 The succulents in the little jars are sweet escort cards. Each note directs the guests to their location at the tables; each area is distinguished by blackboards with the word 'love' written in various languages.
The mason jars boast the words, "Treat your love like a firefly – Like it only gets to shine for a little while. Catch it in a mason jar with holes in the top and run like hell." – lyrics from the song Me and Charlie Talking.
Handwritten wishes for the Bride and Groom were hung along with photographs from their time together.
Korakia Pensione, in Palm Springs,  has been heralded as one of the 'sexiest hotels in America' and after viewing this wedding there is no doubt in my mind as to why. The location is absolutely incredible. The lanterns, which are stunning, are part of the charm of the hotel.
There were so many breathtaking photos from this wedding that it was hard to choose the ones I wanted to feature most. The Bride and Groom are both very photogenic and Joy Marie Photography did an amazing job of capturing their love and the details of their special day!