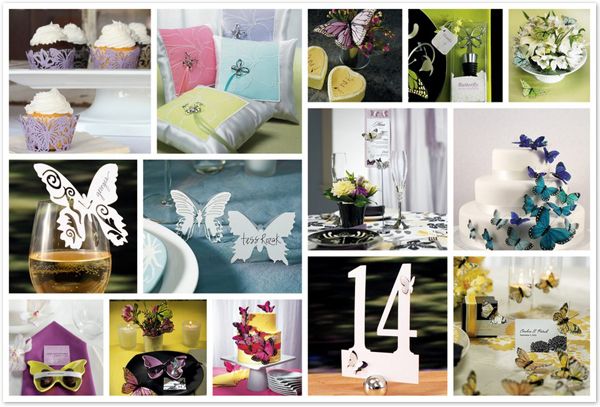 Butterflies are one wedding staple that I can never really get enough of, especially for spring and summertime weddings. Not only are they pretty and very versatile, but butterflies also have a little bit of a symbolic connection to marriage as well.
These delicate flutterers symbolize new life, new beginnings and a transformation from old to new, and they also represent elegance, freedom and beauty.
So to get you started, here is some inspiration and tips on how to make your butterfly wedding absolutely perfect.
 A Butterfly Wedding Theme
Color Scheme
One of the greatest things about a butterfly wedding theme is the vast selection of colors. So no matter what your wedding colors may be, butterflies will still fit in nicely.
So whether your color scheme is yellow, blue, pink, green, brown or even classic black and white, you can easily add butterflies to match your look or use them to add a little punch of color.
Décor
Of course you want to be careful you don't overdo it with the butterflies because too many can make your décor look cluttered or even tacky.
Keep your butterfly wedding tasteful by adding butterfly place cards  or table numbers to your tables, hand painted butterflies to your centerpieces or cupcake wraps to your dessert table.
 Cake
Your butterfly wedding cake should be pretty and a little playful, so don't overcrowd it with intricate fondant work or ribbon. Our butterfly cake sets add just the right amount of color and style to any shape or flavor of cake.
Our Butterfly Inspiration Board — Get the Look
Top row: Beautiful Butterfly Filigree Cupcake Wraps | Butterfly Dreams Ring Pillow (part of the Butterfly Dreams Collection) | Hand Painted Butterflies | Butterfly Bottle Stopper
Middle: Butterfly Die Cut Card | Butterfly Folded Place Cards | Butterfly Stationery Caddy and Holder | Beautiful Butterfly Cake Set
Bottom: Ceramic Butterfly Dish/Holder | Butterfly Die Cut Table Numbers | Beautiful Butterfly Decorative Set
Check back on Friday for inspiration and tips for a Love Bird wedding theme.
Happy weddings!

Like us on Facebook
Follow us on Twitter
See our pins on Pinterest