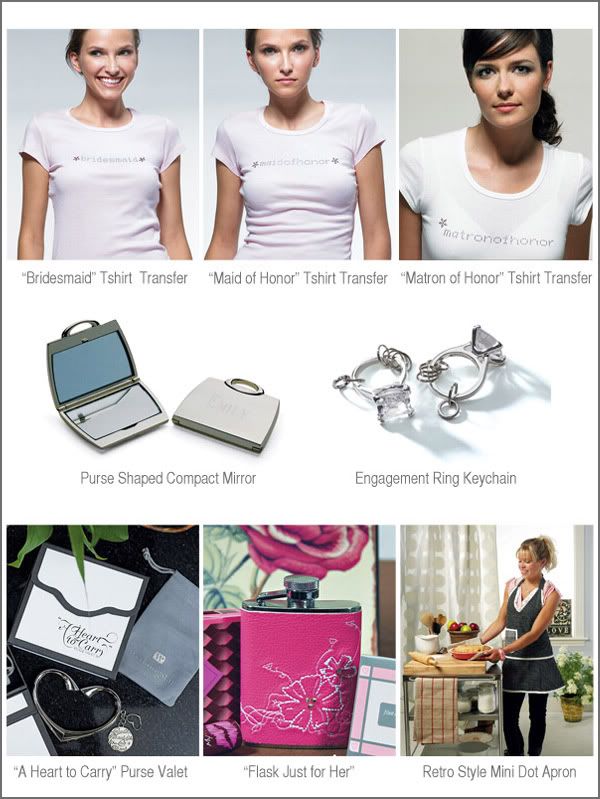 It's customary to give your attendants — maid of honor, best man, bridesmaids and groomsmen — a little something to thank them for their help making your big day truly special. So, I've put together a collection of unique and inexpensive gift ideas in this two-part blog post.
Today, we're talking about your best gal pals. From Tshirt transfers to key chains and sparkly pink flasks, your lovely ladies will adore these bridesmaid gifts from the heart.
The iron-on Tshirt transfers are easy to use and decked out with rhinestones, steel studs and crystals. They're a great gift for your gals at the bridal shower, bachelorette party/stagette or wedding rehearsal. There's even a "Bride" one for you!
The purse valet comes in adorable gift packaging and can be personalized by engraving an initial on the friendship charm.
The stylish apron is sure to heat up some fun in the kitchen! The black and white polka dot style of this retro look is so chic and dare we say…a little sexy! Personalize it with embroidered initials on the pocket or left strap.
Every woman appreciates a good bag, and personalized tote bags are a great way to let your bridesmaids know all their help is definitely appreciated. Choose from nine great styles and personalize how you want — an initial, name or special message.
These great totes will come in handy while on a shopping spree, at the bachelorette party (for all the party favors and gag gifts) and especially if you're planning a destination wedding.
Stay tuned for groomsmen gift ideas on Friday!
Happy weddings!