I am overjoyed to announce our newest guest blogger, Kristan Serafino of SerafinoSays.com! Having styled hair for some of Hollywood's most elite weddings, Kristan is a bridal and hairstyling guru, and today she's dishing all her secrets on how to take red carpet glamor and transform it into rockin' bridal style! Enjoy!
When a bride is on a quest to find a fashionable yet elegant hairstyle for her wedding day, the grandeur of the Oscars red carpet can be an inspirational experience. And, while acknowledging excellence of cinematic achievements is the basis of the event, we all know that much of the publicity occurs on the red carpet where Hollywood's finest shine in designer fashions and jewelry. With millions of eyes tuned in on the stars, they trust the world's leading hairstylists and makeup artists to make them look their best, and this is what makes the Oscars fashion and style so mesmerizing.
I do have a caution though brides! The Oscars are great for bridal brainstorming, but I advise that the keyword when eyeing up the 'dos of your favorite stars is to be "inspired," not to "imitate." What hairstyles work best on your favorite celebrity might not work best on your wedding day. Don't be shy to grab a few muses from the red carpet, after all it is a great way to see a multitude of variations that originate from a single style, just don't get set on matching any of them exactly. Remember your hairstyle needs to compliment your face shape, your choice of gown and even your wedding theme, not distract from them!
This year I gathered my favorite red carpet hairstyles and placed them in 5 different style categories, each of which holds great tips and tricks for helping you pick your own bridal hairstyle.

Many brides consider bangs less formal, so therefore less impactful. I say, don't be afraid of bangs! The purpose of any hairstyle is to be an accessory utilized to enhance features such as the eyes, neckline, shoulders, and cleavage. You might think they're informal, but one of the best purposes for bangs is to draw attention to the eyes. Just take a look above and see how each style of bangs draw you into the soulful eyes of Sally Field, Jennifer Hudson and Octavia Spencer.
SerafinoSays Pro Tip: If your eyes are your favorite facial feature, then use the flow of full or side swept bangs to intensify them. Once you find the perfect positioning of your bangs, make sure to finish them off with a firm hold hair spray.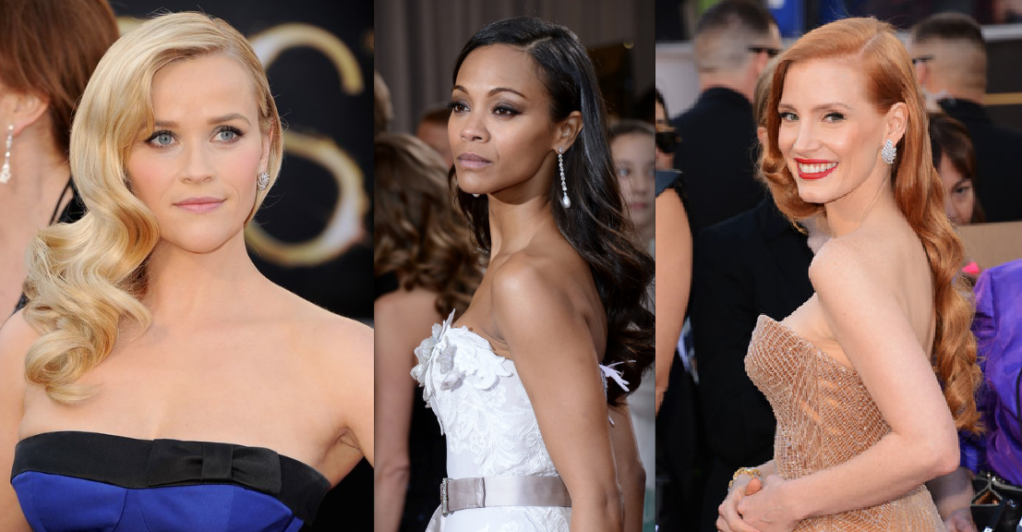 Just because your dress is modern chic there is nothing shocking about the juxtaposition of wearing the wavy locks of an old Hollywood glamour hairstyle. A contrasting hairstyle can actually work in harmony with your dress by taking the edge off a contemporary design. Just look at Reese Witherspoon, Zoe Saldana and Jessica Chastain – their gowns and old Hollywood glam hairstyles are working together perfectly!
SerafinoSays Pro Tip:  When positioning the side part of your Hollywood glamour hairstyle, use the center of your eye as a reference point to begin the parting.

Transform a neat, tight chignon into an elegant fairytale hairstyle by softening the strands of hair pulled back into it. This simple process adds soft framing around your face while still looking ethereal and elegant. Just check out Amanda Seyfreid, Jennifer Lawrence and Amy Adams above to see what I mean!
SerafinoSays Pro Tip: The elegant statement of the updo is all about the added volume it lends to your hair. If you want to update this classic a modern twist is to pull the sides of your hair tighter, leaving the height at your crown.

Short hair shouts confidence! It's not necessary to grow your hair out for your wedding, after all not all bride's facial features or gowns are best accentuated by wearing long flowing locks. Take direction from stunning short-haired leading ladies Anne Hathaway, Halley Berry and Charlize Theron and command attention with your short haired bridal style.
SerafinoSays Pro Tip:  Add a delicate and decorative touch on your wedding day by including a stylish pin, clip or barrette to your hair.  Before inserting the clip, make certain to tease your hair where the clip will be placed as this acts as an anchor point to secure your hair accessory.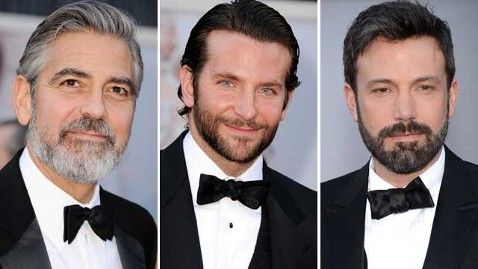 If your man wears facial hair, then take grooming inspiration from leading men George Clooney, Bradley Cooper and Ben Affleck. With a clean neck line, trimmed below the cheekbone and neatly combed facial hair, your man's beard can look sexy and stylish in his tuxedo.
SerafinoSays Pro Tip: The neckline of a beard must be manicured to achieve a balanced appearance. I recommend one inch above the Adam's apple then follow the gradual curve below the jawline.
ALL ABOUT KRISTAN: Whether it's a celebrity photo shoot or an award show, it's not difficult to spot the gorgeous women or handsome men styled by one particular celebrity hairstylist: Kristan Serafino. She is the woman behind some of the hottest hairstyles on the red carpet's brightest stars. Renowned for her elegance and style, Kristan's hairstyling has also made an impact in the bridal industry. She has styled bridal hair for more than 15 covers of Brides magazine, including the prestigious 75th Anniversary issue.  Kristan's latest celebrity wedding was featured on the cover of People magazine where she styled the bride Camila Alves and the groom Matthew McConaughey.  Her experience in hairstyling is diverse enough that a bride can be assured to achieve the look that best fits her wedding style or theme from classic to contemporary.
When Kristan is not tending to her celebrity clientele, pinning to her fab Pinterest boards, or tweeting madly, she is writing for her blog SerafinoSays.com, chosen by the publishers of Cosmopolitan magazine as a Top 10 "Up-and-Coming Blog" for two consecutive years.
All photos are courtesy of SerafinoSays.com, with the exception of the Oscar photo which is courtesy of Pinterest.
Like us on Facebook
Follow us on Twitter
See our pins on Pinterest