Even though today felt like the first real day of Winter, what with the world suddenly becoming covered in a glistening and slightly damp layer of white; I've decided I'm not quite ready to let go of Autumn. As such I have done a little digging and come up with a collection of photographs that will hopefully help to inspire you.
Fall can be inspiring not just as a season to theme your wedding around, but also as color scheme or a 'feel'. The changes of fall aren't slow and subtle like the transition of spring to summer. The world around you can change in a heartbeat; magical, and at the same time, a perfect reminder that while change is inevitable, it isn't necessarily a bad thing.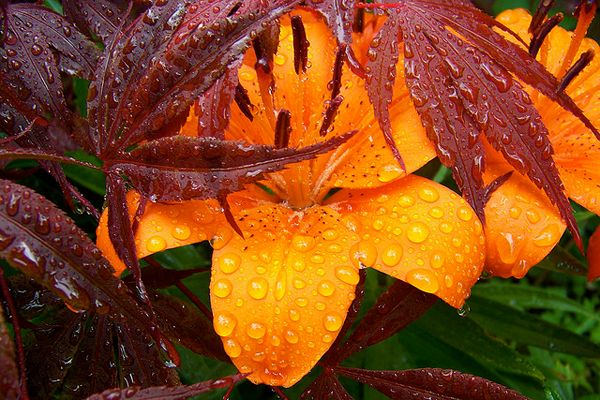 Autumn is everything that is bold and beautiful, with vibrant colors that cannot help but awe. Oranges, reds, yellows, gold; they're just a corner of the rainbow but they make a stunning statement when blended together. If the colors of fall are your inspiration, be sure to take note of the shades. You'll never find just one shade of orange or red in a leaf. Nature doesn't match, it blends and pops… and when the light catches it; it glows.
A rich dark brown can be an ideal way to temper the bright colors; it's neutral enough to relax the senses but not so plain that it will detract from the ambiance of the event.
Fall gives you ample opportunity to incorporate natural beauty into your wedding. However, if you're looking for wedding accessories with a fall theme, we offer a variety of items that might be of interest to you! Don't forget, many of our products are available in a wide range of colors so even if you don't see the color you are looking for in the product image, you'll find many additional options if you visit the product page.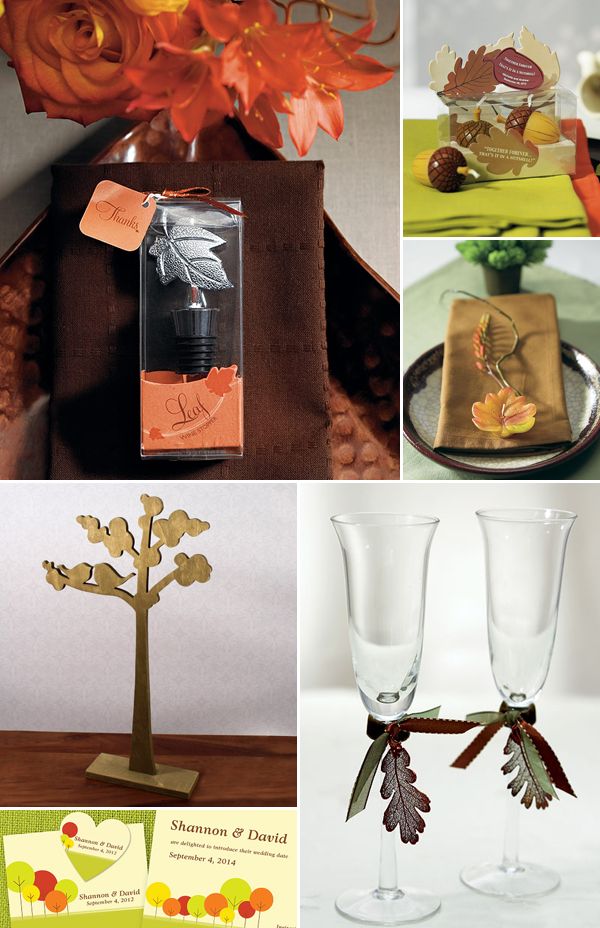 Shown here: Leaf Wine Stopper Wedding Favour, "Together Forever" Mini Acorn Candle Favour, Fall Leaf Candle Favour, Wooden Die-Cut Tree with Love Bird Silhouette, Modern Round Tree Stationery Collection, Autumn Splendor Toasting Set. 
I'd love to know what autumn details are your favorite. I can't get enough of the multi-coloured, 'no-two-alike' beauty of falling leaves. There is something magical about standing beneath a tree as the leaves flutter and swirl around you…
Photographs via the following Flickr accounts: johnhope14, bdamon, Just some dust, Ali Smiles 🙂, katinalynn, Edward Rhys, quacktaculous, Bellafaye, Mina Magiska Bakverk (My Magical Pastries) and berriehol
If you would like to see your wedding photos featured on our blog, feel free to email them to onasweetnote@weddingstar.com or submit them through your Two Bright Lights account.
Please include the name of the happy couple, wedding date and location, vendors, and any other information you'd like to include about the venue, decor and overall theme or inspiration of the wedding.
If you are not the photographer then you must get permission to use their photos before you submit them, and please include their name and website for photo credit purposes. Photos will be featured as space permits.
Of course, we would love to see our own stuff in action! If you have photos featuring any of our Weddingstar products, please submit them.
Like us on Facebook
Follow us on Twitter
See our pins on Pinterest