Hello, Andrea here again. I can't believe it has been a year since my last blog post. If you remember last time I posted I gave a little insight into Destination Weddings after I attended my brother's wedding in the Dominican Republic.

With all of the engaged couples preparing to say "I Do" this year, there are also numerous married couples celebrating wedding anniversaries, marking another happy year they have spent together. This second blog post marks a one year anniversary since my first post, so I thought it might be helpful to share with those couples celebrating an anniversary a rundown of traditional wedding anniversary gifts.
To my surprise I found that not many couples are aware that each year of marriage has both a traditional and modern anniversary gift associated with it.
Any type of gift in honor of your anniversary is going to be appreciated and loved. However, if you're struggling with some ideas for that perfect gift, there are gifts traditionally given for specific anniversaries.
Prior to 1937, there were only eight anniversaries that were acknowledged with an associated wedding gift, to mark a certain milestone in a couple's marriage. These were the 1st, 5th, 10th, 15th, 20th, 25th, 50th and 75th anniversaries.
A jeweler's association presented a more extensive list in 1937. This updated list associated a material item for each anniversary year up to the 15th, and then each fifth year after that up to the 75th. Some of the traditional gifts were replaced with more practical items such as silverware, desk sets and clocks.
Myself being a traditionalist, I prefer the traditional list over the modern list. The traditional list allows more room for interpretation, which could be one of the reasons why the modern version is less well-known than the classic.
The wedding gifts start humbly and then increase in substance (and cost!). This was to accommodate the budget of newlywed couples. Traditionally, the first year was one in which couples would purchase a home, move, and start a family. This is not always the case today, and there is a range of newlywed budgets. Luckily, there is room in the list to accommodate for different budgets.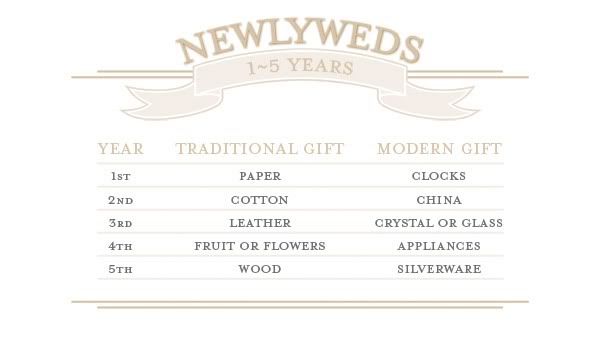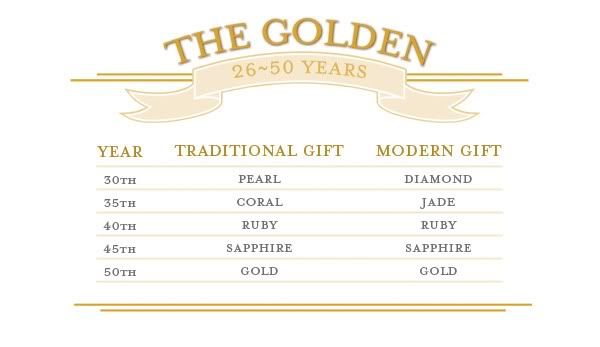 These gifts are not only intended for couples, this list can also be used by parents, family and close friends. While you do not have to adhere to the list, it can be extremely helpful if you are out of ideas and are in need of some inspiration. And remember, this is only a starting point, you have room for creativity and contemporary style, and you can maneuver within your own specific budget.
Here is an example of how you can take these traditional gift ideas and put a more modern and personal touch on your gift:
The first anniversary is paper but rather than purchasing your loved one a stack of paper you can take it a little less literally. Consider purchasing a pair of plane tickets and surprising your loved one with a second honeymoon.
If your budget is a little more limited, it gives you the chance to get a little creative, consider tickets to their favorite ballet, musical or sporting event. A cute and really creative idea is a coupon book for massages, date nights or housework, whatever you can think of.
Both the modern and traditional lists continue to be referenced today by couples, although it's not required for a bride and groom to adhere to them. In fact, plenty of people don't even know this list exists and instead give other gifts such as gift cards or a fancy evening out on the town with the one they love.
Whether you decide to use these gift ideas or not, be sure to just enjoy some alone time with your loved one. Material objects are nice, but the greatest gift you could give to your spouse is time together. Remembering all the love you shared when you became husband and wife, and still share to this day.
Congratulations to all the couples celebrating anniversaries, I wish you many more wonderful years together!!