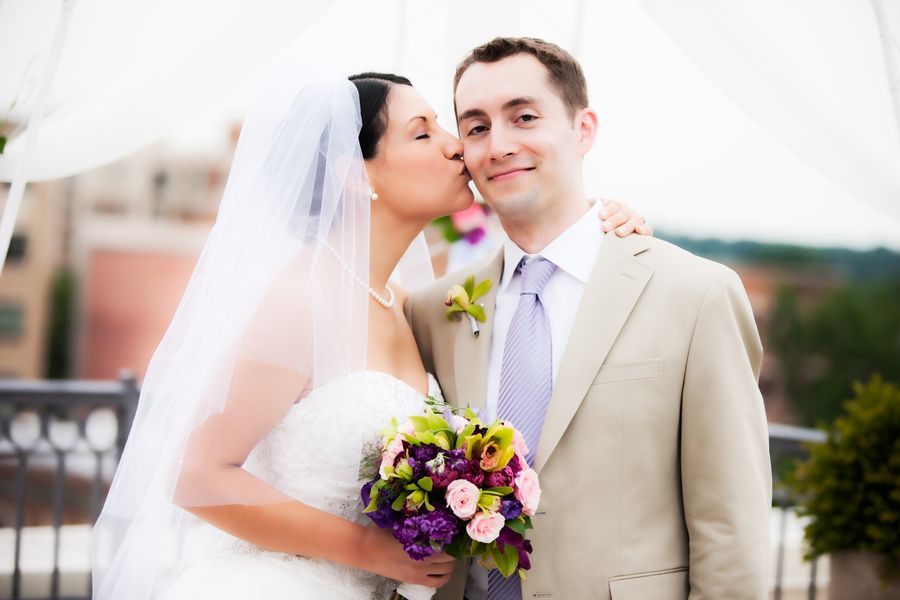 This crafty bride and groom made a lot of their wedding details themselves. From the escort cards to the tulle favors, the handmade details made this wedding so unique and personalized, and they were captured so beautifully by the talented Irene Abdou Photography.
Ann and Paul were married on June 18, 2011 in Alexandria, Virginia, United States.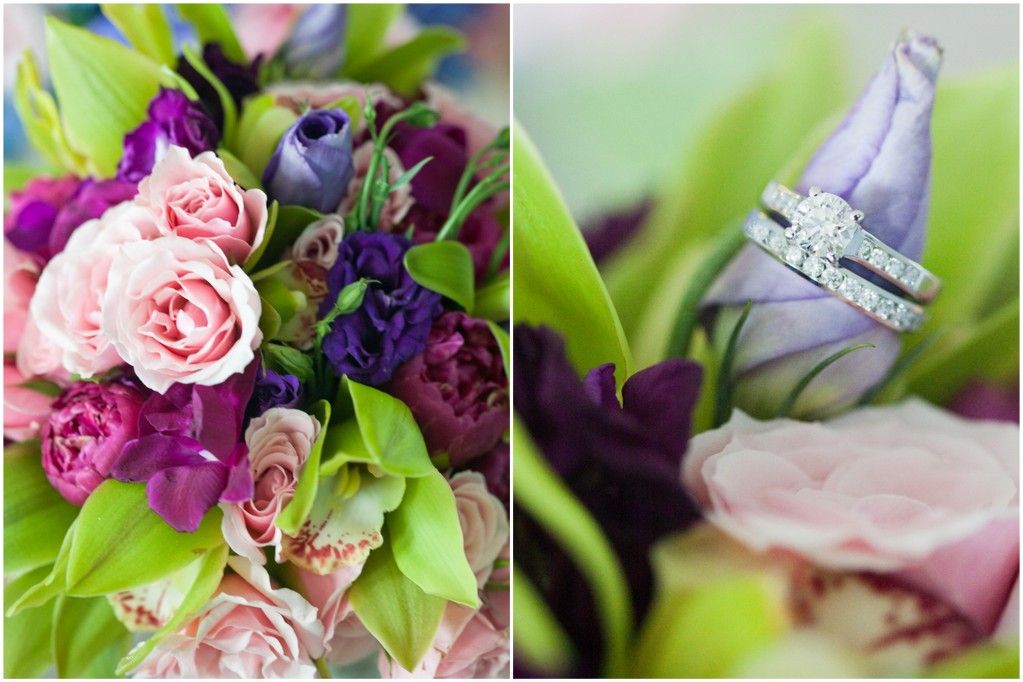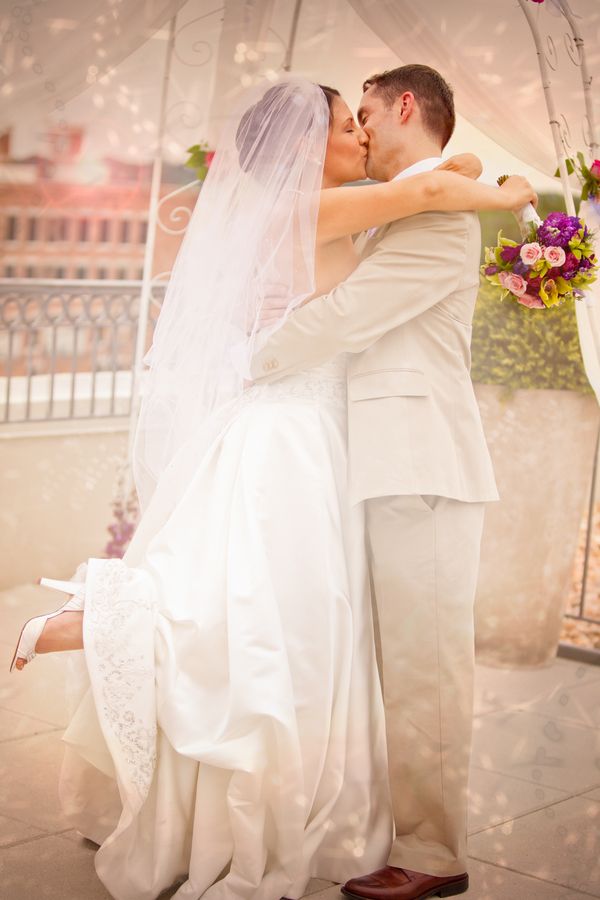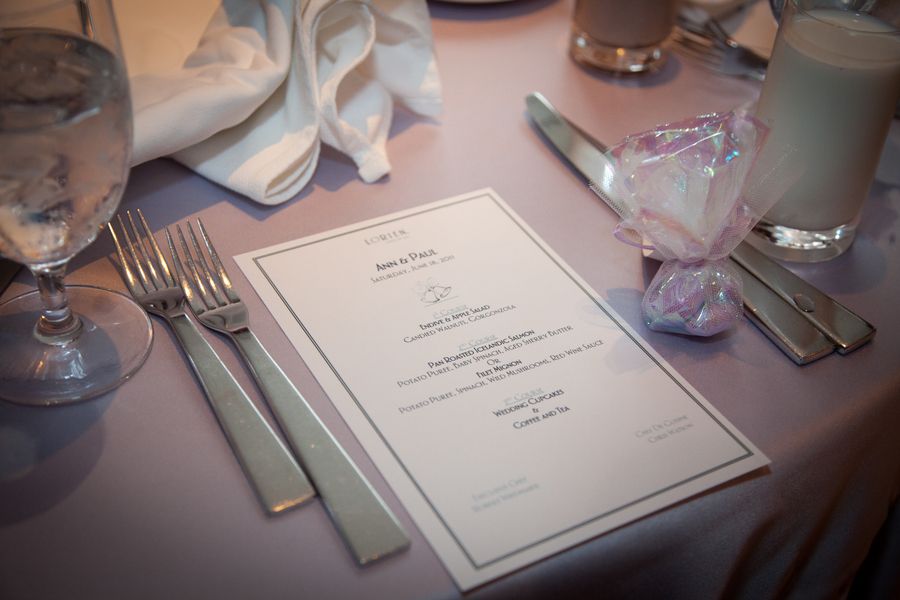 A little about the details from the Bride:

We made little gift bags by hand that were placed at each table setting. I got the tulle circles from Michaels and found some iridescent cellophane in the tissue paper area. My dad, a family friend and I cut the cellophane into circles to match the tulle circles, then put five almond candies in them and tied them with a two-toned ribbon also found at Michaels…they have tons of colors there.
We made tiny cards with our names and our wedding date from a template that you can print and punch out. After printing the little cards, we strung ribbon through them and tied them to the gift bags. The little gift bags are really easy to make; they just take time…it took the three of us two days to make 70 of them!
We had organza fabric flowers decorating a table in the cocktail area that were also made by one of my friends, Joyce. Joyce also has an Etsy store called Happy Cloud Moments, where she sells her handmade jewelry of Swarovski crystals and pearls.
Joyce also made my bridesmaids' earrings and bracelets. One of my bridesmaids and I made purple heart-shaped escort cards (from Martha Stewart weddings).

From their photographer:

I still remember the day that I first met Ann and the tears of joy that bubbled to her eyes as she told me about how she first met Paul and their plans for their wedding day.
Ann and Paul met on Match.com, like quite a few of my couples. Paul was so well-mannered and cute…a quiet type, but becoming more talkative as he saw how much they had in common.
They've traveled the world together and are the outdoorsy-type. In fact, Paul even taught Ann how to snowboard! Now how cool is that? And by the way, Ann and Paul — and even Ann's DAD!!! — can get DOWN on the dance floor! I was so impressed with their moves.
Ann and her friends and family did a great job planning the wedding, down to the super cute handmade details…a true labor of love if one ever existed!

Happy weddings!

Photographer: Irene Abdou Photography
Floral Designer: Fifi Flower LLC
Reception Venue: Lorien Hotel & Spa
Ceremony Location: Lorien Hotel and Spa
Please include the name of the happy couple, wedding date and location, vendors, and any other information you'd like to include about the venue, decor and overall theme or inspiration of the wedding.
If you are not the photographer then you must get permission to use their photos before you submit them, and please include their name and website for photo credit purposes. Photos will be featured as space permits.
Of course, we would love to see our own stuff in action! If you have photos featuring any of our Weddingstar products, please submit them.
Like us on Facebook
Follow us on Twitter
See our pins on Pinterest