For many of us, our wedding is our day. It's one of the only times in our human existence when all eyes are on us; we are the center of attention. We get pampered, congratulated and even admired – just a few of the many perks that come with being a bride.
Now imagine sharing your wedding day with another couple. Think you could do it?
Well, that's exactly what these sisters and their grooms did for their destination weddings down in beautiful Isla Mujeres, Mexico last winter. The two couples decided to indulge in a few post-weddings photo opts with photographer Paul Retherford to capture their memories in the picturesque Mexican sunset.
Although some vacation resorts down south can be a little corny when in comes to decor and color scheme, but this one provided a really nice backdrop for their photos.
Most professional wedding photographers have a good eye for what works and what doesn't work in photographs, so trust them, even though you may feel silly posing beside a couple of big fish statues. See, it works, doesn't it?
These couples un-tucked their shirts and traded white satin stilettos for sandals and bare feet. Destination weddings really are a great way to skip the whole formal affair and enjoy a relaxed day basking in the sun. And the shades are such a fun touch – love it!
Both of the blushing brides wore simple veils and light, figure-flattering gowns perfect for the unrelenting Mexican heat. Their stylish sunglasses really show off their playful, easygoing personalities, and I just love the one bride's floral hairpiece. What a great way to incorporate a little bit of nature into her look!
Their grooms looked handsome but relaxed in their beige pants, white shirt ensembles. Even the one groom's matching jacket maintained the casual feel of their destination weddings.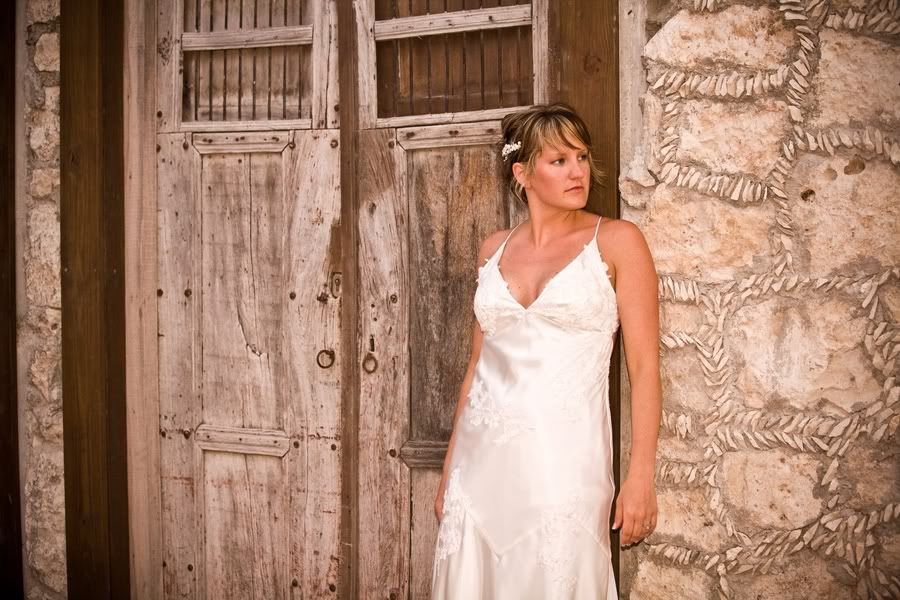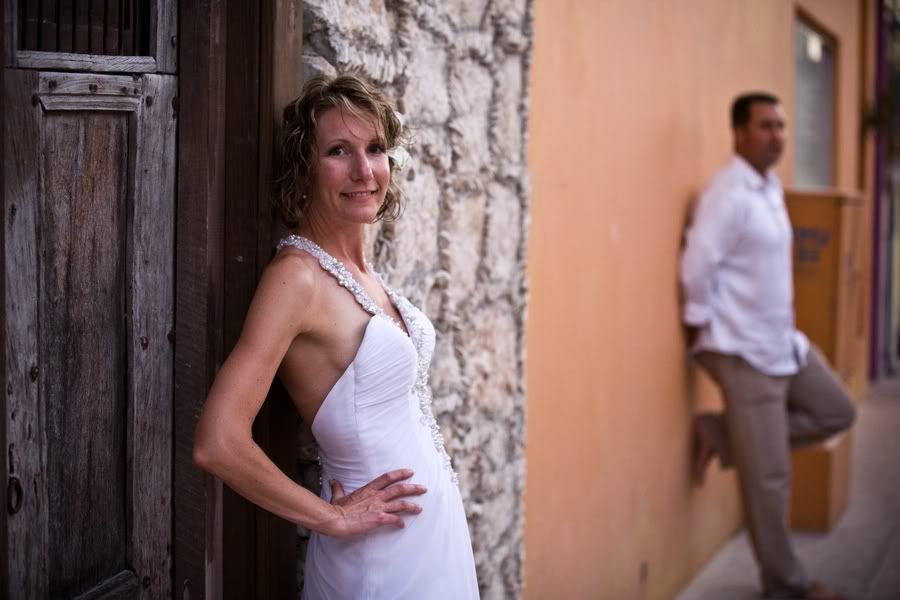 Sometimes you have to really scour a resort to find those picture-perfect locations – but it's definitely worth it in the end!
There is nothing like the dynamic colors of Mexico to help make wedding photos really pop. I love the contrast of their white outfits against the colorful buildings and bright peach walls.
This last photo is my absolute favorite! Although staged shots are great, nothing beats catching a couple – or two – in an intimate moment.
A big thank-you to photographer Paul Retherford for submitting these fabulous photos. Visit his website HERE.
Happy weddings!