I thought I'd catch some of you still recovering from your turkey comas (I really hope everyone had a very merry Christmas, by the way) and take you through our new 2012 magazine! If you have it, now is the time to get it out and follow along. If you don't have one yet, you can still follow along by shopping the magazine online HERE.
I'm just going to skip ahead to two of my favorite pages, 18 and 19. These are two of our new cake toppers!
You likely recognize the cake topper on the left. It's the one on the cover this year! Isn't it fabulous?
You can customize the "A Romantic Dip" cake topper by choosing the Bride's shoe color (there are 8 colors in all) as well as the hair colors (5 colors) of the Bride and Groom.
"The Look of Love" cake topper is a cute alternative to a traditional standing cake topper. And you can put it on any tier you like.
Now flip to page 64. It should look something like this…
This is a real wedding we staged at an opera house in Calgary, Alberta, Canada. The theme is Vintage Chic and the color scheme is champagne pink, ivory, smoky eggplant purple, lavender and soft white.
(Left) The "Celebration Peonies", mini notebook favors and (right) cigar humidor, plastic tubs and photo backdrops are just a few of our great new products!
New wedding ceremony accessories start on page 70…Flipping to page 74, here are our new aisle runners!
There are 10 totally customizable designs to choose from.
On page 90, you'll see some unique ideas for wedding wishing wells, guest books and guest book alternatives. You can find these two new products on page 92 and 93.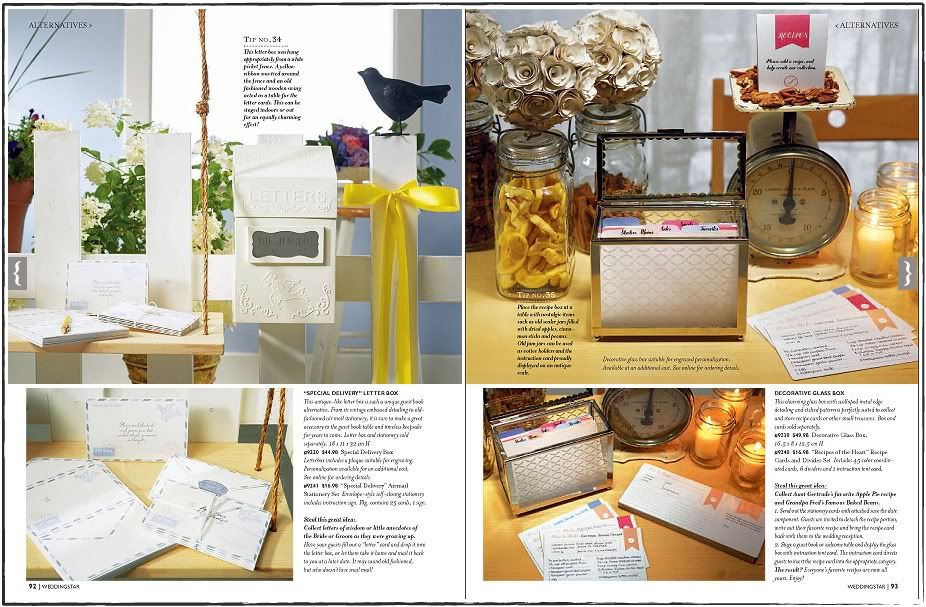 The "Special Delivery" letter box and the decorative glass box can both be used as wishing wells at your wedding, but they will also work as a decor accessory or recipe box after the big day.
More new wishing wells on pages 98 and 99.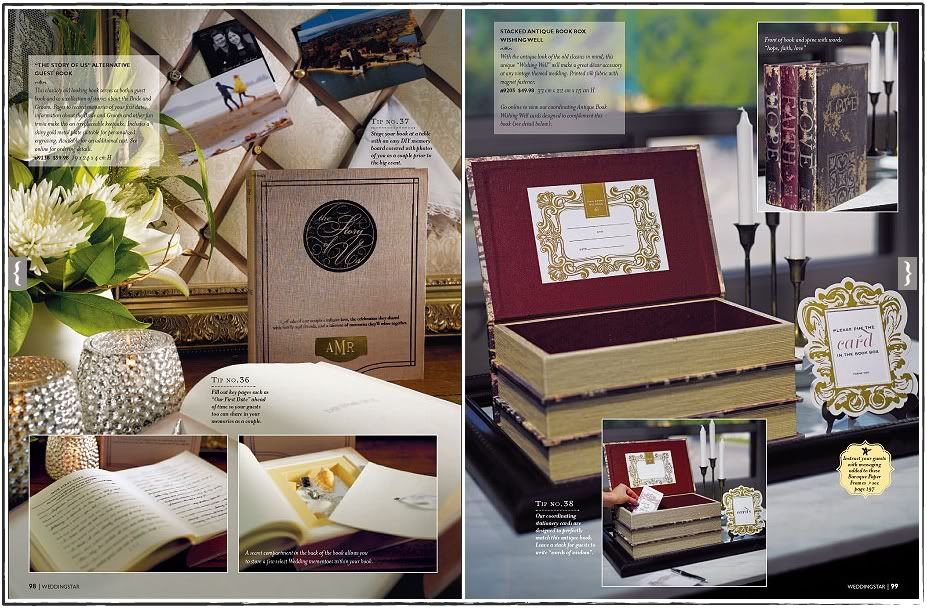 The "Story of Us" alternative guest book and the stacked antique book box both make great mementos post wedding.
Shop all of our fabulous favors by theme starting on page 108. Flipping ahead to page 142…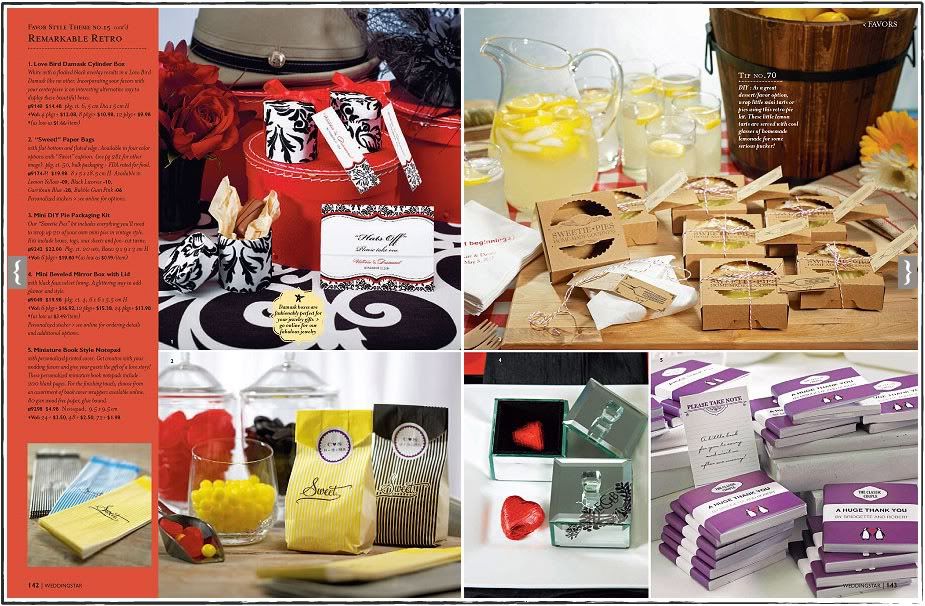 For a "Remarkable Retro" wedding theme, consider our new "Sweetie Pies" mini pie kits!
And on pages 152 and 153, it's a Vintage wedding theme!
This theme features four of our new products, including (left) the vintage style wrapping kit, French Provençal mini pitchers, (right) French Provençal mini canisters and mini decorative wire crowns.
Turn to pages 170 and 171 to add a little sparkle to your special day!
With crystal bouquet jewelry, decorative drops and garland and "Table glam", the possibilities to shine are endless!
And on pages 184 and 185…
It's wedding stationery! There's more than 50 stationery collections full of place cards, programs, signs, laser-cut items and so much more to choose from!
Check back again on Wednesday and we'll continue our tour through the 2012 Weddingstar Magazine!
If you'd like to purchase the magazine online, you can do that HERE.
Happy weddings!