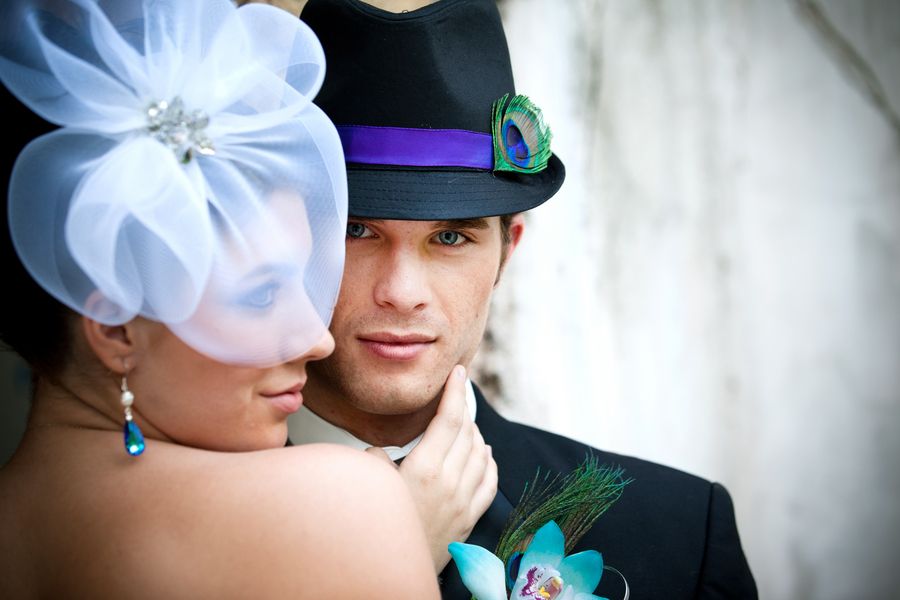 From the magentas and deep purples to the aquamarines and emerald greens, this peacock inspired photo shoot by the brilliant Christy Whitehead Photography is nothing short of spectacular.
The chic table decor, colorful candy buffet and ultra trendy attire really set the tone for this sophisticated wedding shoot with just the right amount of exotic flair. It's hard not to be inspired by all of the ultra dramatic details. Enjoy!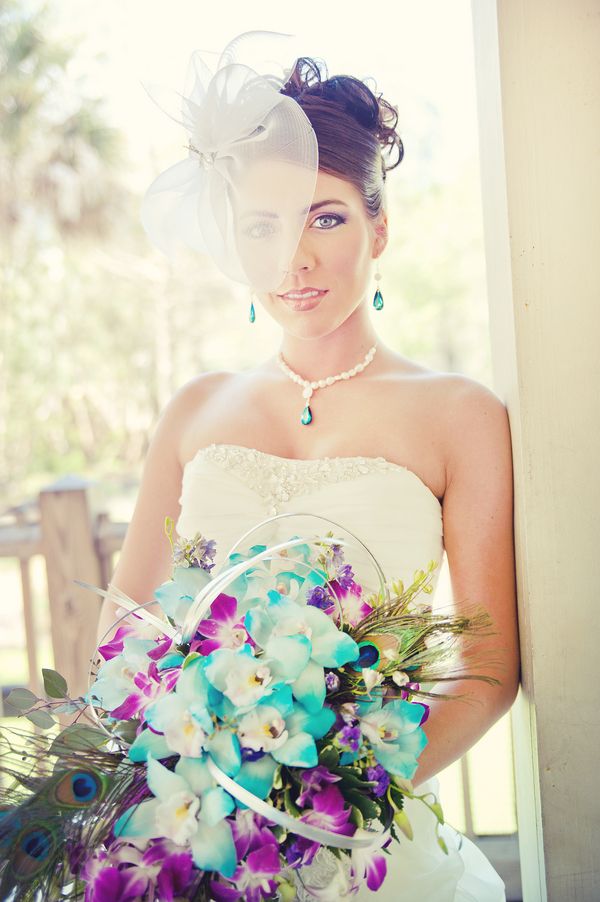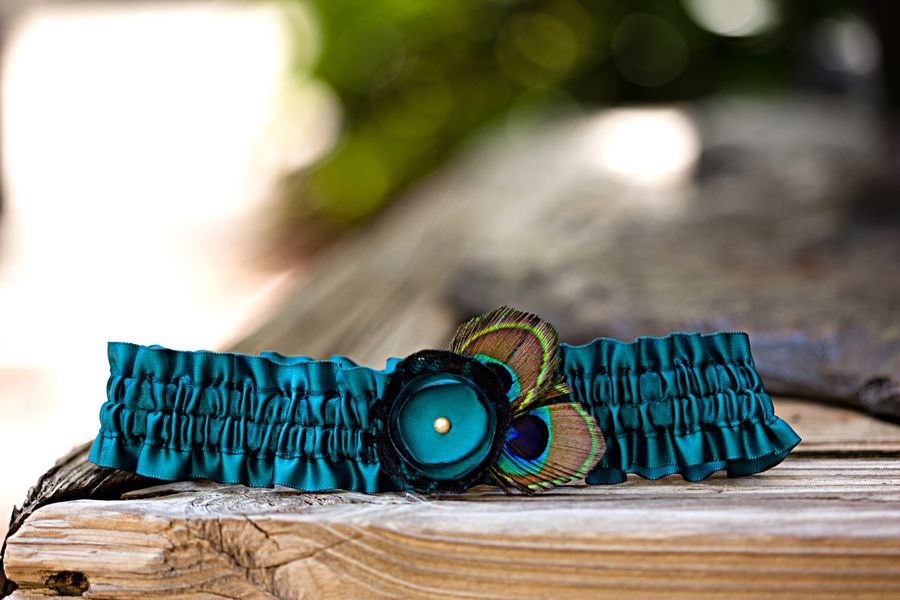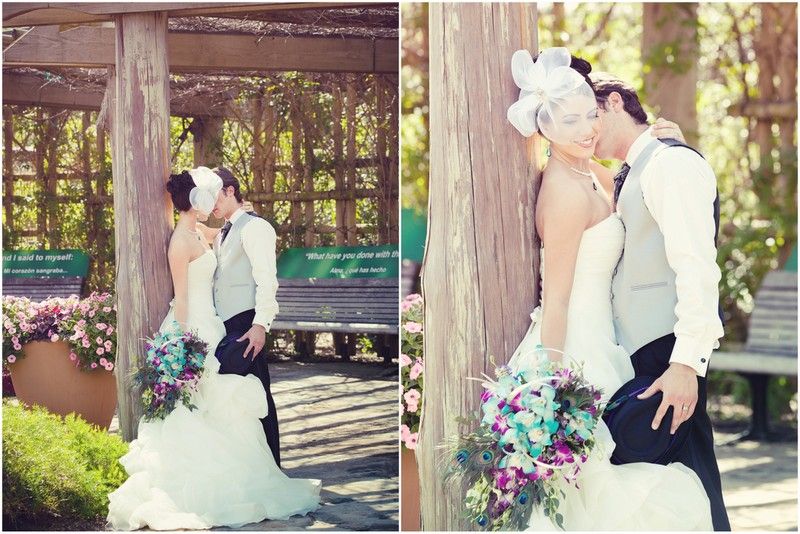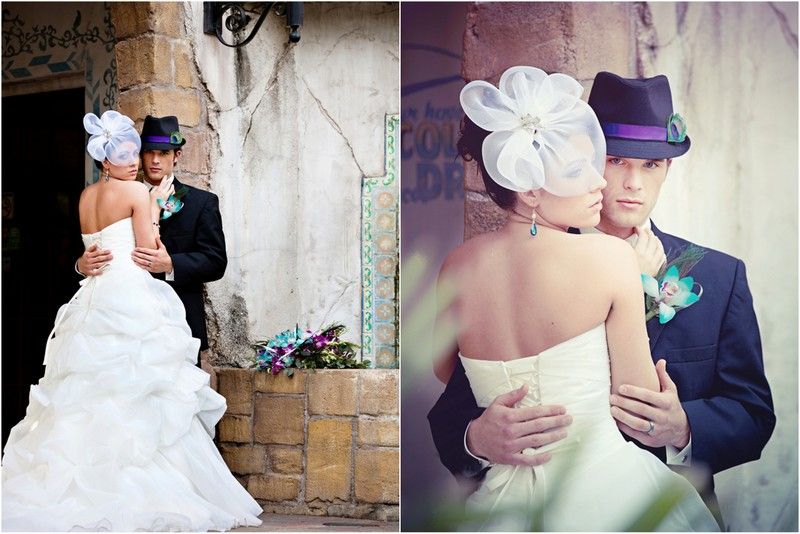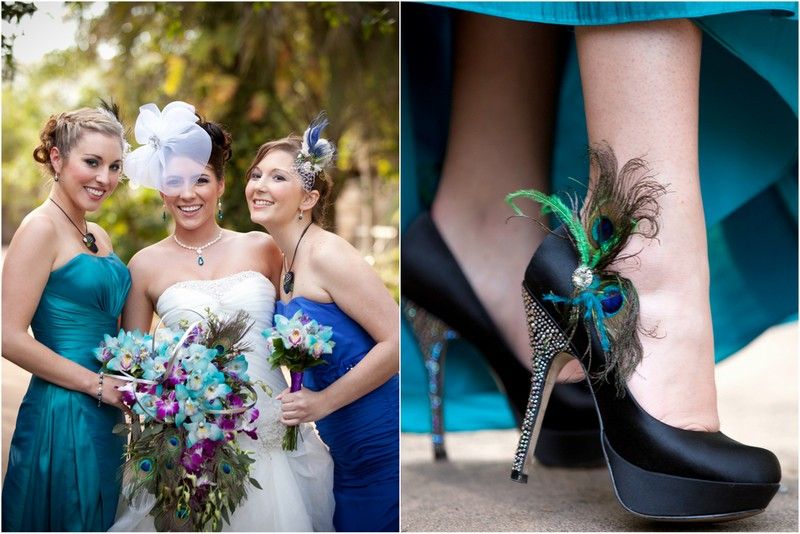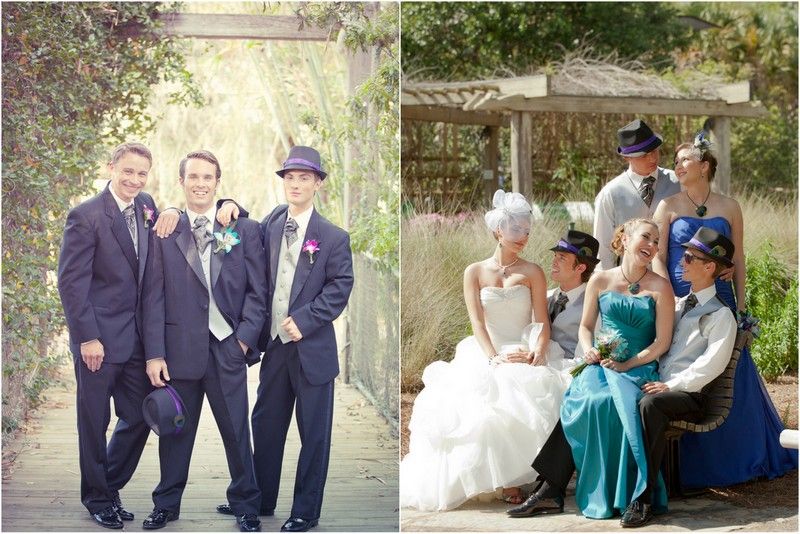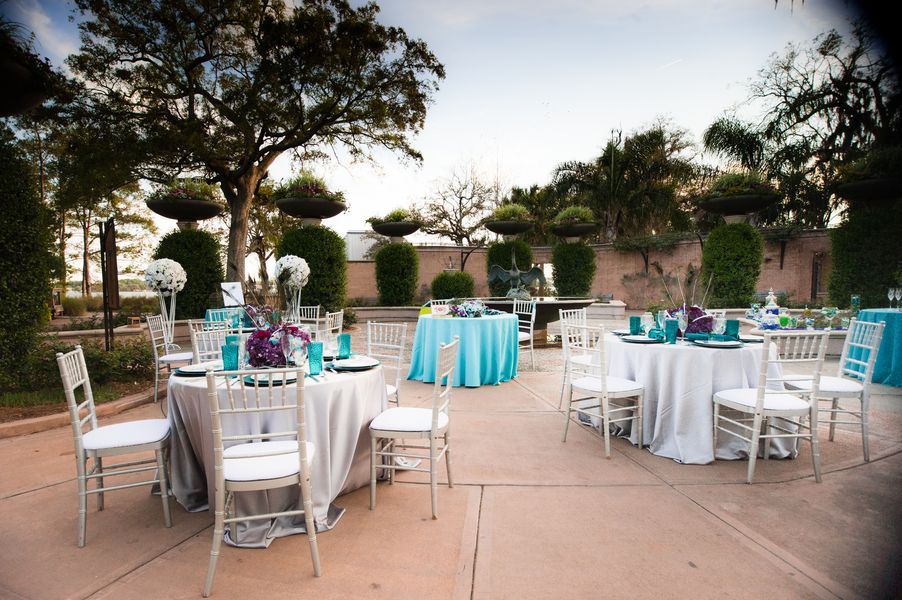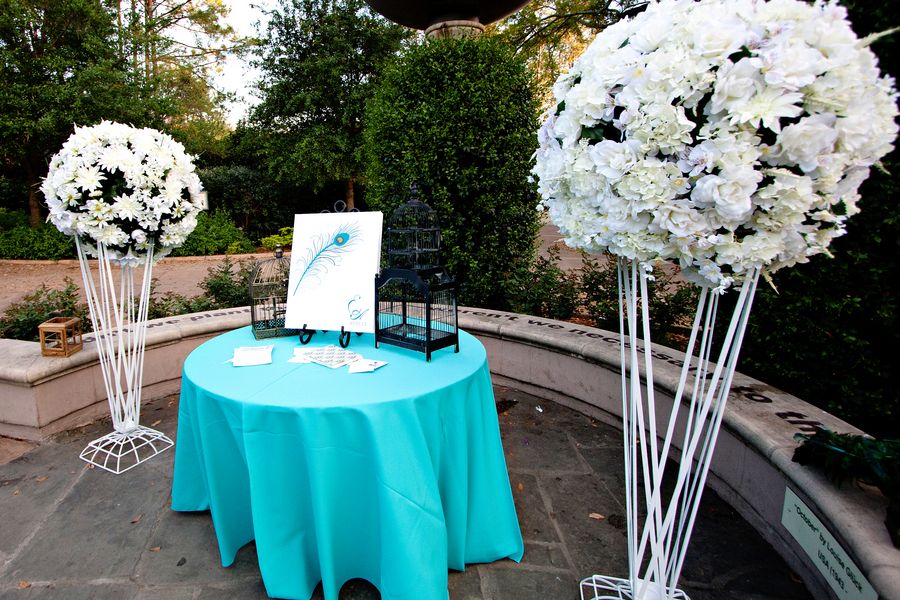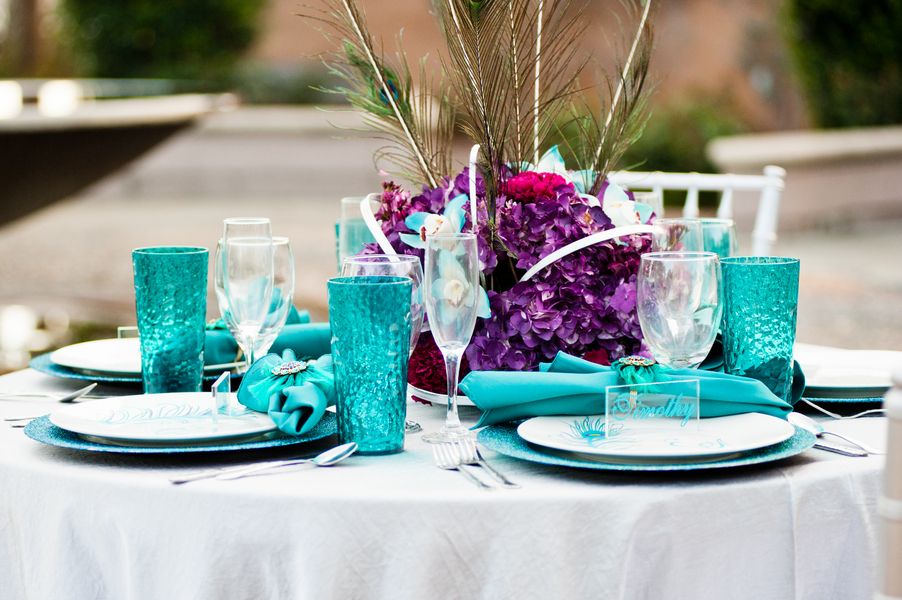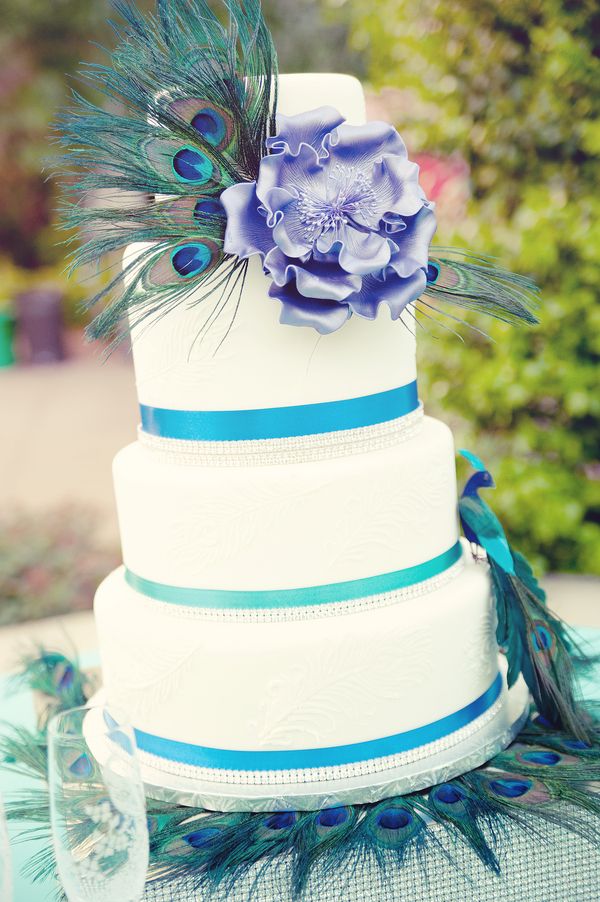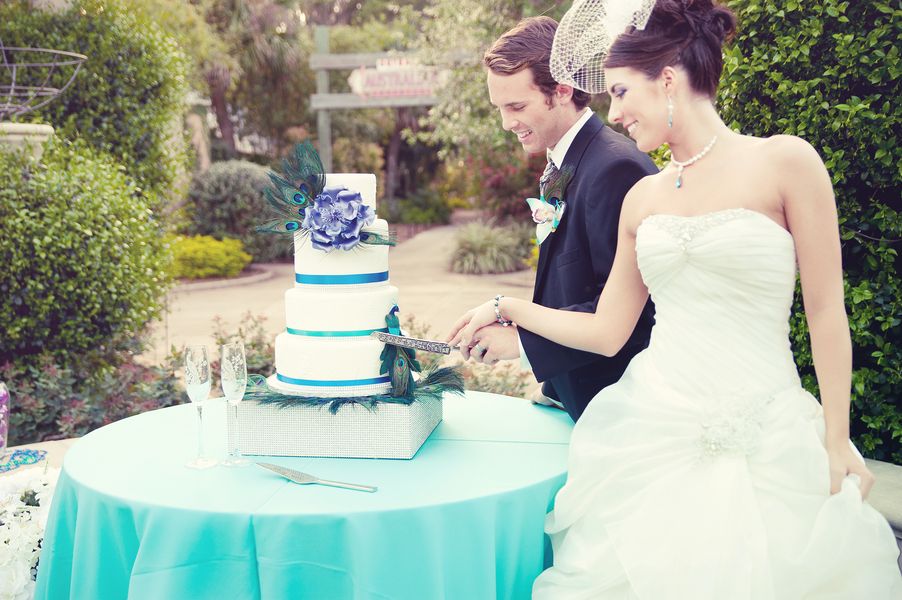 From the photographer:

This was shot at the Jacksonville Zoo with a peacock theme. What makes this even more fun is how many elements are DIY or were gotten from Etsy. This concept was created by myself, Tanya Hendricks and Lauren Atwaters.
Tanya is a wedding planner and she created the sparkly chargers. Lauren does decals through her company, Ten23Designs.com, and created the custom names on everything.
I wanted this to be very formal and hated the idea of regular ties, so I made the guys ascots/cravats. It was my first time, but it really wasn't too hard, kind of like sewing two ties together. Tying them was the hard part!
The guys' hats we picked up at Target and then added a ribbon to them and a peacock feather. The glasses, cake cutter, garter, guest book, jewelry (even wedding rings!) and some of the other items were all from Etsy crafters. The veils were also handmade by a local artist.
The cake is from a local cake artist, Metro Custom Cakes, and features white fondant feathers on white fondant, with colored ribbon and a big flower. And we also added a candy buffet, but limited it to peacock colors. It almost looks Mardi Gras. It was an interesting take on the candy buffet with candy containers, colors and things you normally don't see.

A big thank you to Christy Whitehead Photography for submitting these images, and to all of the wonderful vendors involved in this photo shoot, because this is one of the most inspiring wedding themes I have ever seen. The colors, the details…the shoes — absolutely beautiful!
Happy weddings!

Photographer: Christy Whitehead Photography
Hair Stylist: Hair by Ashleigh, Ashleigh Dean- Hair stylist, Siera Bushor, Renae Saf – Hair Stylist
Event Planner: Southern Charm Weddings & Events
Favors and Gifts: Creative Custom Card Boxes
Floral Designer: A Fantasy in Flowers
Reception Venue: Jacksonville Zoo and Gardens
Dress Designer: Bonny Bridal
Other: Ten23 Designs, Visual Power Cinema, Garter Central, Garter Central, Nita's All Washed Up Dry Cleaning
Cake Designer: Metro Custom Cakes, Inc.
Equipment Rentals: Beachview rentals
Makeup Artist: Jill Stonier Professional Makeup Artist,Lindsey Wirht Makeup Artist
Jewelry: The Headband Shoppe, Estylo Jewelry, Romas Banaitis
Tuxedo and Mens Attire: David's Tuxedos
Veils and Headpieces: LennaBea, Lenna Bea
DIY or Handmade Goods Designer: Liquid Courage,Brad Goodell: The Wedding Gallery, Amy Dwarika – custom painted art & wearables
Etsy Designer: Park Side Harmony, PinkPopPolkaDot,Liquid Courage Flasks, Brad Goodell The Wedding Gallery, Sofisticata, Christy Whitehead
Paper Props: Put It On Canvas, Cami's Paper, Parkside Harmony
Like us on Facebook
Follow us on Twitter
See our pins on Pinterest