I bet you thought that because I promised love and sunshine all this week, you would be getting even more palm trees and sand today. Not so! This wedding falls into my chosen category beautifully, but it is a completely different style from the other two I featured this week.
This sunny wedding is bold and vibrant, and so full of DIY creativity it'll make your jaw drop!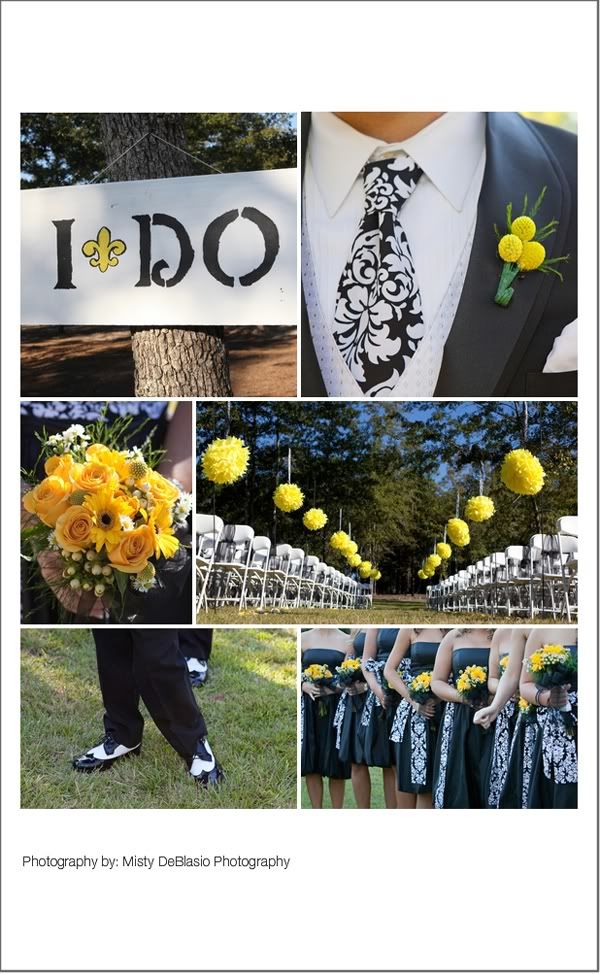 The Bride and her dedicated Bridesmaids are responsible for the DIY ingenuity in this wedding. They met every week to plan, design and create all the little details. As you can see, damask is the primary feature of this wedding – the yellow accent is bold but it complements the patterns perfectly!
All the damask sashes, ties and table runners that were used in this wedding were made by Ashley's mother.
The antique furniture used was restored by Phillip and his new father-in-law. The Bride and Groom's sides at the ceremony were each marked by the old school desks, mums and their parent's wedding photos.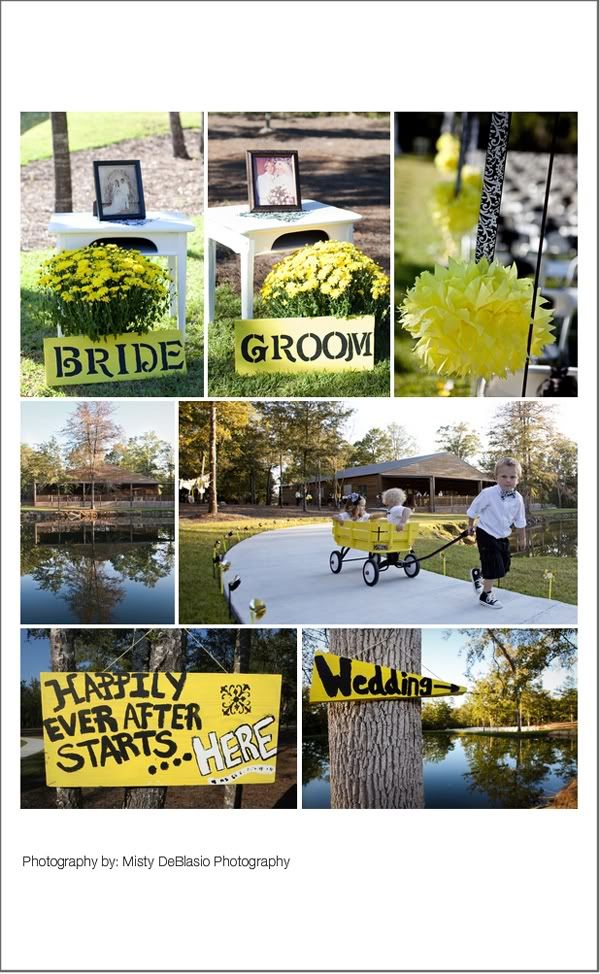 I may have gone a little overboard with how many photos I selected, but there were so many details I hated to leave anything out!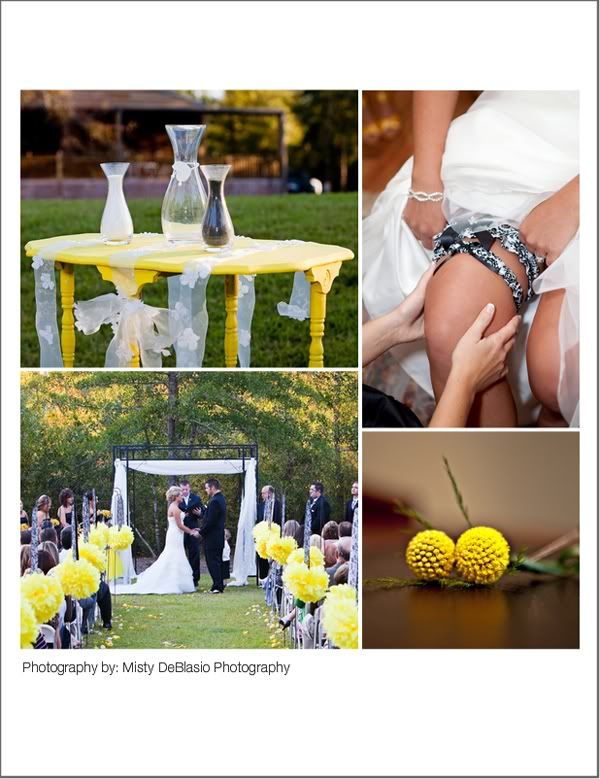 The collage of Ashley and Phillip's courtship was created by the Bridesmaids and hung for Ashley to see as she began her journey down the aisle, a wonderful reminder of exactly why she was there.
Photo props made their appearance, a detail that is appearing more and more in weddings, something that I'm not at all sad to see. They make for such fun photos as well as entertainment for the guests – you can't go wrong there!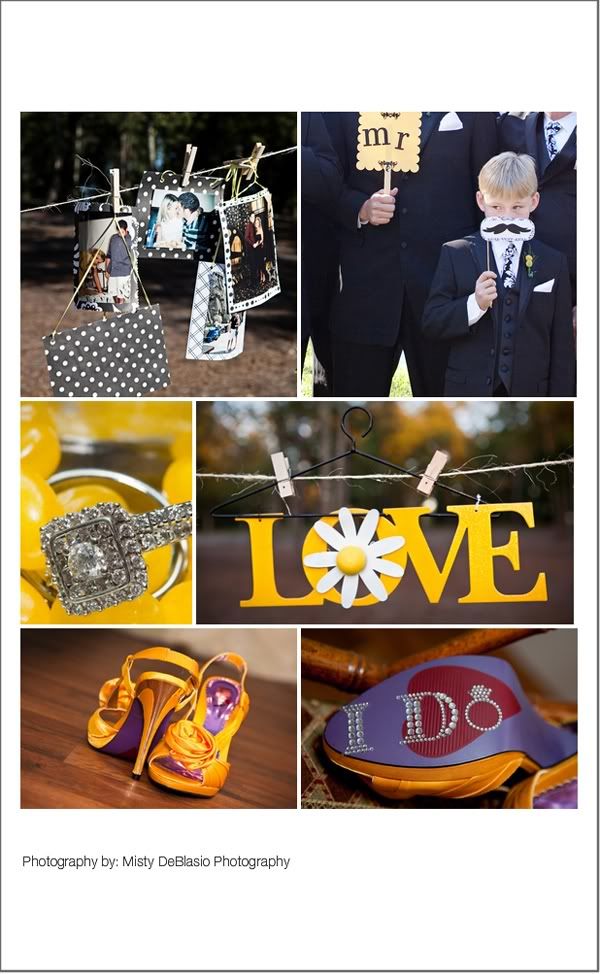 Her shoes whispered the words she was about to say as she walked down the aisle, shoe decals making for a subtle but 'oh so sweet' little detail.
I love how a candy buffet can be so incredibly versatile. By choosing your candies to coordinate with your scheme, signage and how it is displayed, it becomes unique to your wedding regardless of how often they are used!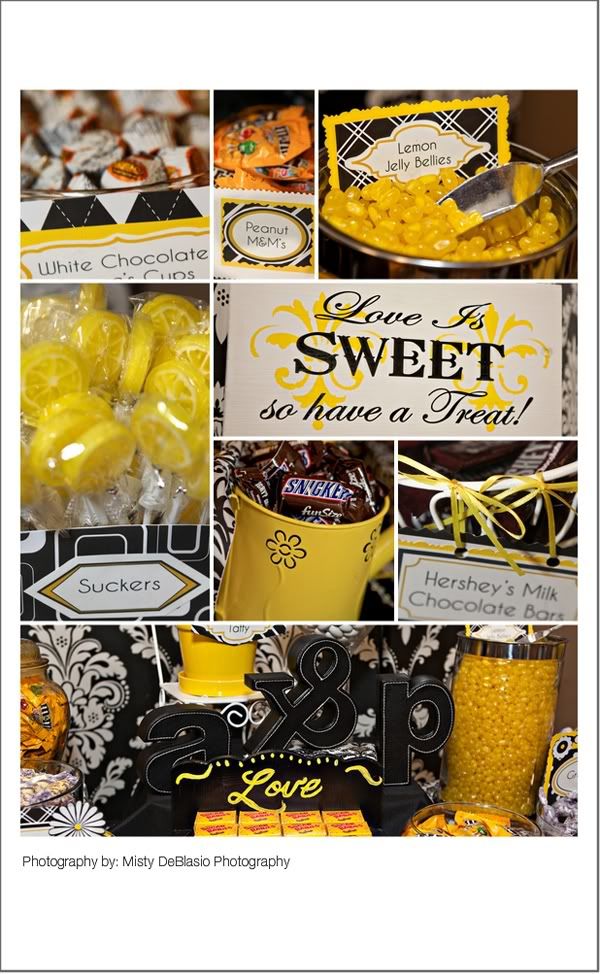 The damask cupcake stand was incredibly simple and yet it looks amazing – a cupcake stand, patterned cupcake liners and a small decoration for the very top – that's all you need!
The favors were in small takeout boxes that were carefully decorated to perfectly match the table settings.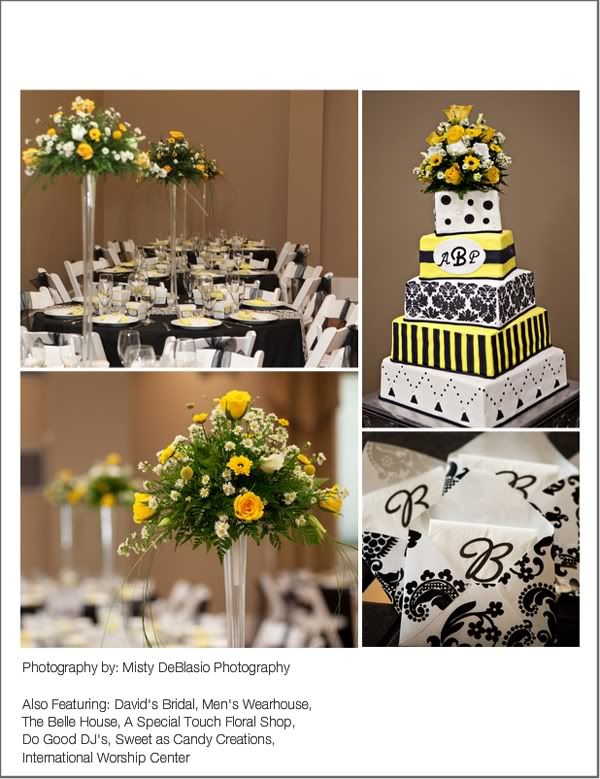 The most beautiful part of this wedding, sweeter than all the candy in their buffet, even more amazing than the hard work that went into the wedding and all the incredible details, the photo that blows me away – is this:
No color is required to make their love stand out.
Thank you Misty DeBlasio Photography for submitting this wedding, I'm absolutely delighted to be able to feature it!