If the idea of a traditional guest book has you yawning in disinterest then a more unique guest book alternative is exactly what you need!
These can be anything from a chic keepsake box to a certificate to hang on your wall, but all are equally original and memorable. Here are five of my fave Weddingstar guest book alternatives. Enjoy!
Memory Box
A memory box is such a great way to keep your well wishes safe for years after the wedding. And I think this chic, personalized wooden memory note box and personalized note cards are just so special.
Have you guests write out their well wishes or words of advice so you can enjoy them right after the wedding or choose the anniversary stationery and save the messages to read every year all the way to the big 5-0.
Check out this video to learn more:
Signature Certificate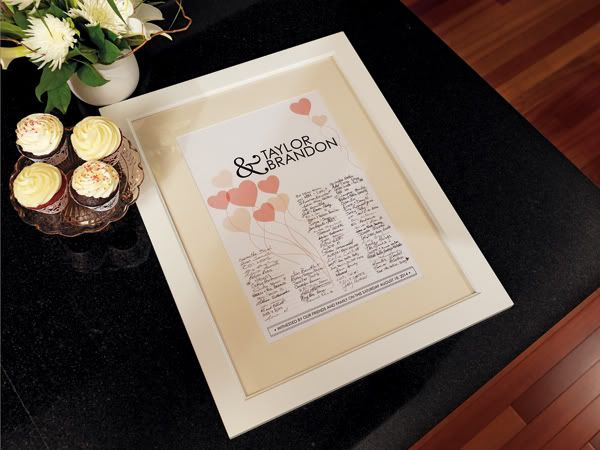 Simple yet so meaningful. Signature certificates make reminiscing about your special day so easy. Stick with the fabulous Balloon Hearts Personalized Certificate (shown above) or choose from six other fabulous designs HERE.
Recipe Box
This adorable recipe box is such a unique take on the traditional wedding wishing well. Send the recipe cards to your guests in your invitations and ask them to write their fave recipes on them. Then they can bring them on the day of your wedding and place them in the box.
Your guests will love the originality of the idea and you will have an entire box full of yummy recipes to make. It's a win-win!
"The Story of Us"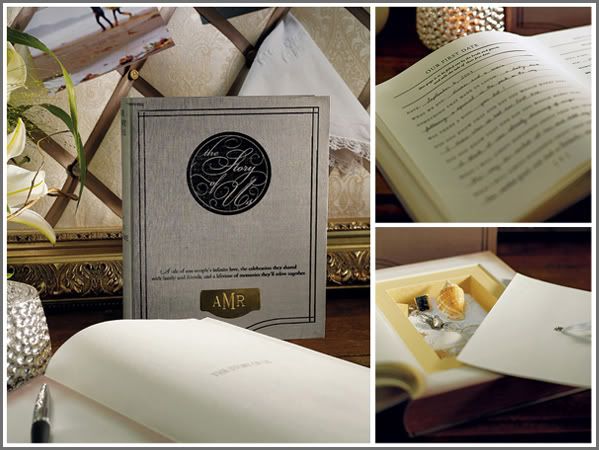 "The Story of Us" is a particularly special guest book alternative because it's not only something you will be able to keep forever, but your guests will enjoy hearing all about your incredible love story. Where you first met, your first kiss, how he proposed…your guests will love it and you'll have a blast filling in the pages and reminiscing about your adventures of love.
Also, blank signature pages and a secret compartment in the back ensure no part of your big day will ever be forgotten.
Mailbox and Letters
Who doesn't love getting letters in the mail? This antique style letter box and coordinating stationery are just too sweet for words! Use it as a conventional wishing well at your wedding or — and this is so much more exciting — ask your guests to write a special note on the stationery and seal it up. They will then bring them to the wedding and drop them in the mailbox.
At the end of the night, a designated family member or close friend will take the letters home — you take the mailbox — and periodically over the next year or so, that person will send you the letters in the mail. Every time you receive a letter you will get a special reminder of your big day — I just love this idea!
But hey, if you're a traditionalist at heart and love more conventional style guest books, we have those too! Check out our guest books HERE and wishing wells HERE.
Happy weddings!