Here are 5 must-have wedding accessories to make your big summer day truly magical. I've included the perfect cake topper, guest favors and decor accessories. Enjoy!
1. Mini Picnic Baskets
It really doesn't matter if your summer wedding is indoors or out, these adorable baskets make great little favors. Pack your favorite treat or trinket in them and seal them up with a ribbon to match your wedding color.
Also pictured: The "Always Time for a Picnic" personalized note card.
2. Playful Cake Topper

Top off your cake with these summertime romantics. The "A Kiss Above" cake topper features just the right amount of playful vintage flair.
3. Mini Gnomes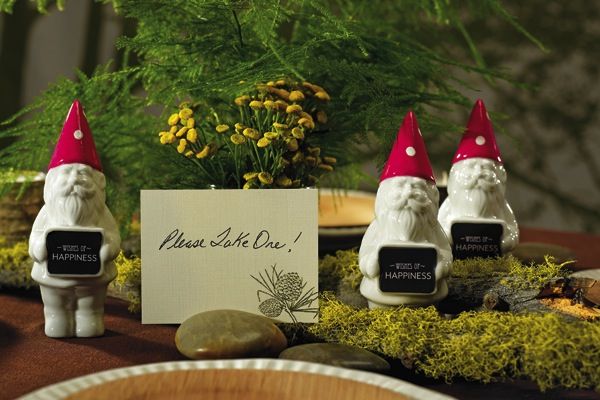 A true summertime staple, these charming little garden gnomes will add a touch of magic to your summer wedding reception tables, centerpieces and guest favors.
Their signs will grant "Wishes of Happiness" to everyone and their adorable demeanor are sure to bring countless smiles.
Also pictured: Evergreen Note Card and Natural Rock with Card Etch.
4.Blown Glass Globes
These versatile blown glass globes are any decor buff's dream come true! Place flowers, moss, butterflies, LED tea lights or any other summertime favorite in them and place them on tables or even suspend them from overhead for a one-of-a-kind magical effect.
Also pictured: Beautiful Butterfly Decorative Set and Romantic Butterfly Small Tag.
5. Mini Pies
What's better than delicious homemade mini pies to sweeten up a summertime event? These "Sweetie Pies" are a DIY favor option your guests are sure to love!
Also pictured: "Sweet Beginnings" personalized printed napkins.
Brides, don't worry if your wedding is only a few weeks away. We offer of a variety of shipping options including a rush option that can get your order to you in less than a week!
Just check out any of our product pages and click on "view shipping & delivery information" for more details. It's as easy as pie!
And if you missed Wednesday's post, HERE are some tips about keeping cool and hydrated during summer wedding scorchers.
 Happy summer weddings!