Happy Friday everyone! It's finally the end of the week and I have just the post to start your weekend off right – it's time for our 2014 Trend Alert! As I am sure you guys can guess, we are always looking for the new trends and styles that will dominate the bridal market. With our team always on the cutting edge, this year we are thrilled to unveil what we think are the big trends for 2014. And, as luck would have it, we're offering the perfect pieces to style your day in each trend while still staying true to your own style. So, without further ado, here are our picks for 2014 trends – enjoy!
1. Couture Brooch Bridal Bouquet
Sparkling, everlasting and full of glam, our brand new Couture Brooch Bridal Bouquet is perfect for the busy bride! Stemming from the growing trend of these amazing DIY bouquets, this little ditty is ready to walk down the aisle without a lot of extra fuss! Made to easily add a heirloom piece (or two!) to, you can make this bouquet one of kind in a flash and stay on trend – two things that we think are pretty awesome!
2. Filigree Vine Orb Locket with Chain
With their timeless elegance, lockets have always been a staple wedding accessory. And, this year we are excited to share our brand new take on this classic tradition with our new Filigree Vine Orb Locket with Chain! Not only is this piece beautiful to behold, bit with its' unique design it can hold everything from a scent dot to a small love note from your future husband. Best of all, it's a versatile design that's sure to delight long after your wedding day (plus it'll always  remind you of that special day when you wear it = win/win!).
3. High Style Applique Sash/Garter
Continuing the trend and love-affair we all seem to be sharing with everything vintage-inspired, this brand new accessory is a lovely addition to your bridal outfit. Need an extra splash of glam for your dress? Then use our new High Style Applique piece as a fashionable sash. Otherwise, tie it daintily around your thigh for an individual take on a garter that is sure to set your look apart!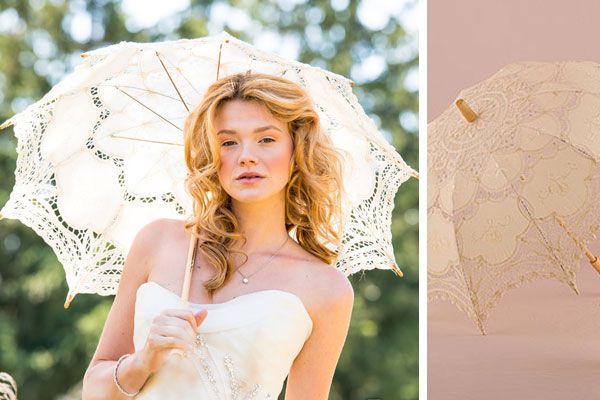 4. Antiqued Battenburg Lace Parasol
While the weather right now might be more tuned towards mittens and boots than delicate parasols, we can't wait for spring and summer to get here to see these beauties in action! Perfect for photo props, our brand new Antiqued Battenburg Lace Parasol's come in large (featured with our bride above) and small, which is perfect for a cute little flower girl or as a grand piece of decor for your aisle or reception.
Along with our new parasols, these Antiqued Lace Hand Fans are sure to be a spring and summer favorite. Beautiful for the bride and bridesmaids alike, these are the perfect way to keep your cool and stay stylish!
Are you feeling inspired? Make sure you explore the rest of our new designs for even more ideas for your wedding and inspirations to ignite your planning fire! See all our new accessories and decor here. Have a happy weekend everyone, see you all Monday!