Hello readers! My name is Allison and I am the new creative copywriter here at Weddingstar Inc. And I am delighted to announce that from now on it's my jabber you'll be reading here on On a Sweet Note!
I'm a journalist-turned-blogger and a lover of all things matrimony. I can't wait to share with you each Monday, Wednesday and Friday the secrets of the wedding world as I uncover them over the coming months.
I am by no means an expert on weddings nor have I had the honor of being a bride myself yet, but I too hope to be walking down that aisle soon just like you. For me, it's just a waiting game until my boyfriend decides to pop the question…finally!
So, lucky you – you're getting hitched! It's one of the few times in your entire life where the world revolves around you so make sure you take time out of all the planning to enjoy it. Because with the big day comes the inevitable burden of wanting to make everything perfect.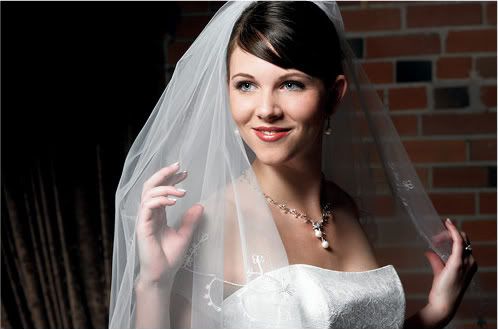 ~ Just imagine yourself wearing this floral-embroidered tulle veil. Stunning! ~